Estimated read time: 4-5 minutes
This archived news story is available only for your personal, non-commercial use. Information in the story may be outdated or superseded by additional information. Reading or replaying the story in its archived form does not constitute a republication of the story.
SANDY — It wasn't just the 1-0 win on the road in front of a hostile, pro-Sounders crowd in Seattle that has Real Salt Lake confident.
It's the way the team won.
Real Salt Lake (5-6-1) earned its first road win of 2018 with a straight-shooting attack right up the middle of the field, a defensive pressure by the team — not just standout goalkeeper Nick Rimando — and a wonder goal that was the first in MLS play for former academy standout Bofo Saucedo.
If there's something to give Salt Lake confidence heading into Wednesday night's home match against the Houston Dynamo (7:30 p.m. MDT, KSL.com / KSL TV app), it's more than just the win — it's how it did it.
"We have the team. We have the players," said Saucedo, who grew up in Park City. "We have the coaching staff and the support to give us our best in the field. I think it's a matter of us giving a little bit more effort all around.
"Not every game will be perfect, but we hope to get three points every game."
While Seattle (2-6-2) presented a winnable road game for a Real Salt Lake team that inched up to ninth place in the Western Conference standings, Houston (5-3-3) presents a chance to vault back into the playoff race.
The Dynamo are currently fifth in the West with 18 points, one point above the "playoff line" and just two points ahead of Salt Lake. A win in Rio Tinto Stadium — where RSL has been impenetrable since a season-opening loss to Los Angeles FC — could prove vital at the end of the season.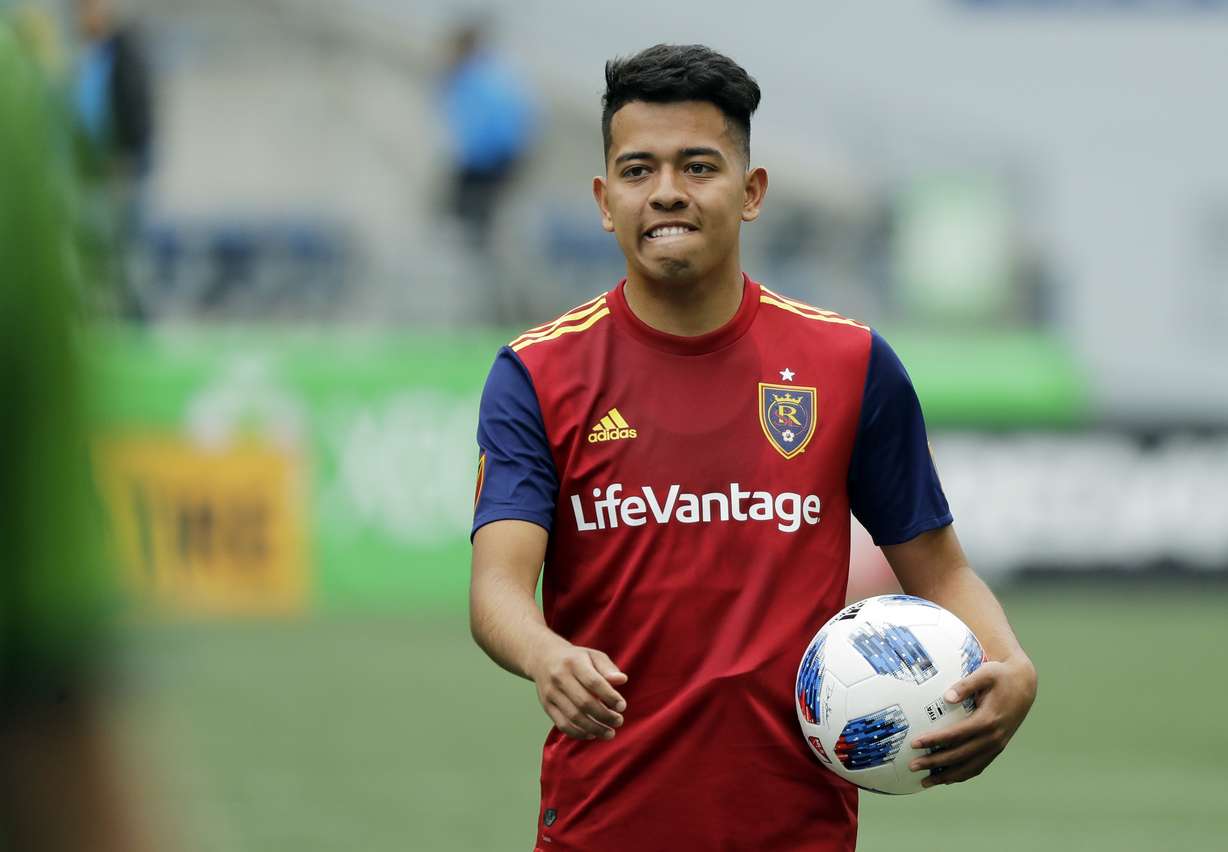 So, too, will the club's three-match home streak that also includes Seattle and next week's U.S. Open Cup fourth-round match against rival Sporting Kansas City.
"It was a huge win," Saucedo said. "We needed to get over not being able to win on the road. It kind of sucked at the beginning; there were games where we could've taken a result, like at Dallas, where we tied.
"It felt really good. Now we've just got to keep the same consistency that we've had."
RSL defender Justen Glad echoed his teammate and fellow homegrown player.
"I think it's just momentum, and having that confidence," Glad said. "We got a win in Seattle, and now we want to keep that moving forward. We won't just sit back and wait for them to come, but try to enforce our will on them."
Lone goal
Saucedo's goal in Seattle was the first of his career in MLS play. But it wasn't his first professional goal.
The 21-year-old striker from Park City scored three goals with RSL's second-division Real Monarchs, and he went on loan to Mexico's Veracruz in 2016 to score a few times with the Tiburones Rojos in youth competition.
His next goal, though, is scoring in front of the home crowd.
"It was a matter of time and confidence in myself to decide it's time and we need to get things going," Saucedo said. "Now it's a matter of staying humble and doing what I love the most."
Pride Night
Wednesday's match is Real Salt Lake's first-ever Pride Night, and a portion of proceeds from ticket sales will go to support scholarships for LGBTQ students at the University of Utah.
It's also an important subject for head coach Mike Petke, who spoke on the RSL Coaches' Show on the KSL TV app about equality and his passion to bring justice to all people, regardless of the sexual orientation.
"It's important in life. It's important in society," said Petke, who alluded to a cousin in his family who has stirred strong emotions about LGBTQ rights. "It doesn't make sense to me that you treat someone differently because of their preference.
"As long as it isn't affecting you or doing damage — which I don't think this is — I know everybody has a right to be happy and to enjoy the freedoms that everyone else has."
The second-division Real Monarchs will host Pride Night, June 26 against Fresno FC, while the Utah Royals will finish off the celebration June 27 against Seattle.
×
Related stories
Most recent Sports stories