SANDY — There are few attacking players in the National Women's Soccer League who took to the league like Gunny Jonsdottir.
The goal-scorer of Utah Royals FC's first-ever goal in NWSL play, Jonsdottir leads the team in shots with 10, including five shots on goal.
What's even more surprising about that, though, is the Royals midfielder has moved to a deep-lying playmaker role, the traditional No. 8, where she will likely play when the Royals host the Washington Spirit (1-2-2) in the second of a four-match homestand at 7 p.m. Saturday at Rio Tinto Stadium (KSL.com, KSL TV app).
"When I'm on the field, I'm happy," Jonsdottir said. "I'll play wherever, as long as it is best for the team. I can play anywhere in the midfield."
It's been a good move for the Royals (0-4-1), who are winless through their first five matches with four ties and a 1-0 loss to Chicago. It's also been accompanied by the return of U.S. international striker Amy Rodriguez, who scored her first goal in more than a year during Saturday's 1-1 draw with Portland.
Jonsdottir's attacking mindset was evident just three minutes into Utah's inaugural match, a 1-1 draw at Orlando. Those instincts don't go away as she begins playing behind Rodriguez, Canadian international Diana Matheson, or Australian international Katrina Gorry.
Though Jonsdottir now plays as one of the Royals' two deep-lying midfielders in head coach Laura Harvey's 4-3-3 formation, the 29-year-old Icelandic international still ranks eighth in the league with 10 shots.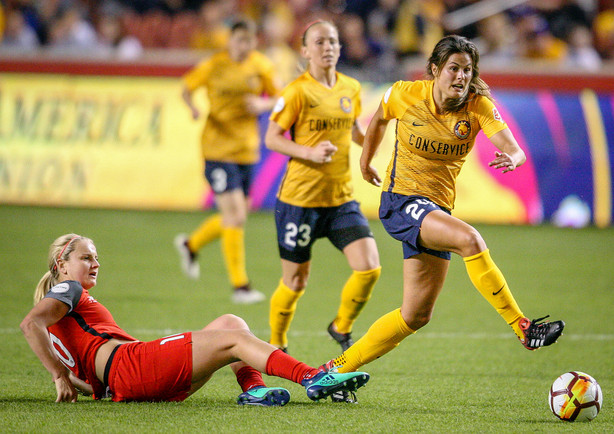 And it's only going to get better, she added.
"I think we're all happy to have A-Rod. Her talent is irreplaceable," Jonsdottir said. "But from our first game, we had been together for maybe two weeks. It's obvious that we are getting better every week, because we've just been together more and created relationships."
Rodriguez's return to fitness after a torn anterior cruciate ligament (which came just a year after she went through childbirth) was celebrated by the Royals, and their celebrations paid off with a second-half goal that gave Utah a 1-0 lead against Portland.
The Royals were moments away from celebrating their first win of the season but for a moment of excellence from the Thorns' Tobin Heath to steal a point on the road.
"After I watched the game back without emotion, I wasn't as frustrated at the amount of times we switched the play. But I was frustrated that we didn't punish Portland more," Harvey said.
"We're so close. They feel it, too."
As Utah improves in league play, the offense will be the most improved. The Royals' five goals allowed is the third-lowest mark in the league, but the team is also tied for the third-lowest goals scored with four.
Only the Houston Dash and New Jersey's Sky Blue FC have a less potent attack than Utah, with each scoring just one goal through five and three matches, respectively.
The Royal Rundown with @CarlitaS07 👑 pic.twitter.com/JskN7ELrcC

— Utah Royals FC (@UtahRoyalsFC) May 4, 2018
That improvement will come through increased time and chemistry, Jonsdottir said. And it's not just in practice.
The Royals returned this week from an unplanned team outing to southern Utah. Organized by Matheson, the players spent the day around Dead Horse State Park and finished with a flurry of Instagram activity that helped them learn about the state they now represent.
"It was awesome. Utah leaves me speechless," Jonsdottir said. "It was a good day off; I'm very active, so off days are very hard for me. But doing something like that is perfect."
Some have even caught Jazz fever during the NBA playoffs.
"(Utah defender Katie) Bowen and I were able to catch Game 6 (against Oklahoma City), and what a game to see," said midfielder Desiree Scott, Utah's other Canadian international. "That was my first NBA game; it was incredible."
Now it's on to Washington, a team Harvey calls "super dynamic" that boasts attacking talent in U.S. international Mallory Pugh (two goals, one assist) and former BYU standout Ashley Hatch (one goal, one assist), among others.
"They've got a lot of pace. Young. Hungry. A threat going forward, for sure," Harvey said of the Spirit. "But I feel that we have to be in the position to counter that. That's our plan."
×
Related Stories