Estimated read time: 4-5 minutes
This archived news story is available only for your personal, non-commercial use. Information in the story may be outdated or superseded by additional information. Reading or replaying the story in its archived form does not constitute a republication of the story.
SANDY — Albert Rusnak was upset, even a bit fiery, after Real Salt Lake's 4-0 loss at New York City FC a week ago.
At times, the Slovakian international has seen his RSL squad as a group of world-beaters, ready to contend with some of the top teams in MLS, with wins over the New York Red Bulls and Vancouver.
And then just as quickly, the team spirals into chaos—as it did in Yankee Stadium, or two weeks prior in a 3-1 loss at Toronto FC, or two weeks before that in a 5-1 home loss to Los Angeles FC.
Real Salt Lake (2-3-1) has had its players' backs against the wall several times in just over two months of the 2018 Major League Soccer season. They've responded each time, which can be both good and bad.
Saturday will be another chance to bounce back from a loss.
"I guess we don't have another option after those kind of performances," Rusnak said. "The only thing we can do is bounce back with a win.
"That shows that there is something in this team. A quality, an inner strength, that we just haven't done it once, but twice. This will be the third time this year we have to do (bounce back from a bad loss) this season. There is something in this team that we still believe in, and hopefully the fans keep believing. But we have to win the game against Colorado."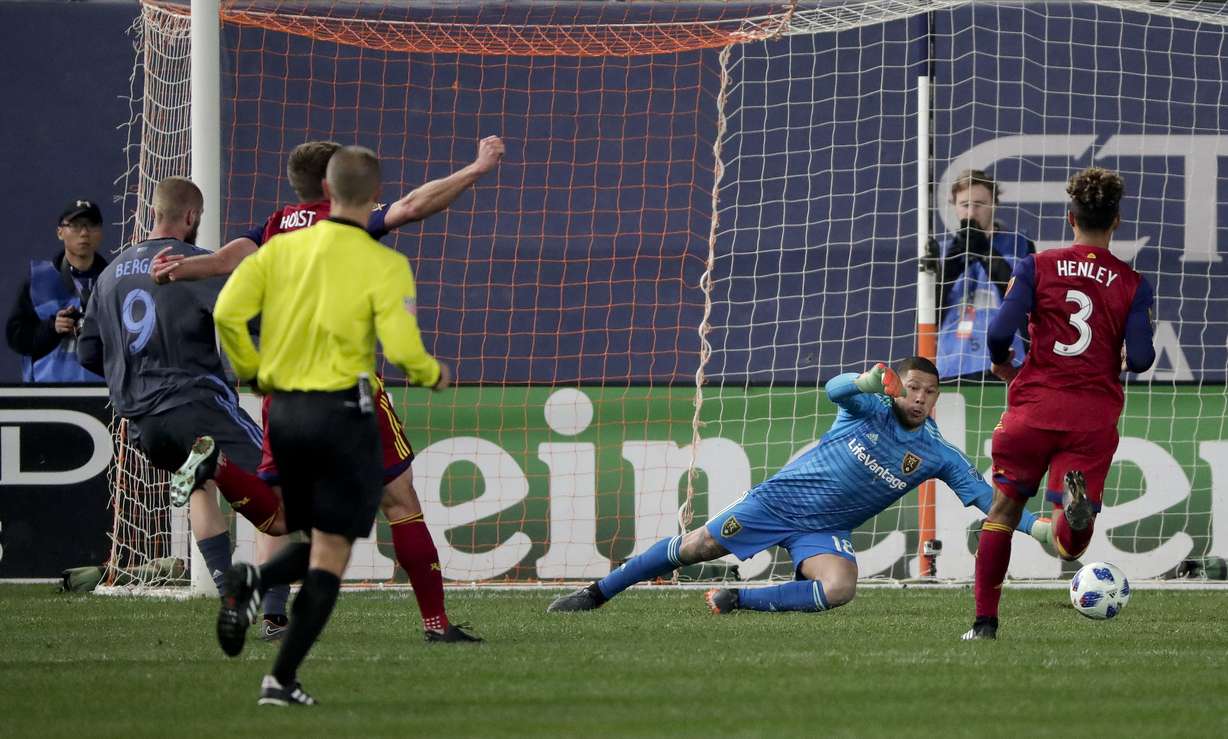 RSL's matchup against the visiting Colorado Rapids at 7 p.m. MDT Saturday isn't just a chance to bounce back. It's also a rivalry match—one born in the earliest days of Salt Lake's expansion season in 2005.
While the Rocky Mountain Cup doesn't have the same luster as Manchester United-Manchester City, Liverpool-Everton in England or even Seattle-Portland in MLS, it's still a rivalry and still a chance to start building up a trophy resume.
"It's a rival game. We're playing for a cup," said Sebastian Saucedo, a forward from Park City. "But I think our biggest game is always the next game that we play; we have to look forward. Right now, we have to look forward to Colorado—and then Vancouver, which is the biggest game after that.
"In general, the next game is the most important, to get a point or three points. But I don't want to lose."
Just as important, it's a home match. And aside from the blight that was the LAFC loss, Real Salt Lake has found itself at home in a 1-0 win over New York and a 2-1 victory against Vancouver, which led the Western Conference at the time and still sits third in the standings.
"That's one of the best teams in the league, and it's been three years in the making of them building," RSL coach Mike Petke said of NYCFC. "But we've got to do a better job. We had good shape for 10 minutes or so, and then we just didn't have that bite or urgency to get the ball."
It's not just a game. It's a part of history. pic.twitter.com/Zpl7EI1N8i

— Real Salt Lake (@RealSaltLake) April 19, 2018
The club is 2-1 at home with a less-than-stellar 0-2-1 road record. But getting back to contending for cups and trophies—whether they be of the Rocky Mountain, MLS or CONCACAF Champions League variety—starts with creating the right home atmosphere.
RSL was once invincible at Rio Tinto Stadium in Sandy. The mythos of the structure has waned in recent years. But it's getting back.
That, and the squad's two most recent road losses came to a team playing in the Champions League final (Toronto) this week and another that currently leads MLS (New York City) at 5-0-2.
"We are having trouble on the road, let's be honest. We're finding it difficult to go on the road," Rusnak said. "But on the other side, we've played probably some of the best teams on the road. We didn't have it easy. But we have to bounce back like we did all year, and Colorado will be the perfect chance for that."
Losing isn't an option at home anymore for Real Salt Lake. That's a big part of what spurs them, even after difficult road trips to some of the top teams on the East Coast.
"I think if you ask every person on the team, they will tell you they don't like to lose," Saucedo said. "We have to go out on the field knowing we are going to win, and that's what we want.
"But we can't control everything. There are times where we want to do our best, so we can give our fans a win. We don't give that sometimes. We have to look forward to the next game to see what we can do."
×
Related Stories