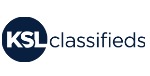 This article is sponsored by KSL Classifieds.
In 1990, the United States qualified for the World Cup for the first time in 40 years. Around that time my dad and I ran into a friend of his — a large policeman with a handlebar mustache — and my dad told him I liked to play soccer. "Soccer is a communist sport," he said, staring me in my 7-year-old eyes.
Soccer no longer faces that kind of skepticism in America. It's not some obscure afterthought anymore. Major networks show soccer matches in primetime slots — a luxury we didn't enjoy in 1990. Major League Soccer, started after the U.S. hosted the '94 World Cup, is now in its 23rd season, with 23 teams competing in 20 different states and provinces.
Average attendance at MLS games is greater than in the NHL and NBA. Our own Real Salt Lake, which joined in 2005 the league and won the title in 2009, has put down roots in the community, adding a women's team, Utah Royals FC, and a world-class youth training facility in the last year.
But while kids who play soccer may no longer have to defend themselves to the police, there are still plenty of people out there who don't get the world's game. And that's fine. Not everyone likes football (the American kind, that is) either. But if you're on the fence about soccer, or your kid plays and you want to understand the game a bit better, please accept this humble defense of the most common outsider criticisms of the sport.
1. A 0–0 tie?!
If you think a tie is like kissing your sister, a 0–0 tie is like getting mono from it. Yes, soccer matches can end in a draw, and yes, soccer scores are lower than most other sports. Even soccer fans don't like scoreless draws, but luckily they don't happen very often. In the 2017 MLS regular season, 90 of 374 matches ended in a tie and only 23 of those were scoreless.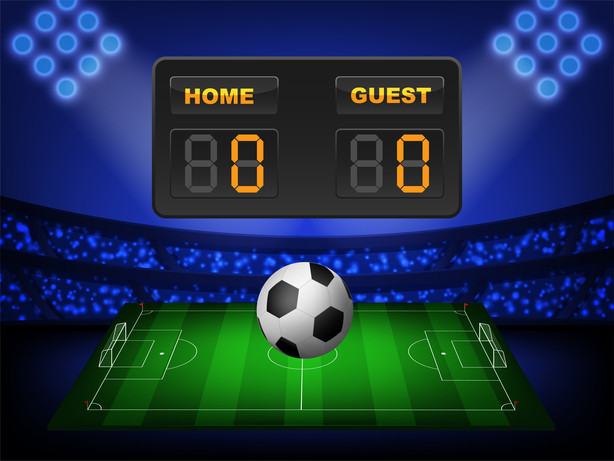 That translates to 74 percent of matches having a winner and a 96 percent chance you'd see at least one goal in any game (average goals per game was 2.97). Plus, when goals are harder to score, each one is that much more exciting, that much more likely to make fans stand up and shout and dance and kiss their neighbor. Who hopefully isn't their sister.
2. Soccer isn't tough enough
Part of this complaint is subjective: How do you measure toughness? No, soccer is not as hard-hitting as football, but neither is baseball and America seems to like that okay. And there's something to be said for the physicality required to stay quick and dynamic on the ball while running a 10k (soccer players can cover 6–8 miles in 90 minutes).
But as the toughness argument applies to some soccer players' tendency to flop or roll around on the ground holding their ankle, you'll find no dissent here. It's shameful. Some players do it to try to earn a penalty kick (liars!). Some do it to waste time (cheats!). Some do it to try to get an opposing player sent off (cowards!). For whatever reason they do it, diving is a scourge on the game (as it has become in basketball more recently). Luckily it is less prevalent in MLS than in some leagues around the world, and the governing bodies of soccer are creating rules to stamp it out.
3. Why are they goingbackward?
When my friend was 11, his coach told him to treat the ball like his girlfriend. "Are you going to let the other team steal your girlfriend?" he'd yell. The analogy might have meant more if my friend was of dating age, but the point was clear: The ball is precious. Don't give it away cheaply. Possession is key in soccer — so much so that a team may play the ball all the way back from the forwards to the defense to try to put together a more promising attack. Think of it like a boxer bobbing and weaving looking for an opening.
4. What even is offsides already, anyway?
In general, soccer is free-flowing and its rules are fairly straightforward: only the goalkeeper can use his hands; if the ball goes out, the other team throws or kicks it back in; no sliding in with your cleats up; etc. But the offside rule can throw people who are new to the game. Basically, there's an imaginary line across the field that runs through the defender that's furthest back in the defensive half (O1). If an attacker (X2) is past that line when a teammate (X1) kicks the ball to her (not when the attacker receives it), they are offside and the defending team gets the ball.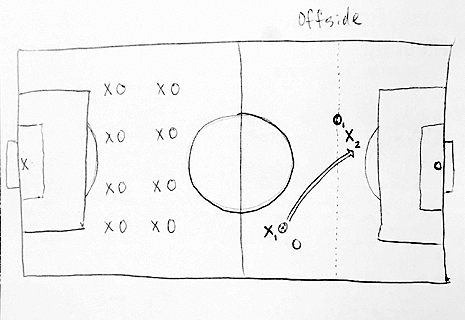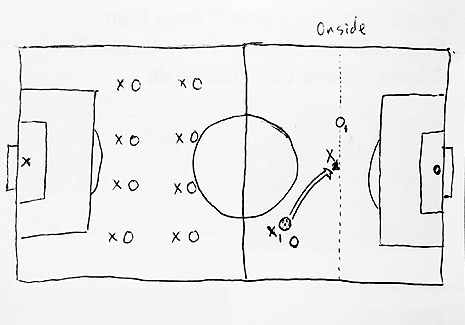 Going from basketball or football to soccer requires a bit of a code-switch, but us biased soccer fans think it's worth the work. And really, the best way to get into the spirit is to see a game live. Get tickets to RSL and Royals games here, and feel free to yell at the referees whether you understand what's going on or not.
×