This archived news story is available only for your personal, non-commercial use. Information in the story may be outdated or superseded by additional information. Reading or replaying the story in its archived form does not constitute a republication of the story.
SALT LAKE CITY — Mark Eaton's No. 53 Utah Jazz jersey was retired March 1, 1996. But the 7-foot-4 post presence who played alongside the greatest names the organization has ever known never strayed far from the rafters of Vivint Arena where it hangs.
"It was a fun night, and a great memory," Eaton said. "It's fun to be remembered for the contributions you made to the team. Having lived here all these years, it's pretty cool."
As Eaton has continued his success as a motivational speaker off the court, he's never forgotten his roots. Now as an author of "The Four Commitments of a Winning Team," which goes on sale April 3, the 7-footer releases his take on business, his playing career and life as a retired NBA giant.
"For a number of years, people have asked me about writing a book," Eaton said during a visit to the KSL Sportsbeat studio. "I've been working on this for a few years, my wife helped me get it over the finish line, and John Stockton wrote the foreword for it.
"It's really helping to understand a team from the inside out."
As fond of his own playing days as he remains, Eaton is visibly impressed by the play of another Jazz standout — rookie and NBA dunk champion Donovan Mitchell.
"I don't think people understand the impact this young man has made as a young player," Eaton said. "He's a different kind of player.
"Donovan Mitchell is all about winning and all about his team. He's so humble, and I just can't say enough great things about him."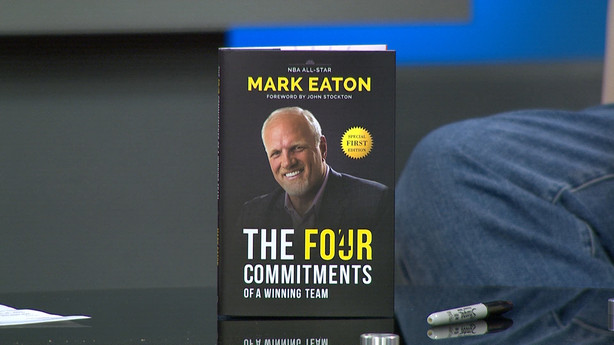 Never one to turn down an opportunity — even a coach who finds him repairing cars and tells him to try out for basketball — Eaton has attacked his post-career life as a broadcaster, NBA spokesman, and author with the same tenacity with which he defended the rim.
"I think opportunities come along all the time," Eaton said. "It's just a matter of whether you are willing to receive them or not — and if you are willing to take a chance."
Eaton will be available for several book signings across the Wasatch Front over the next month. The full schedule will be updated at markeatonbook.com, but the first signing will be on the main concourse of Vivint Arena during the Jazz's home game April 3 against the Los Angeles Lakers.
Eaton made headlines more recently when Green Bay Packers quarterback Aaron Rodgers showed up to training wearing a shirt emblazoned with "Mark Freakin' Eaton" on the front.
Freakin' Awesome indeed! @AaronRodgers12 Thanks for the heads up @BeardedMagnus! https://t.co/bq2LiJe25H

— Mark Eaton (@markeaton7ft4) March 14, 2018
"I've never met the man," Eaton said. "I don't know anything about it. But Aaron Rodgers just followed me on Twitter, so I'm pretty excited."
Eaton also explains the story behind one of retired Deseret News photographer Tom Smart's all-time favorite photos, which show him and his horse Big Ten swamped in the San Rafael Swell near Green River.
Watch the video above for the complete interview.
×
Photos