Estimated read time: 3-4 minutes
This archived news story is available only for your personal, non-commercial use. Information in the story may be outdated or superseded by additional information. Reading or replaying the story in its archived form does not constitute a republication of the story.
LAS VEGAS — One look at Utah State sophomore guard Sam Merrill might make you look twice, wondering if this guy really plays NCAA Division I basketball.
The All-Mountain West third-team selection put on a show Thursday night in the Thomas & Mack Center, propeling Utah State to an 78-75 win over second-seeded Boise State in the Mountain West Tournament quarterfinals.
Merrill scored a game-high 28 points and hit seven 3-pointers to help the Aggies earn a spot in Friday's semifinal against New Mexico.
It is the first trip to the Mountain West Conference semifinals for the Aggies (17-16).
"Proud of our guys," USU coach Tim Duryea said. "Didn't get off to a great start. I thought Boise State was tremendous to start the game and was sharp as a tack. And we kind of came to our senses. We weren't very good defensively. I thought offensively we did a lot of good things and got a lot of good shots … proud of our guys for hanging in there, staying together. Boise State is tough."
With a 74-73 lead with 31 seconds remaining, Merrill hit a turnaround 3-pointer that gave USU a 77-73 lead.
And then things got really wild.
Boise State's Zach Haney pulled down an offensive rebound and put it back to cut the deficit to two with 24 seconds remaining.
Following the basket, Boise State (23-8) called timeout to set up its defense.
The call worked as the Broncos forced a turnover on the inbounds play.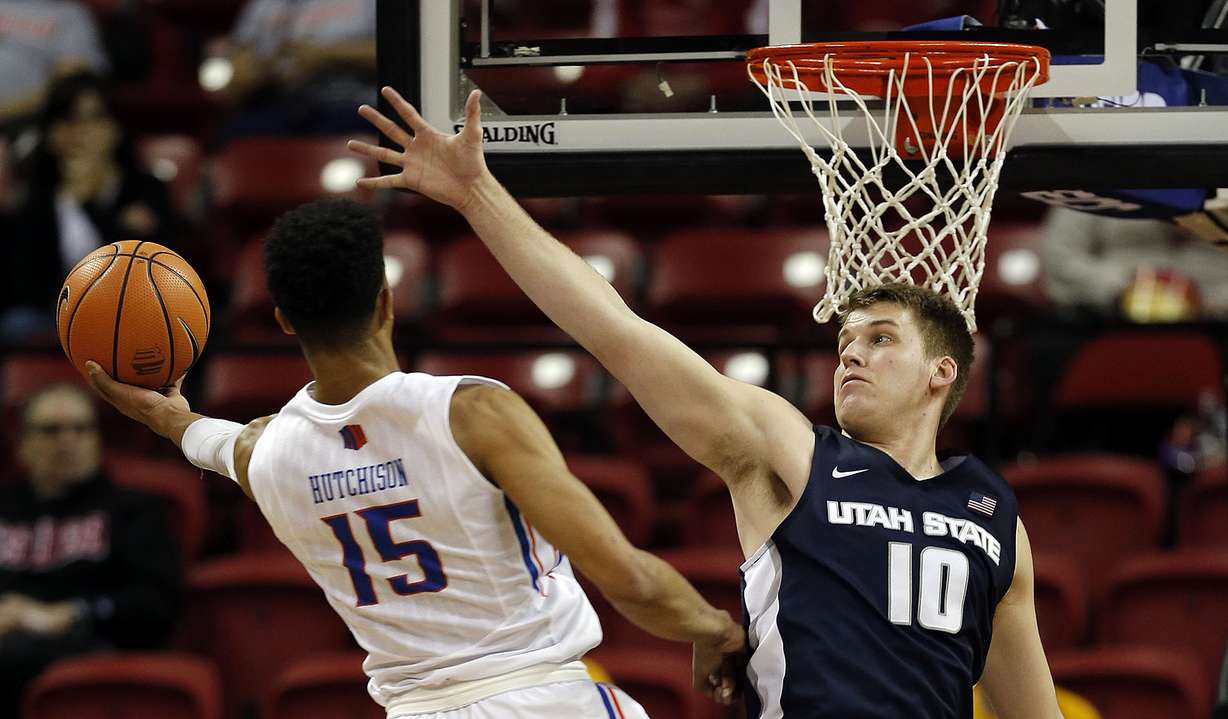 But Merrill came right back with a steal, followed by a Marcus Dickinson steal that gave Boise State the ball right back with 19 seconds to play.
All-Mountain West first-team selection Chandler Hutchison's jumper didn't fall and USU sophomore guard Koby McEwen came up with the defensive board to help the Aggies seal the win from the free-throw line.
Boise State was forced to foul and McEwen went to the line for two free throws. McEwen couldn't seal the deal as he hit 1-of-2 at the charity stripe.
USU took a 78-75 lead with seven seconds left.
Another timeout.
Instead of fouling in the backcourt, Duryea decided to let it play out — and it worked. Hutchison's 3-pointer was just a little short as time expired and sent Utah State into the Mountain West Tournament semifinals for the first time in school history.
The biggest difference in the second half was that USU got to the free-throw line. USU went 14 of 18 at the free-throw line in the second half after not getting to the charity stripe in the first half.
"We did not discuss offense," Duryea said. "We discussed defense or lack thereof in the first half and how that had to change."
McEwen finished with 14 points, eight rebounds and six assists and Dwayne Brown Jr. chipped in 10 points.
On the night, USU went 14-of-25 from behind the arc and had 16 assists at 25 made baskets.
But the Aggies don't want to be done yet.
"It's exciting, but it's only the quarterfinals," Merrill said. "We just talked about as a team this is an opportunity to move on to the semifinals. I didn't grow up wanting to win quarterfinal games. I grew up wanting to play in the (NCAA) Tournament, so we're one step closer and we got to bring it tomorrow."
Tipoff for the semifinal game is scheduled for 9:30 p.m. MST
---
Kyle McDonald is sports fan who loves the Chicago Cubs. Follow him on Twitter at @kylesportsbias
×
Most recent Idaho stories