Estimated read time: 5-6 minutes
This archived news story is available only for your personal, non-commercial use. Information in the story may be outdated or superseded by additional information. Reading or replaying the story in its archived form does not constitute a republication of the story.
SALT LAKE CITY — Eight teams, fighting for six spots, separated by four games.
That's exactly what the Utah Jazz face in the NBA's Western Conference playoff race that has never had this many teams so bundled so close together in its history.
All of the Minnesota Timberwolves, San Antonio Spurs, Oklahoma City Thunder, Portland Trail Blazers, New Orleans Pelicans, Denver Nuggets, the LA Clippers, and the Jazz are projected to finish with between 44 and 48 wins by FiveThirtyEight.com, making the difference between the third seed in the playoffs and the 10th seed a well-timed run.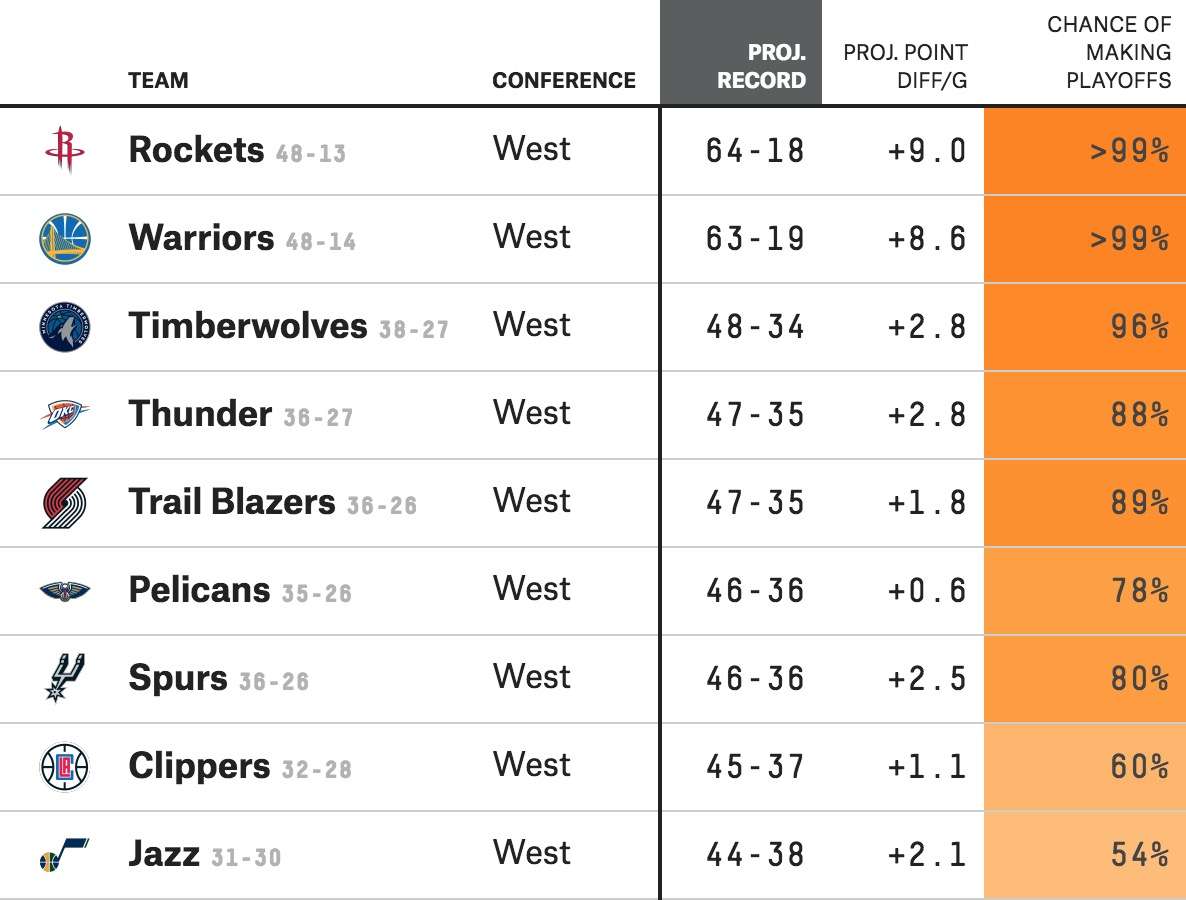 So what's going to make the difference? Can the Jazz make the playoffs? Let's break down the race:
Schedule
The good news for the current 10th-place Jazz: They have by far the easiest schedule of the Western Conference contenders. The Jazz have 10 games remaining against the bottom 10 teams in the league, eight of whom are clearly tanking. That's drastically more than their competition: the easiest schedule behind Utah's is probably Denver's, but they only have seven games against the bottom 10. Portland only has four games left against the league's worst.
But Denver's schedule features a lot of road games: 13 on the road compared to just eight at home. Meanwhile, the Jazz have 11 at home and 10 on the road.
The Jazz have three back-to-back sets remaining, and that's about average among their competition. Thanks to a roof leak, the Pelicans will play the toughest schedule in the league in late March: three games in three nights, and five games in six nights. Those games aren't easy, either. They're against Houston, Boston, Dallas, Indiana, and Los Angeles. That could reverse their current form, as they've won seven in a row thanks to MVP-caliber play from Anthony Davis.
The hardest schedule from an opponent caliber point of view belongs to the San Antonio Spurs, who play 10 of their 20 remaining games against the league's top 10 teams. That includes two games against Golden State, two games against Houston, and nine games against the eight teams they're fighting in the playoff race.
Injuries
Injuries will play a huge factor in the final two months of the season, unfortunately. The biggest is probably the status of San Antonio's Kawhi Leonard. Spurs coach Gregg Popovich told reporters after the All-Star break that he would be surprised if Leonard returned this season, but recently has returned to San Antonio to work toward a comeback. When Leonard returns, and how effective he is upon his return, could set San Antonio's playoff fate. Meanwhile, Pau Gasol (knee bone bruise) and LaMarcus Aldridge (sprained ankle) both have minor injuries they're nursing and could miss at least this weekend's game against the Lakers.
Minnesota looks like they might be in trouble, too, after the meniscus surgery Jimmy Butler underwent this week. While Butler was fortunate that it wasn't an ACL tear, the injury still figures to sideline him for the remainder of the regular season. Butler, not Karl-Anthony Towns or Andrew Wiggins, is Minnesota's most important player, and their loss against Portland Thursday night showed some real weaknesses, especially late.
The Pelicans looked poised to fall after DeMarcus Cousins' Achilles tendon ruptured, losing five of six right after the injury. But the acquisition of Nikola Mirotic and some incredible play from Anthony Davis and Jrue Holiday has led to New Orleans winning seven in a row. Can Davis keep it up?
Andre Roberson's season-ending knee injury was a huge blow to the Oklahoma City Thunder defense, and they're 7-6 in his absence. That record probably looks better than it is: they have two wins against Memphis, and one each against Sacramento, Orlando, and Dallas. Their defense, ranked third in the league before Roberson's injury, now stands at 17th over those 13 games.
The Clippers are missing Patrick Beverley for the season due to a torn meniscus, but teammates Avery Bradley and Danilo Gallinari are also missing some time. Bradley figures to be out 1-3 weeks with a hernia, and Gallinari's hand is bruised and has missed the last three games.
Meanwhile, the Nuggets just got Paul Millsap back on Tuesday, scoring nine points in a Denver loss. They had some problems integrating him into the lineup earlier in the season, and he appears to be taking minutes from Trey Lyles, who had been playing well this year.
The Jazz stand to get Dante Exum back in mid-to-late March, according to Jazz general manager Dennis Lindsey. Exum has been progressing in individual workouts, and on Thursday, he worked through shoulder contact, navigating screen after screen in one-on-one workouts with Jazz assistant coach Lamar Skeeter. Exum's shot still looks a little inconsistent, but he should get the minutes currently going to Alec Burks, at least.
Tiebreakers
The team best situated from a tiebreaker point of view is the Timberwolves, who have tiebreakers already against the Pelicans, Thunder and Clippers, with 2-0 leads against the Nuggets and Jazz.
Meanwhile, the Clippers lose most of their tiebreakers, against Minnesota, Oklahoma City and San Antonio. They're also losing the series against the Jazz, 1-2 so far this season.
The Jazz are in a pretty good situation with tiebreakers, though, having won theirs against San Antonio, and holding leads against New Orleans, Portland and LA. They've tied the season series with Denver, 2-2, and have lost the tiebreaker to the Thunder during that brutal December schedule.
This graphic, by Salt City Hoops' Dan Clayton, sums it up: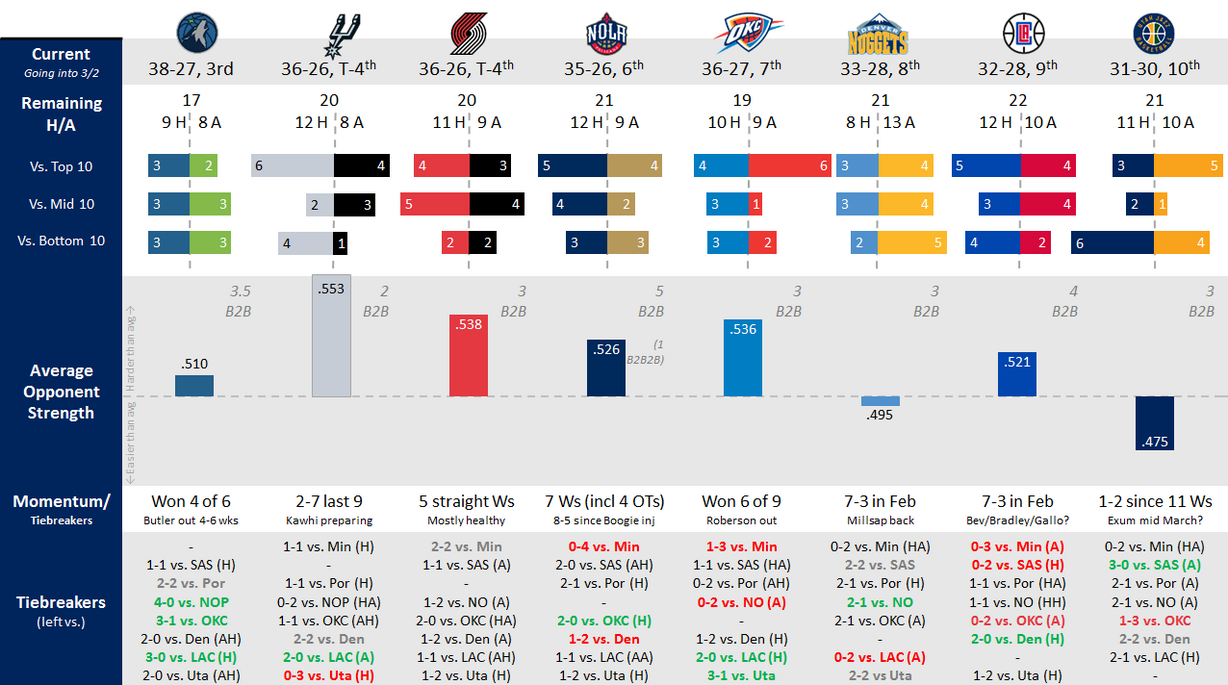 In short, get ready for a wild ride. With about 20 games left for everyone, every game will matter to each of these eight teams. For the Jazz, they'll need to win all of the games they should plus a few difficult ones to make the playoffs. Still, they control their own destiny, thanks to the few games they do have left against difficult Western Conference opposition.
×
Most recent Sports stories