Estimated read time: 3-4 minutes
This archived news story is available only for your personal, non-commercial use. Information in the story may be outdated or superseded by additional information. Reading or replaying the story in its archived form does not constitute a republication of the story.
TAYLORSVILLE — Karlie Valdez grabbed the rebound in the final seconds of Fremont's Class 6A state semifinal against Westlake with a tie game and just under 10 seconds left to play.
Déjà vu, anyone?
Not quite.
"I thought she was going to do it again to end the game," Fremont coach Lisa Dalebout. "Holy cow, it was going to happen again.
"That was not planned, though; it was just her dribbling out and going inside."
Valdez's shot to end regulation didn't fall, and the Silver Wolves went to overtime tied at 44 with the Thunder.
It was post players Haylee Doxey and Emma Calvert's time to shine, instead.
Calvert had a game-high 17 points, 10 rebounds, two blocks and two steals, and Doxey added 16 points and nine rebounds with two assists to lift Fremont into the 6A girls basketball state championship game with a 54-50 overtime win Friday night at Salt Lake Community College.
"We had an advantage inside; Emma is taller than anybody else, and we just lobbed it up to here and let her get the work," Doxey said. "If she misses, I just had to get the rebound.
"I see her every day in practice. It's a bit rough."
Fremont will play in the inaugural Class 6A state championship game Saturday at 1 p.m. MST at Salt Lake Community College.
Mazzie Melaney scored eight points for the Silver Wolves (22-2), and Valdez finished with six points, four rebounds and three assists.
Samantha Hester had 16 points and two assists to lead Westlake (17-8). Ashley Parry added 13 points, four assists and four steals for the Thunder, who were playing in their first state semifinal in school history.
Fremont clung to a 20-18 lead at halftime, but Westlake took the momentum in the second half.
Ashley Parry tied the game just 20 seconds into the half, and the Thunder rolled to a 31-24 lead after a clutch 3-pointer by Sam Hester with 3:01 remaining in the third.
Don't think the Silver Wolves would go away so easily, though.
After Westlake took a 33-26 lead, Fremont ended the quarter on a 9-0 run, capped by Doxey's buzzer-beating tipping for the 35-33 edge.
"At first, I think (the posts) had a hard time settling down," Dalebout said. "But I feel like they battled through it and settled really nice at the basket. The guards did a great job of giving them some entry passes, too."
Hester opened the fourth quarter with a three to give the lead right back to the Thunder. But both teams played with a 1-2 point lead until freshman Halle Duft made one of two free throws with 48 seconds left to give Fremont a 44-41 edge.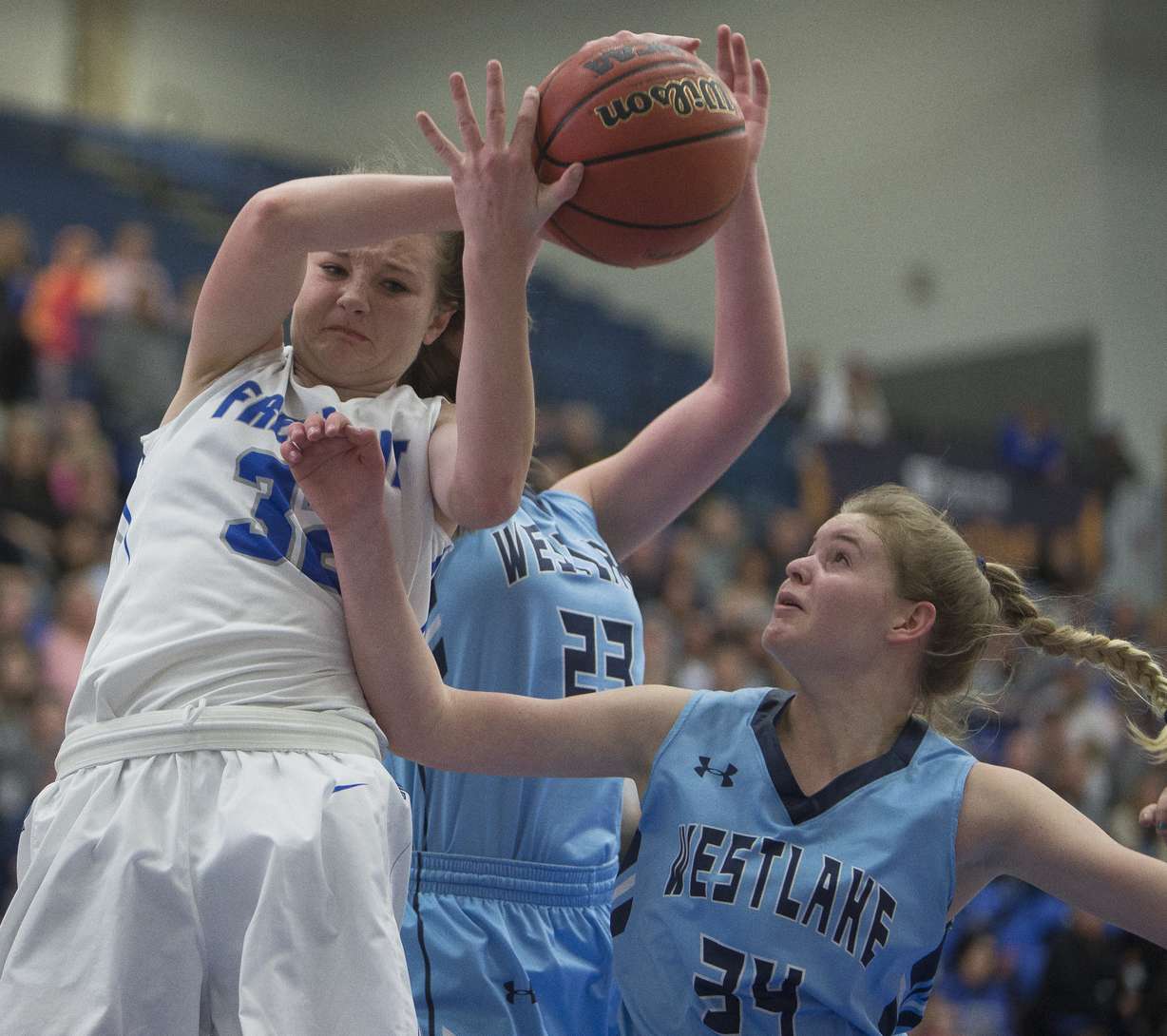 Parry tied the game at 44-44 on a 3-pointer in the final 30 seconds. Fremont called a timeout with 9.3 seconds, ready to draw up the winning play.
Instead of Valdez's game-winning, coast-to-coast bank shot she showed in the quarterfinals against Riverton, Parry intercepted the inbounds pass and the two teams went into overtime.
"I love overtime," Doxey said. "I think it's the funnest thing, I really do.
"Our attitude changed a lot. We started talking on defense and everything just started clicking."
Her coach confirmed the youngster's love of overtime.
"Haylee's really good like that," Dalebout said. "She really does embrace challenge, and she likes contact and getting inside.
"I loved her attitude at the end of the game when things weren't always going our way. She did a great job."
The extra period belonged to Fremont, which inside to Calvert and Doxey on back-to-back possessions during a 6-0 run to open overtime.
Calvert, a freshman, opened the overtime session with a layup, then blocked a shot for the Silver Wolves.
Dopey, a sophomore, followed suit in almost the same way.
And Fremont's bigs took control of the game with a 10-6 edge in overtime.
"My thoughts were finally falling," Doxey said. "It's been a rough season."
×
Photos
Most recent Sports stories