This archived news story is available only for your personal, non-commercial use. Information in the story may be outdated or superseded by additional information. Reading or replaying the story in its archived form does not constitute a republication of the story.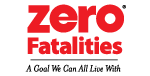 This story is sponsored by Zero Fatalities, a UDOT and DPS program. Read more Zero Fatalities stories here.
Last week, we posted an article discussing new smart technology that transforms your car into a smart car. The article — at face value — listed hot new gadgets ranging from wireless phone chargers to Bluetooth cassette adapters. However, there was a hidden message: Don't lose sight of the fact that doing anything other than driving while behind the wheel is distracting.
That's why we're starting a rebellion at Zero Fatalities. The Resistance has begun. No cell phones. No food. No makeup. No distractions of any kind when you're behind the wheel — that's what the Resistance is about. And we need you to be a part of it — because distracted driving in Utah is something we have the ability to stop.
We as Utahns have a serious problem with distracted driving. When you look at your phone to receive a text message, your eyes are away from the road for an average of 4.6 seconds.
Last year alone, at least 20 people died as a result of distracted driving in Utah. The year before that, 22 people died as a result of distracted driving in Utah. Even one death is not acceptable when it comes to the lives of your family and loved ones.
Contrary to popular belief, it's not just cell phones that are distracting people behind the wheel. The University of Utah recently concluded that infotainment system features distract drivers too long to be considered safe while the car is moving. Some functions, such as programming navigation, take drivers 40 seconds on average to perform. Add in other distractions — such as eating fast food and your cell phone — and we've got a recipe for disaster on Utah roads.
Take the pledge. Resist the urge to drive distracted. Then, tell everyone you know to do the same. You'll prevent crashes and save lives. Now is the time — join the Resistance.
When you share the distracted driving message with others and ask them to resist, you'll earn rewards. As you complete a variety of simple tasks online, you'll work your way from novice to master within the Resistance. Sign up now to start saving lives and earning rewards.
×