Estimated read time: 7-8 minutes
This archived news story is available only for your personal, non-commercial use. Information in the story may be outdated or superseded by additional information. Reading or replaying the story in its archived form does not constitute a republication of the story.
SALT LAKE CITY — Three thoughts on the Jazz's 107-83 loss to the Denver Nuggets from KSL.com's Utah Jazz beat writer, Andy Larsen.
1. For a team known for its defense, Jazz defense abysmal
We'll start with the obvious caveat: Rudy Gobert is injured, and Thabo Sefolosha was held out of Tuesday night's game because he's beat up too. Those are two defensive playmakers, including maybe the league's best one, out for the Jazz.
But I just expect a higher level of defensive execution from a Jazz squad that wanted to be elite this year on that end of the floor. Instead, they allowed 107 points to the Denver Nuggets in just 87 possessions, a 123 defensive rating for the Jazz. That included 33 shots at the rim for the Nuggets, and that doesn't count the 22 free-throw attempts they took. But the Jazz also allowed the Nuggets to take 30 threes.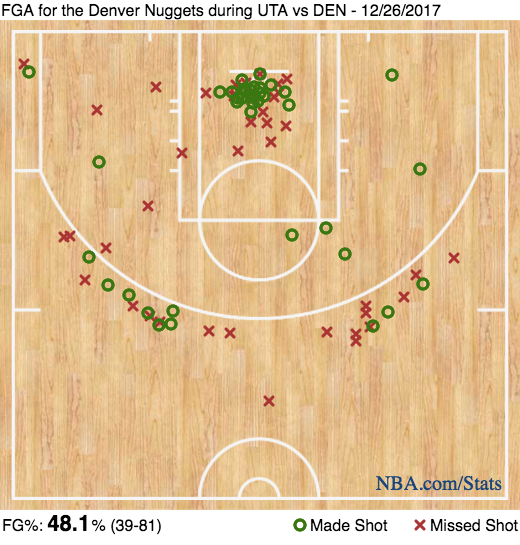 You want your defense to take away both open threes and open layups, ideally. Open mid-range shots is a bonus. But taking away none of the above isn't a sustainable option. And it's happening because the Jazz have neither good perimeter defense or interior defense right now.
As for perimeter defense, here are the Jazz's guard options: Ricky Rubio, Donovan Mitchell, Rodney Hood, Alec Burks, Royce O'Neale, and why not, let's throw in Naz Mitrou-Long in there too.
Well here's Ricky Rubio just getting beat on a straight-line drive. Here's Mitchell trailing coming right out of the out of bounds play, eventually getting beat for an and-one at the rim. Rodney Hood was a game low -19, so it's hard to argue he was a defensive answer. Alec Burks was such a problem defensively that he didn't play in the second half (because of plays like this), so Royce O'Neale played instead. O'Neale tried more visibly, but still got beat to the rim on straight-line drives like this. And Mitrou-Long is a two-way player who played exactly one defensive possession before colliding with Trey Lyles, needing nine stitches due to a huge cut on his forehead.
My point: if there's no one getting defensive stops at the point of attack, the opposition will have free runs to the rim, far too frequently. We saw that tonight, and clearly, the Jazz just need to be more solid on the ball.
But I also don't want to completely excuse the Jazz's interior defense, which was really ugly too. Obviously, the Jazz really miss Gobert here, but Derrick Favors likes to call himself an elite rim protector too. But far too frequently tonight, I saw him choosing not to help, instead watching as the basket went in.
Joe Johnson gets beat here, so yeah, but I think I'd also like Favors to be more a presence as a rim protector pic.twitter.com/lItICLv3Vw — Andy Larsen (@andyblarsen) December 27, 2017
Mason Plumlee is not such an offensive threat that Favors should be this afraid of leaving him. That the Jazz ended up with zero blocks tonight is indicative of this overall lack of support inside. It's the first time the Jazz have ended up with a goose egg in the block column since Dec. 8, 2015.
"You couldn't feel us defensively," Quin Snyder said after the game. "Our resolve on defense has to improve. There has to be more attention to detail, there has to be more intensity. We were on our heels on the defensive end."
That improvement has to come from everyone on the roster.
2. Offense misses shots, then struggles to generate good ones
The Jazz have to be good on the defensive end because, without a go-to-scorer, they're just not talented enough on the offensive end to consistently generate and convert on good looks. That was especially true in the first half, when the Jazz only scored 34 points, including just 14 points in the second quarter.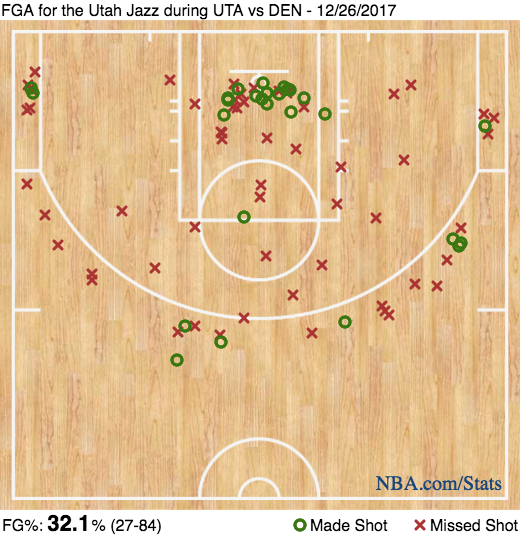 After the game, there was a sense from some observers that the cause of the offensive problem was that the Jazz didn't hit some good looks. This is true: the Jazz probably deserved to shoot more than 10-35 from three. If they hit their team average, they hit 13 threes, and lose by only 15. No prizes are given for losing by 15.
(If you want to get technical, they also underperformed shooting at the rim, making only 12/21 of their shots there. League average is 63 percent. They should have made one more. There are also no "lose by 13" prizes.)
Instead, they were worst offensively from mid-range, shooting just 4-16 from between five feet and 14 feet and an impressively bad 1-12 from 15 feet out to the 3-point arc. And this is where I have to disagree with some observers: these are some bad shots.
This Favors floater shot: it's one he's made before. But it's really hard! It's not reasonable to expect him to make that at, say, more than a 40 percent rate. Ditto with this little spinning flip over an outstretched Plumlee arm.
And while Rodney Hood is one of the best players in the league from mid-range, it's also foolhardy to expect him to make this shot more than 40 percent of the time. These just aren't good shots. And sure, you might reasonably expect the Jazz to shoot more than 5-28 on those midrangers, but it's not the answer to getting steady offense.
What are some answers? Well, getting transition baskets is one, but it's hard to do that when you don't make an impact on the defensive end (see above). And when you do find yourself in a half-court possession, you have to move the ball, create an advantage and expand it. I didn't think the Jazz went too far to create great shots for themselves tonight, and ended up settling for missable ones.
3. I'm worried about Joe Johnson
The Jazz do have a notoriously skilled tough shot maker on the roster: Joe Johnson, the 7-time All-Star that saved their bacon repeatedly in the first round playoff series against the Clippers last season. They don't call him Joe Jesus for nothing.
But Johnson is 36 years old, and this is about the time in which our non-mortal heroes turn mortal. And, it has to be said, Joe Johnson looks pretty beatable right now. Johnson was 1-6 tonight, including 0-4 from three.
The 0-4 from three actually doesn't disappoint me that much, though it continues a worrying trend — Johnson is shooting just 17 percent from there so far this year. Even given age-related regression, that doesn't make a lot of sense, and it's fair to point to the wrist injury there.
But Iso Joe has to do better with this kind of opportunity.
Also, Joe Johnson, please just find Rodney Hood here, this is a tough shot even for you: pic.twitter.com/VjZ8v52OuB — Andy Larsen (@andyblarsen) December 27, 2017
The NBA's clip starts early enough that we miss a few seconds of Hood being open a few feet away for an open three due to a Denver defensive mistake. So right away, Johnson should have just passed the ball to get a Hood catch-and-shoot wing three. But he noticed he has a mismatch on Plumlee, so he's going to attack it. Fine. But Plumlee just backs up, enough that Johnson doesn't think he can drive it past him, and then eventually forces the contested mid-range shot.
We've all seen Johnson make this shot, hundreds of times. But it's short and left all the way. Even during Johnson's prime, it's probably a 50/50 shot, right now, it feels like a 40/60 one. It's not enough to give Johnson that kind of look.
And then the defense, never great, has been more of a problem this year, where it just seems like Johnson gets blown by with ease unless he's matched up on the right kind of power forward. Moving out of the starting lineup helps, but bench bigs are getting increasingly quick too, like Trey Lyles.
I'm hoping Johnson figures it out as he works his way back from injury, and he still could. But it's also possible we're at the middle of the end for the 17-year veteran.
×
Most recent Sports stories