Estimated read time: 4-5 minutes
This archived news story is available only for your personal, non-commercial use. Information in the story may be outdated or superseded by additional information. Reading or replaying the story in its archived form does not constitute a republication of the story.
PROVO — There's a lot going on around the BYU men's basketball program this week.
Between final exams, a six-game winning streak and the best start to the season since joining the West Coast Conference in 2011-12, the Cougars are busy.
Add to it Yoeli Childs' cramping issues illustrated in the weekend's 77-65 win over rival Utah, and one can expect BYU to be busy as it prepares to host Idaho State at 7 p.m. MST Thursday before turning around with Texas Southern on Saturday.
How does the team prepare for such a busy week on the eve of Christmas break?
"We're not satisfied, but we're a team that is hungry with a chip on our shoulders," said Childs, the former Bingham High star who was adamant that the cramping was "a weird, one-time thing." "We could be 11-0 right now, and that's not enough for us. We want more. We want to get better every day. We want to prove that we are an NCAA Tournament team, that we can win the conference and that we can be a national team."
With a stingier defense than previous years, the Cougars have held the last six opponents beneath 70 points for the first time since 2008 — and it's not by accident that it's come with a different rotation than what head coach Dave Rose envisioned of his team heading into the season.
Post players Ryan Andrus, Braiden Shaw and Dalton Nixon were available at Wednesday's practice for a handful of drills and as "feeders," but none of the trio have been cleared to return to play (Shaw is likely the closest of the three, Rose added).
But the addition of Weber State transfer McKay Cannon, who had seven points in 17 minutes off the bench against the Utes, has given them the necessary spark to play through the lineup tweaks.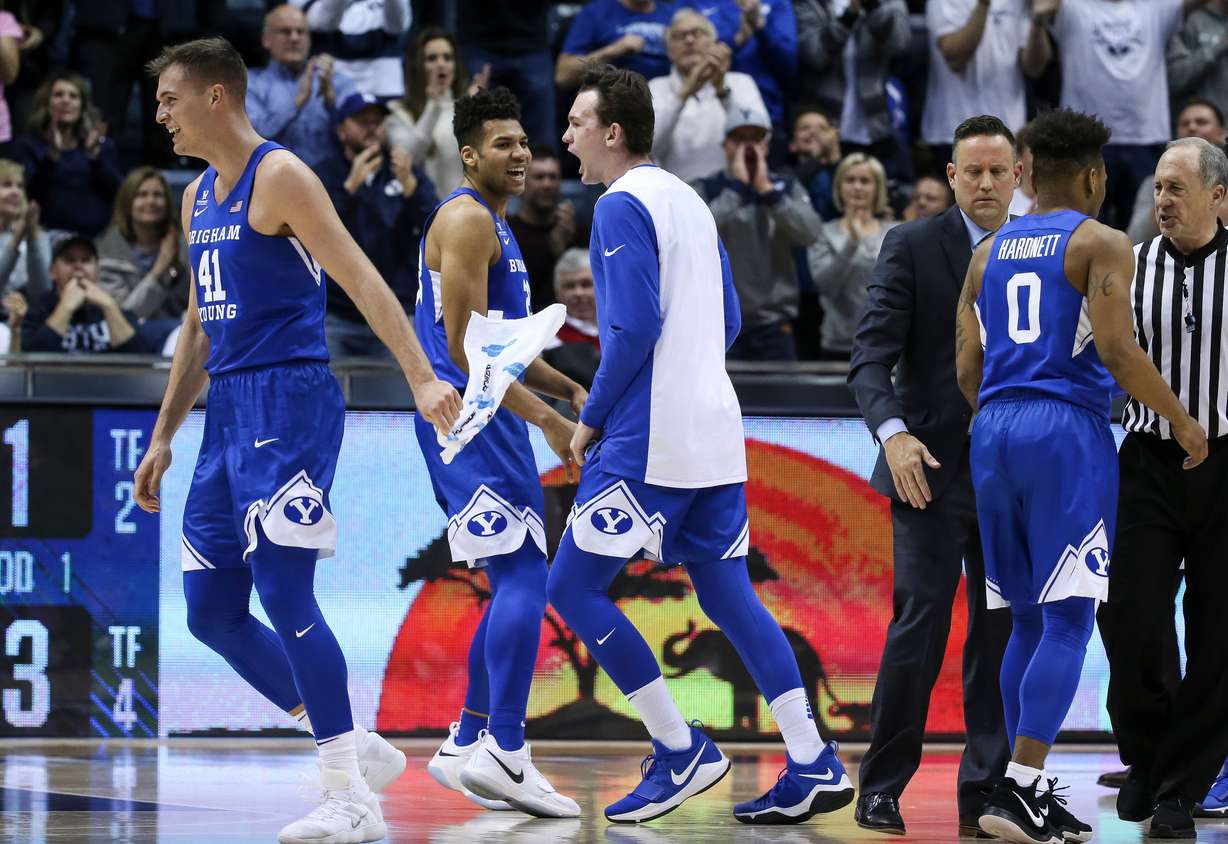 "It's allowed us to put Zac (Seljaas) as that stretch-four guy, and I think over the last five games, we've really been able to change or develop and zero in on where our strengths really are — and what we really need to work on," Rose said. "With personnel, it gives us a good group to play with. From those five games, I think we've executed better and better offensively and defensively with McKay."
The Bengals (4-5) are on a four-game winning streak after opening the season against two Pac-12 opponents (Arizona State and Washington State) and Utah Valley. Among the team leaders is senior guard Geno Luzcando, a native of Santiago, Chile, who prepped at Wasatch Academy in Mount Pleasant, on a team that averages 72.6 points per game on 45 percent shooting.
"Idaho State can really shoot the ball," Rose said. "Texas Southern is totally different."
That's a … theory
While attempting to explain away his one-time-only problem with cramps, Childs repeatedly told reporters after Wednesday's practice to "tell everyone that I'm fine." (Really, he's fine; stop filling up his Twitter mentions).
Teammate Luke Worthington has another theory on the recent painful flare up.
"His favorite player is LeBron, so he wanted to have a game like LeBron where he cramps up a bit," the 6-foot-10 post joked.
Beat Utah … finally
Count Childs, who wasn't recruited by Utah despite attending high school just 23 miles away, as a strong proponent of continuing the annual rivalry series between the Utes and Cougars. The two schools will meet next year at Vivint Arena as part of the Beehive Classic, the second of three currently contracted meetings.
"It's really good for the state, for the school, especially with the drought we've had against Utah," Childs said of last weekend's win that vaulted BYU to No. 64 in the KenPom ratings. "It was good to say that this is definitely a rivalry. They're a really good team, do a lot of good things, and it's definitely a rivalry that should happen all the time."
Utah dropped to No. 60 in KenPom after the loss, but before facing Northwestern State to end non-conference play Wednesday night.
×
Related stories
Most recent Sports stories