Estimated read time: 4-5 minutes
This archived news story is available only for your personal, non-commercial use. Information in the story may be outdated or superseded by additional information. Reading or replaying the story in its archived form does not constitute a republication of the story.
OGDEN — Ryan Richardson stood underneath the basket, tensing up before letting out a scream that came in unison with those on hand at the Dee Events Center Tuesday night.
After blowing a 16-point first half lead and trailing 54-53 with 9:52 remaining, Richardson scored seven of Weber State's next 11 points to steal back the lead, 64-58, with 3:50 left.
For Richardson, the display of emotion was the release of frustration turned to satisfaction.
What had been an 18-4 Pepperdine run to start the second half had become a 17-9 Weber State run. The offensive rebounds that had been landing with Pepperdine had become defensive rebounds for WSU. And what began as a hot-shooting second half for the Waves, who sank four free throws and 10 of their first 17 shots coming out of the break, cooled late as the Wildcats held on for a 72-67 victory despite being outscored 40-29 in the final 20 minutes.
At the end of a game that tested Weber State's energy, mental fortitude, patience and clutch playmaking, Richardson smiled and raised his fist high in the air before the announced 6,567 attending the game at the Dee Events Center.
"He was great, he hit some big shots," point guard Jerrick Harding said of Richardson's second-half performance. "We expect that from Ryan, him being that senior. It was a great game for him."
Weber State (6-5) made all eight of its free throws during the final 3:50 to close out Pepperdine (4-8).
"Everybody was 100 percent, other than me," said Zach Braxton, who missed three first-half free throws before going 2-2 late in the second half. "It was good. Good shooting by everyone at the end of the game."
The Wildcats were outrebounded 37-26 and 15-5 on the offensive glass, which led to 17 second-chance points for the visiting Waves. Twelve of those 17 points came in a high-energy second half for the Waves.
"They became the aggressor," Weber State head coach Randy Rahe said of Pepperdine's energy level and offensive rebounding. "I know they came out in the second half and they were upset that they were down 16. They said, 'the only way we can do this is we're going to be the aggressor. We're going to fly in there, we're going to send four guys … to hell with it, let's go."
Added Braxton: "I missed some box-outs that I should have hit a guy and he got the rebound. That's on me, that's on some of the rest of us. We've got to rebound better. That's something we've been emphasizing all year, and we take responsibility for that. No team should have that many rebounds and beat us by that much on the glass."
Braxton scored 14 points to go along with four rebounds and two blocks in 35 minutes of action Tuesday.
In playing the entire the second half, Harding finished with a game-high 26 points and added two rebounds and a steal. Richardson, who played the entire second-half along with Harding, hit four 3-pointers en route to an 18-point night.
"I don't want them to play that many minutes," Rahe said of playing his starting backcourt all of the second half. "With the way the game was going, it didn't feel like we could play a lot of guys. I was hoping that they had enough energy to finish out and they did. … They hung in there."
Early on, the Wildcats were rolling after Braxton spun inside and finished off the glass following consecutive driving baskets from Harding to give Weber a 6-0 run and 33-19 lead with 6:20 remaining in the first half.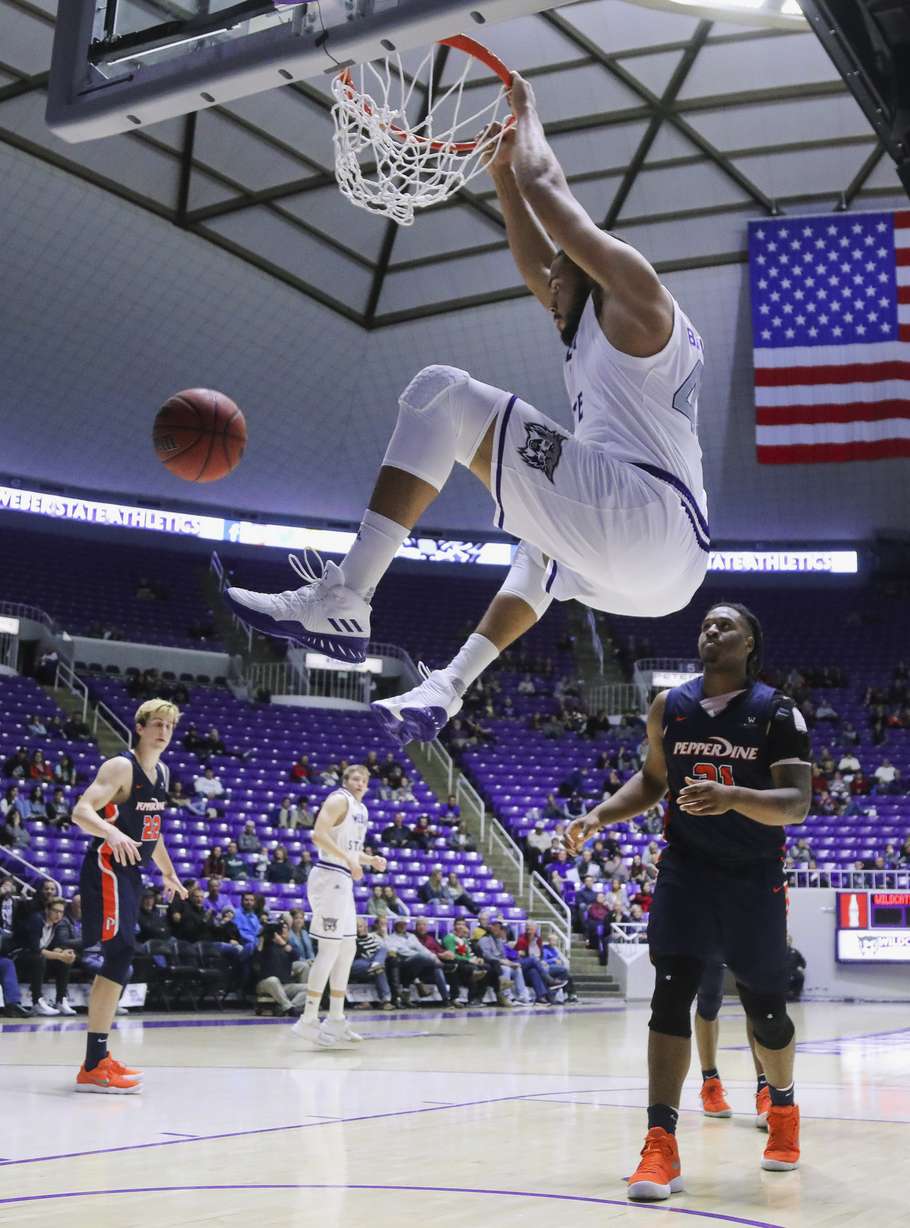 Later, Weber State aligned in a 1-4 set to clear space for Harding for the final shot of the first half. Beginning at the top of the key, an isolated Harding drove right, spun left and rose for a jumper to give the Wildcats a 16-point lead, 43-27, heading into halftime.
Harding led all scorers in the first half with 16 points, missing only two of his nine shots.
"I feel like our offense got me good looks," Harding said.
Weber State will close out its nonconference schedule Friday against Presentation College at 7 p.m. MST at the Dee Events Center.
×
Most recent Sports stories