Estimated read time: 4-5 minutes
This archived news story is available only for your personal, non-commercial use. Information in the story may be outdated or superseded by additional information. Reading or replaying the story in its archived form does not constitute a republication of the story.
If you've ever wondered why so many people spend every winter weekend and half their paychecks hurling themselves down a mountain, or watched the giant slalom at the Winter Olympics and thought, that looks kind of fun!, this article might be for you.
If you live in Utah and you've never skied or you're visiting for the first time and want to know what all the fuss is about, let us wax your proverbial skis with four valuable tips. Ready to be King of the Bunny Hill? Here are all the right – and some of the wrong—ways to hit the slopes like a pro-beginner.
1. Dress the part
This isn't as much about looking good as it is about feeling good — and staying warm. (Although looking good never hurts either.) There are a few essentials you need to know so you're not miserable on the mountain:
HELMET. Non-negotiable. Remember, you're throwing yourself down a mountain, sometimes (accidentally) at high speeds. You can rent one for about five bucks at the resort.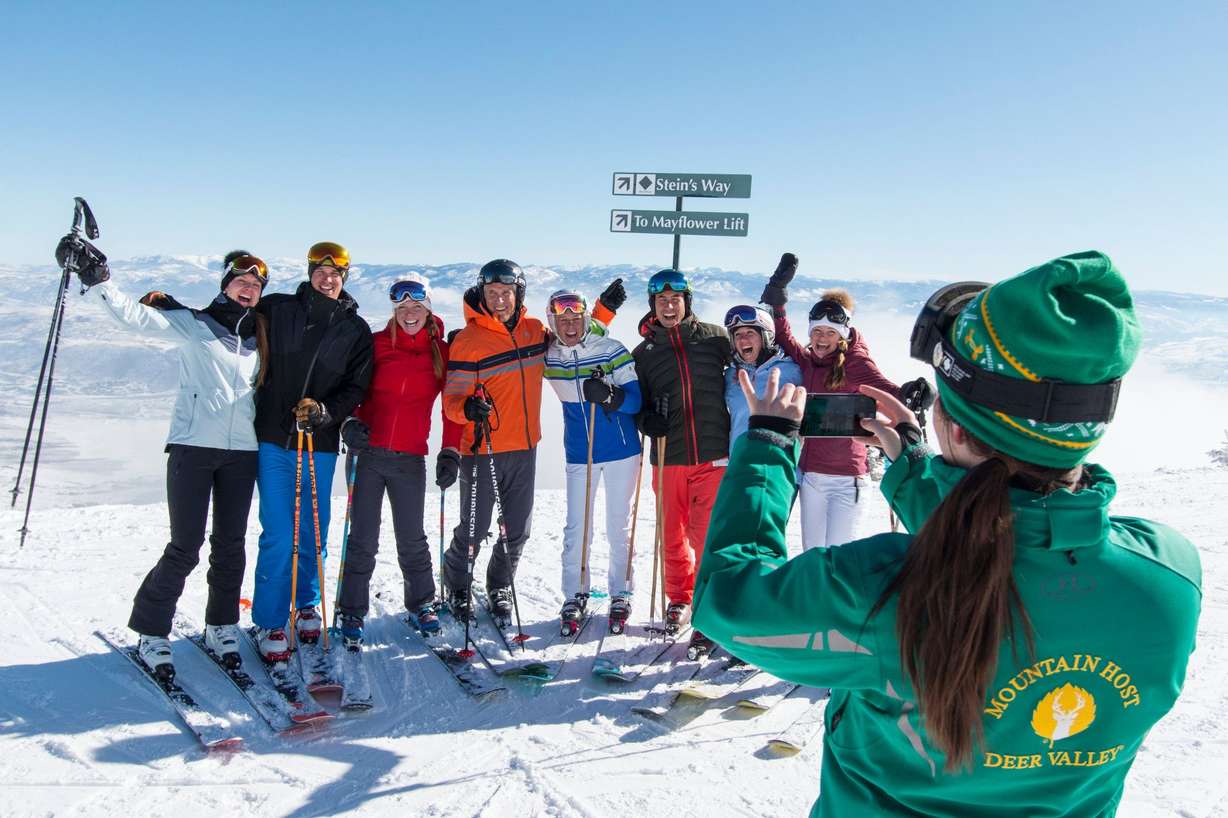 GOGGLES. These are pretty essential too because it's hard to see the magical world fly past without them. You can get fancy and grab some UV-non-reflective ones, or just go with something classic to keep wind and snow out of your eyes.
BASE LAYERS. Starting with the underwear, these should be quick-dry and synthetic fabric. Got it? Okay, moving on. Next is your mid-to-heavy-weight wool or synthetic base layer. These should keep you toasty warm but if you feel the need for a mid-layer, we recommend a fleece that you can unzip if necessary.
PANTS & COAT. For beginners, we recommend water-proof, insulated pants and coat. You'll be spending more time with your kiester in the actual snow than most of the skiers, so it's best to go with what will keep you dry and warm.
SOCKS & GLOVES. It's worth stating that socks cannot be overthought. You don't want your feet to freeze, but you don't want them to rub either. Invest in good, fitted wool socks. They should be taller than your boots, and they should never, ever bunch up at the bottom. Gloves or mittens, it's your choice, but don't skip them either. Keep those puppies dry.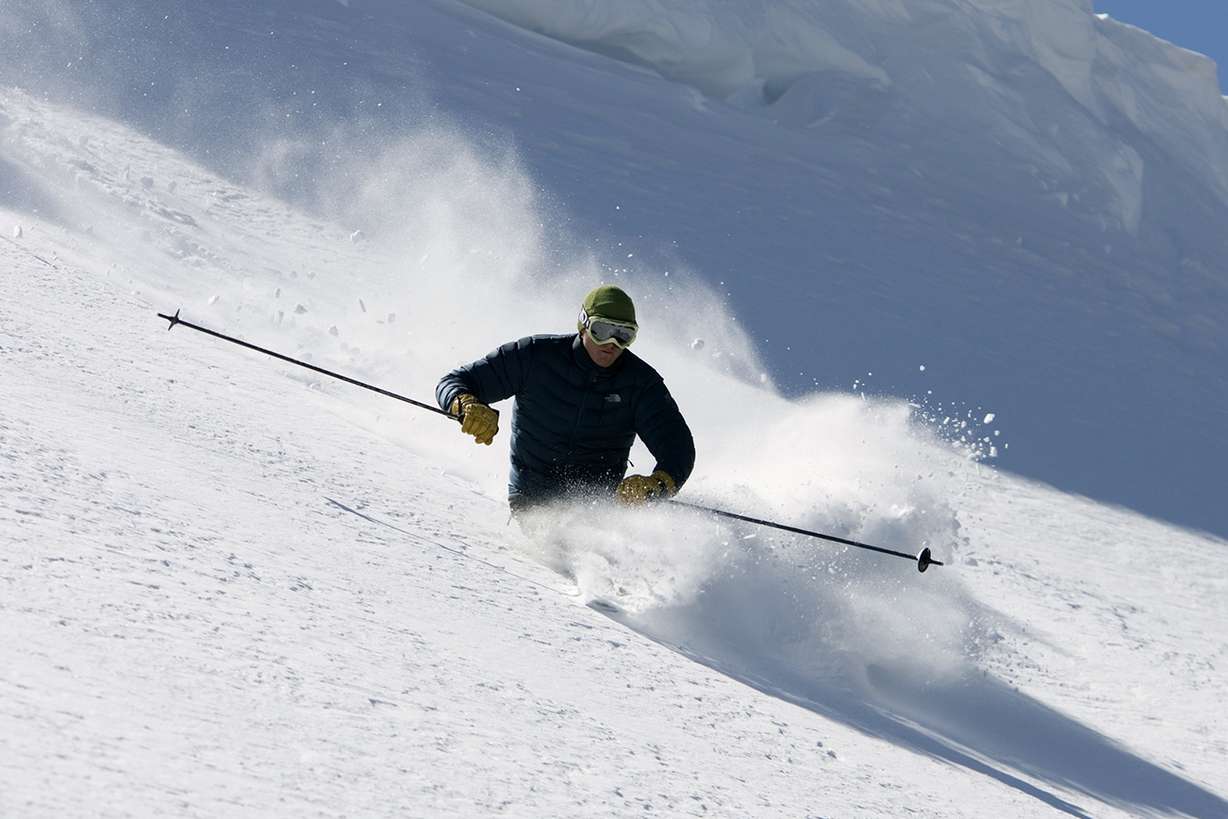 2. Pick your park
Now the fun can begin. There's a lot to cover here, so we'll give you the Reader's Digest version of our favorites.
ALTA (Salt Lake City). Where "the greatest snow on earth" got its name. Lots of pros out here. Skiers only.
BEAVER MOUNTAIN (Logan). No crowds, just a down-to-eath staff and friendly skiers and snowboarders alike. Lots of gentle slopes here.
BRIGHTON (Salt Lake City). Near Alta, but welcomes snowboarders too. The snow is great and kids 10 and under ski free.
DEER VALLEY (Park City). If you want to feel luxurious as you slip into your new favorite hobby, you'll get award-winning service the whole way at Deer Valley. And you might spot a celeb.
PARK CITY MOUNTAIN (Park City). Charming town, charming lodges, and lots of acres to cover now that it merged with Canyons.
POWDER MOUNTAIN (Eden). You'll feel like a local who just discovered a hidden gem up on Powder Mountain. It's big, it lives up to its name, and the northern resorts are less crowded, too.
SNOWBIRD (Salt Lake City). Family-focused and lots of classes, this is a fantastic resort up a beautiful canyon for beginners and pros alike.
SOLITUDE (Salt Lake City). Another choice spot for locals and pros, but offers a wide variety of snowshoeing and Nordic trails for your companions who aren't ready for the slopes yet.
But wait, there are more. Check out all 13.
3. Talk the talk.
Can you speak like a powder junkie? Find out here with this quiz.
https://www.ksl.com/?sid=38636378&nid=1268
4. Walk the walk.
You can get the best advice from trained professionals out on the slopes, but here's a quick list of things to keep in mind before you even head out:
Read up on the rules of your resort.
Try putting on your boots/skis and walking around a bit in them.
Enroll in classes.
Learn to stop.
Learn to fall.
Learn to get on a chairlift.
Be patient.
Have fun.
Learning to ski is not for the faint of heart, but you can do it! Just know you're going to have some gnarly spills and a lot of frustration up front. But hey, that's always the price for the best things in life. You'll be up and running on your own by lunch.

×