Estimated read time: 4-5 minutes
This archived news story is available only for your personal, non-commercial use. Information in the story may be outdated or superseded by additional information. Reading or replaying the story in its archived form does not constitute a republication of the story.
PROVO — The storied BYU-Utah basketball rivalry has a long history, with 257 all-time meetings dating back to 1909, an annual series shortened only by World War II and a one-year hiatus in 2016.
But besides Utah coach Larry Krystkowiak and BYU counterpart Dave Rose, the Cougars and Utes are mostly strangers.
Only two BYU players, center Luke Worthington and guard Zac Seljaas, have ever played against the Utes in a rivalry game that will tip off at 9 p.m. MST Saturday on ESPN2 and KSL Newsradio.
For the Utes, only senior David Collette has ever played against the Cougars; he had 12 points and five rebounds as a redshirt freshman in Utah State's 98-81 loss to BYU in Logan.
Of course, that doesn't make the rivalry any less heated — for those who know its vaunted history. The Cougars have five Utah natives on the roster, two more from Idaho, and one more (Elijah Bryant) who was on the bench as a transfer student during Utah's 83-74 win in Salt Lake City in 2015.
"It is a big deal," said BYU guard McKay Cannon, a Weber State transfer originally from Shelley, Idaho. "I have a lot of BYU fans from home, and I grew up with that tradition. But I'll learn more about the rivalry — so I'm excited."
The Utes have five Utah natives on the roster, and freshman guard Christian Popoola from Las Vegas originally committed to the Cougars before signing with Utah.
BYU guard TJ Haws grew up in Alpine, prepped at Lone Peak, and was recruited by both schools before committing to the Cougars prior to a two-year mission for the LDS Church.
"I'm super excited for it," said Haws, whose team leads the all-time series 129-128. "I've been watching it since I was a little kid, and I'm really excited to be a part of it this time."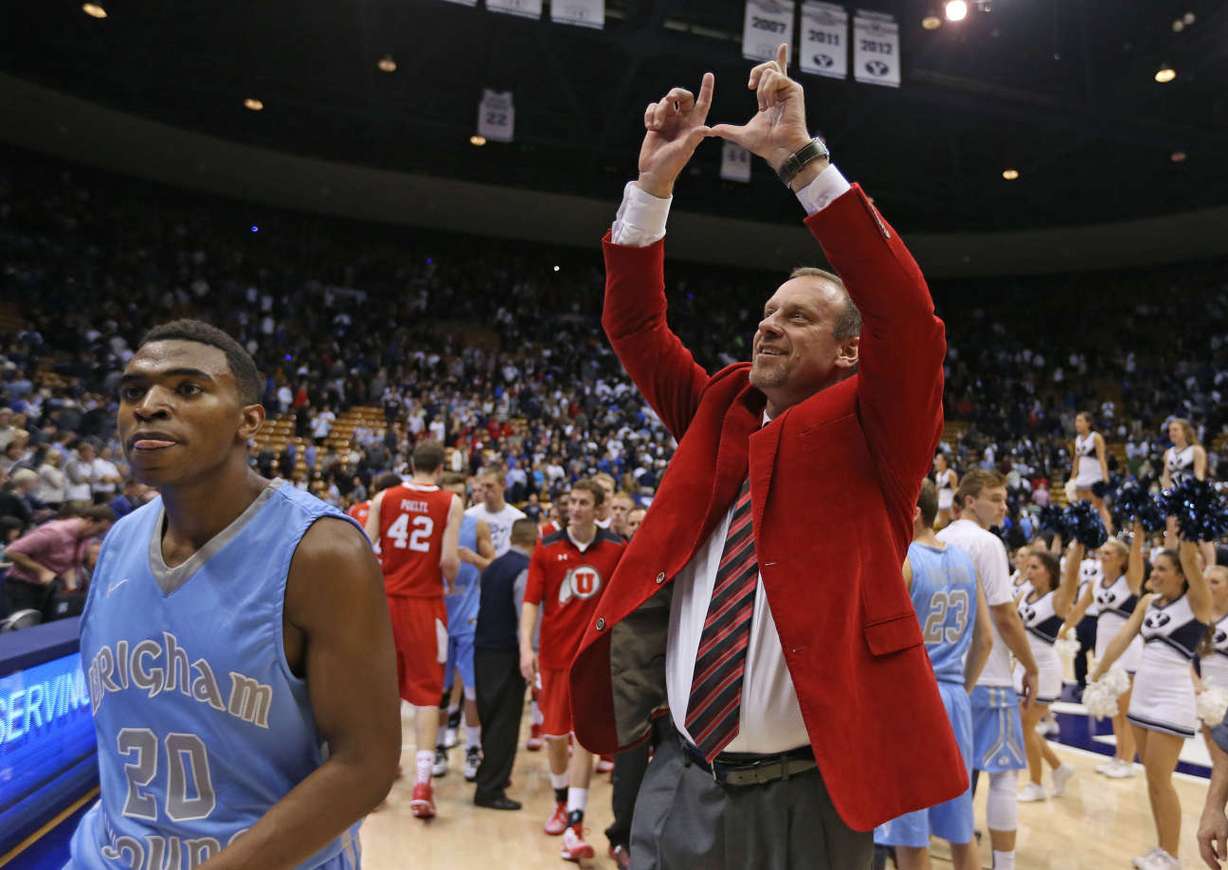 Saturday's matchup is the first since the one-year hiatus that came after BYU guard Nick Emery was ejected for throwing a punch against former Utah guard Brandon Taylor, prompting Krystkowiak to call for a "cooling-off period" from the series.
In light of the incident, no player wearing a Utah jersey in that game will play in Provo. For BYU, Seljaas scored six points in two minutes as a true freshman in the Huntsman Center, and Worthington has played a total of 15 minutes in two games against the Utes.
Regardless of the circumstances, both teams seem to agree it is good to get the game back on the schedule.
"We're looking forward to it," Rose said. "It'll have a lot of unnecessary hype because of things that have gone through. But I think these are two teams that are improving, getting ready for confidence, and it should be a highly contested game."
Of course the game matters to the community, as well.
"It brings a whole new level of support for the community and organization and it unites us. That's cool," said former BYU star Travis Hansen, who now manages local company Tesani amid a host of businesses. "I think these games mean more to the community and to the state than is quantifiable. It's the best, it's the funnest, and it gives us something to look forward to."
Injured reserve
The Cougars' 74-68 win over Weber State last weekend in the Beehive Classic was notable because it came without injured forward Dalton Nixon.
The recently returned missionary has been a pleasant surprise for the Cougars in the first nine games of the season, averaging 6.7 points and 3.7 rebounds in 17.6 minutes off the bench. But Nixon missed Saturday's game against the Wildcats with a foot injury, and Rose said the team would know more after Tuesday's practice, which was closed to the media.
"From all reports, it's going to be an issue we will have to deal with for a while," Rose said Saturday.
The Hiatus
Emery blogs
Emery won't feature in the game as he takes a year off from school for personal reasons.
But the BYU junior updated his status in a blog post Monday.
While he makes no mention of an NCAA investigation alleging improper benefits, Emery said he has been cleared by an Honor Code review to return to the university.
"I have been accused of everything you possibly could be accused of being a terrible person," Emery wrote. "To be honest, I would probably think the exact same thing if I heard this many things about someone, too.
"In my situation, I am so incredibly grateful for this investigation because it only solidifies the facts and facts only," he continued. "I was cleared of these false accusations, rumors and any wrongdoing by the honor code after they did their investigation."
Read the entire post on theoutlive.com.
×
Related stories
Most recent Sports stories