Estimated read time: 2-3 minutes
This archived news story is available only for your personal, non-commercial use. Information in the story may be outdated or superseded by additional information. Reading or replaying the story in its archived form does not constitute a republication of the story.
PROVO — Just four days after a historic loss on its home court, the BYU women's basketball team rallied for its biggest win of the season.
Cassie Broadhead Devashrayee poured in 36 points, and Malia Nawahine added 13 points and six rebounds against her former team, as the Cougars held on for a 77-68 win Saturday over rival Utah in the Marriott Center.
Brenna Chase added 11 points, four rebounds and three assists for the Cougars (4-5), who snapped a four-game losing streak.
Sara Hamson, fresh off a trip to the Sweet 16 with the BYU women's volleyball team, added nine rebounds and nine blocks. The Cougars made 14-straight free throws in the final four minutes to ice the win.
"It's such an energy booster, after the last couple of weeks," Hamson said after the game. "I feel like this brings up the energy, and it's a great feeling."
Megan Huff led Utah with 19 points, 12 rebounds and two assists, and Tori Williams went 3-of-9 from 3-point range en route to 14 points for the Utes (7-2). Utah's Emily Potter supplied 11 points, nine rebounds and two blocks in just 25 minutes.
The Utes shot just 33 percent from the field, connecting on 20-of-60 shots and eight from 3-point range.
The Cougars had three players foul out in a physical game that featured 49 fouls, including starting posts Shalae Salmon and Amanda Wayment.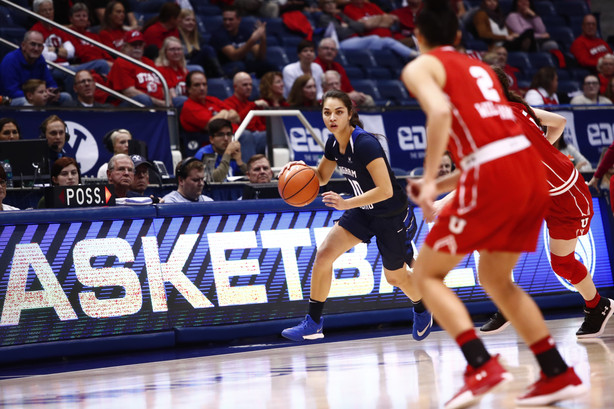 "I thought it was a tale of two halves in terms of free throws," Utah coach Lynne Roberts said. "We shot 20 in the first half and then they shot 26 in the second and we shot nine, and I think that is where the game was won. Credit to BYU, I thought they played well and had a great second half."
BYU got a boost with a 7-of-17 effort from 3-point range, including Chase's 3-of-6 mark. The sophomore from Thornton, Colorado, swished a trey to give the Cougars a 22-21 lead midway through the second quarter after struggling at home early.
Utah leads the overall series 53-43, but BYU's win improves the Cougars' mark in Provo to 21-22. The Utes haven't won in the Marriott Center since Dec. 14, 2013, an 82-74 victory in double-overtime.
The Utes rolled to a 77-60 win over their rivals Dec. 10, 2016, at the Huntsman Center in Salt Lake City.
×
Related Stories