Estimated read time: 4-5 minutes
This archived news story is available only for your personal, non-commercial use. Information in the story may be outdated or superseded by additional information. Reading or replaying the story in its archived form does not constitute a republication of the story.
LEXINGTON, Ky. — Three years ago, the Kentucky women's volleyball team sat in its own gym watching BYU play in the Lexington Regional semifinal — a semifinal the Wildcats could not play in.
They vowed to make up for lost time.
On Friday morning, they did.
All-SEC freshman Avery Skinner had 24 kills and eight digs to lead four players with double-digit kills, helping Kentucky rally for a 20-25, 25-17, 22-25, 25-18, 15-9 win over 13th-seeded BYU in an NCAA tournament round of 16 match Friday morning in Lexington, Kentucky.
"This time of year, you have to have more than one or two options because even in this match, you saw some people get hot then cold or they started cold then got hot," Kentucky coach Craig Skinner said. "In a fifth game, and they talk about our fifth game, we're a very difficult team to play against because there are three, four, five options that we can go to in the fifth set.
"If you have one or two, it's easy for a defense to set up. For us to have four people with double-digit kills, the next person was eight, then we have 72 digs — that's a total team effort."
Leah Edmond added 21 kills and 13 digs for the Wildcats (29-3), Brooke Morgan notched 12 kills for the Wildcats and teammate Emily Franklin supplied 12 kills, six blocks and four digs.
Madison Lilley dished out 63 assists, 12 digs and seven blocks for the Wildcats, who advanced to face the winner of Nebraska and Colorado in Saturday's regional final.
Roni Jones-Perry recorded a match-high 24 kills and eight digs to lead BYU (30-3). Lacy Haddock added 12 kills and three blocks, and twin sister Lyndie Haddock dished out 52 assists, 10 digs and five blocks for the Cougars, who were seeking their first regional final since 2014.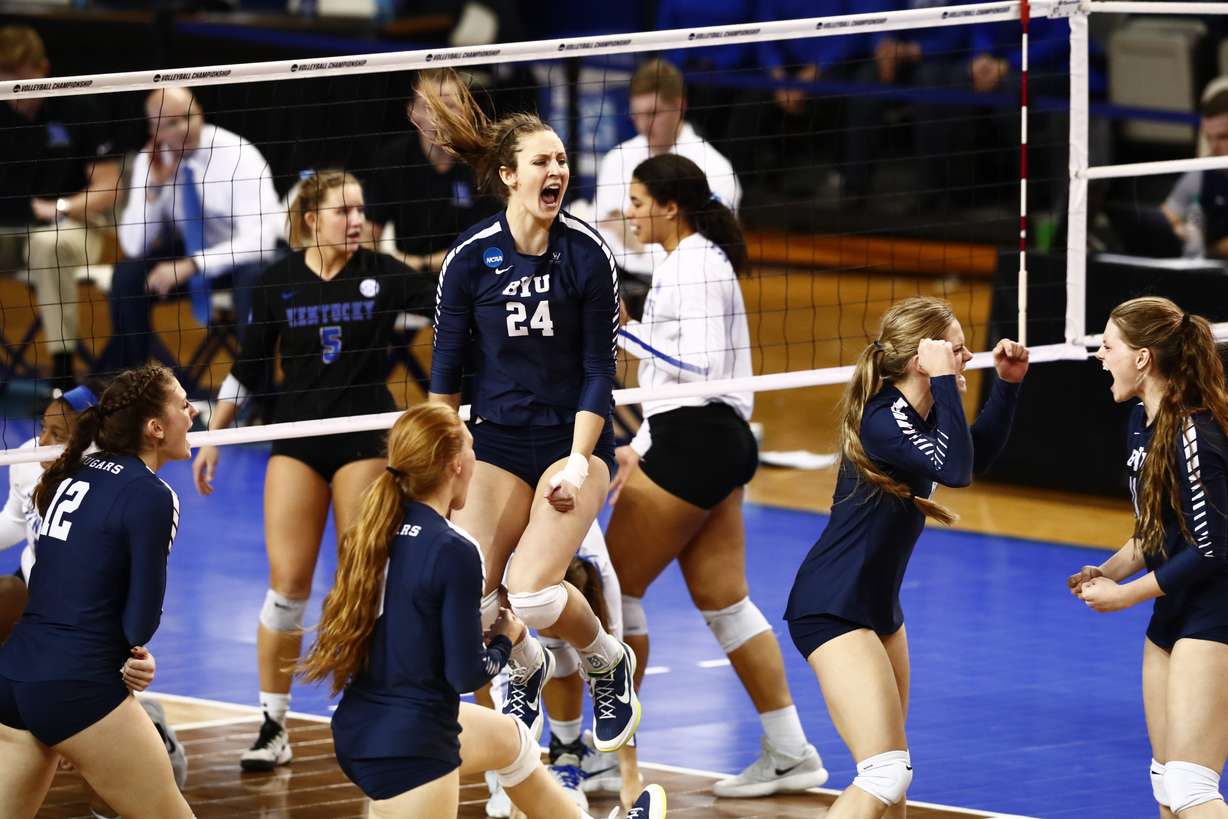 Mary Lake led all defenders with 19 kills for BYU, and teammate Sydnie Martindale added 15 digs against a Kentucky team that out-blocked BYU 16.5 to 10.
"I couldn't be more proud of the way that we competed against a really good Kentucky team," BYU coach Heather Olmstead said. "I am proud of my team, even if we came up short. Congrats to Kentucky on advancing."
After an unsuccessful challenge on the opening point, the Cougars leaped out to a 5-1 lead when Jones-Perry knocked down her 23rd kill of the match. But early leads don't always last, and Kentucky tied the match at 7-7 before going ahead on a double block by Edmond and Franklin.
The Wildcats finished the match on an 8-2 run, capped by Skinner's match-point to seal the Wildcats' first regional final berth in program history.
"I just think there is something special about playing on a team where the coaches look for girls that have heart, and that is something that is great about this program," Lake said. "We can work on skills and we can work on getting better at volleyball, but it is nice to know that my teammates come in as fighters. They come in and want to work hard and want to win — and so it is just a credit to the program."
Boasting a .367 team hitting percentage in the first set, Lyndie Haddock took an out-of-system kill to the floor for a 10-5 advantage, and Jones-Perry laid down her fourth kill to give visiting BYU a 16-8 lead over the Wildcats.
Kentucky capped a 4-0 run to pull within four on a kill by Emily Franklin, who served up an ace to pull the Wildcats within three, 20-17.
But Kennedy Redding, the WCC co-freshman of the year who finished with seven blocks, righted the ship with a kill, then posted another bring up set point at 24-20 before Jones-Perry finished off the 25-20 set with her sixth kill of the morning.
Two of the top defensive teams in the NCAA, the Wildcats went on to take two of the next three sets and held the Cougars to a .048 hitting percentage in the final frame — relying heavily on the home-court advantage provided by hosting the regional with a top-four seed.
"Honestly, there were a lot of people out there, but it was a little quieter than I expected it to be," said Jones-Perry, a junior. "I do not know if it was because our gym at home is so much smaller. So when people are there it gets super loud, super fast. But I think the atmosphere around the court was really good in the gym."
The Cougars finish the season with a run to the Sweet 16 or later for the sixth-straight season, including a national runner-up finish in 2014 and four-straight West Coast Conference championships.
"Congrats to BYU on a great season — and I know that's no consolation," Skinner said. "Every team is really good at this point in time — and Brigham Young is no exception."
×
Photos
Most recent Sports stories