Estimated read time: 7-8 minutes
This archived news story is available only for your personal, non-commercial use. Information in the story may be outdated or superseded by additional information. Reading or replaying the story in its archived form does not constitute a republication of the story.
OKLAHOMA CITY — Three thoughts on the Utah Jazz's 100-94 loss to the Oklahoma City Thunder from KSL.com's Utah Jazz beat writer, Andy Larsen.
1. Jazz run out of gas in the fourth quarter to allow big OKC comeback
The Jazz had a 17-point lead midway through the third quarter, but a 32-14 fourth quarter by Oklahoma City allowed the Thunder to win yet another home game against the Jazz in OKC.
So what changed for the Jazz after starting the game so well? Well, I think the biggest factor was fatigue: Oklahoma City ended up with seven offensive rebounds in the critical stretch, giving them 15 second-chance points. A solid rebounding effort alone would have won the Jazz the game.
"I think late, we weren't able to secure a few defensive rebounds," Jazz head coach Quin Snyder said after the game. "The offensive rebounds are killers. If we get a defensive rebound, we get a chance to play in flow and not get stagnant in the half court."
Part of that was on Rudy Gobert, who seemed fatigued in his second game back. Gobert was dominated by Thunder center Steven Adams on the glass, and Adams ended up with more offensive rebounds (six) than Gobert had defensive rebounds (five). It's probably fair to expect Gobert, a very good defensive rebounder, to get more
Another thing that turned the game around: missing shots. The Jazz's offense definitely slowed down in the fourth, but that's not surprising given how games typically slow down late. But despite that, and some really solid defense by the Thunder, the Jazz's offense was able to generate some open 3-point looks for Joe Ingles. He missed both of them, which also could have made a big difference.
Rubio makes a great pass to find Ingles in the corner, but the 3 is short and Ingles is sad: pic.twitter.com/vAyT4jmgSJ — Andy Larsen (@andyblarsen) December 6, 2017
And honestly, look how tired he is in the above clip. The shot lands short, and Ingles pauses for a second, deflated his shot didn't go in and honestly, just disappointed that he has to run back.
That's where the injuries to Joe Johnson, Rodney Hood, and Raul Neto also hurt. The Jazz really could have used a scoring boost from the former two or some bench help during OKC's run.
Finally, Oklahoma City is just a talented offensive team. Again, we'll do a shot chart comparison, this time of the two team's fourth quarters: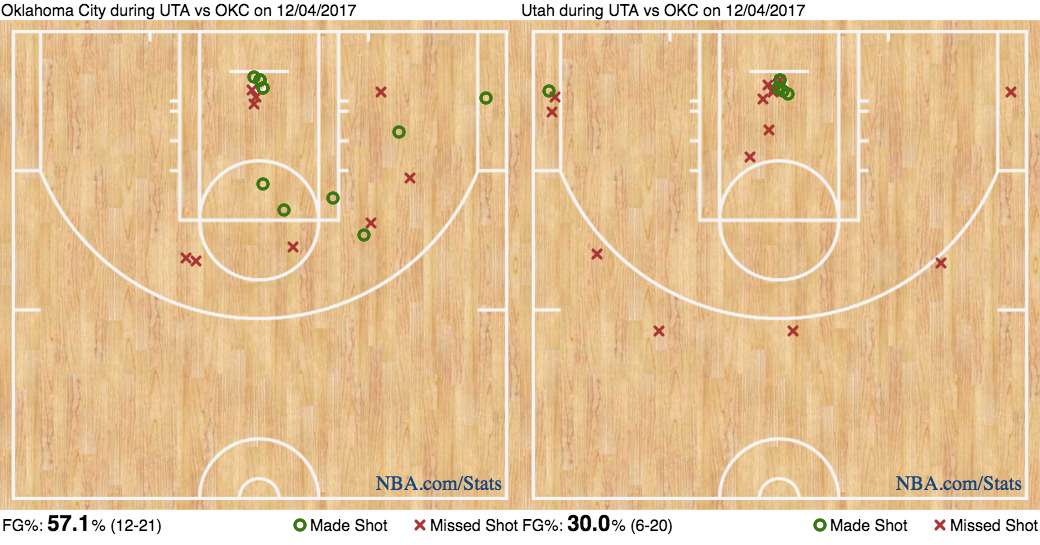 The Jazz mostly made the Thunder take shots from exactly where they'd like to take them: from the mid-range. Meanwhile, the Jazz took a lot of threes and layups. It's what you'd want to see, except for the results.
But the Thunder have Russell Westbrook, Carmelo Anthony, and Paul George, and so they made enough of those looks to keep their offense rolling in the fourth.
2. Donovan Mitchell against excellent defenders
This was probably Donovan Mitchell's most difficult assignment of the season. He was guarding George on OKC's possessions, and was being guarded by Andre Roberson and George when the Jazz had the ball. If Mitchell made it past those stellar perimeter defenders, he has to deal with the size, physicality and smarts of Steven Adams at the rim. Oh, and again, the Jazz were playing on a back-to-back.
So that Mitchell ended up with 31 points on 11 for 22 shooting, adding four assists and five steals was a really, really promising outcome for the rookie. Sure, he didn't end up winning the game for the Jazz like he did against the Pelicans last Friday night, but the degree of difficulty was monumentally higher, and he still put up 30 points.
Mitchell complimented Roberson after the game.
"He's an elite defender, he likes to get aggressive and get into you," he said. "He knows when to attack and when to predict what guys are going to do. He's a really good defender."
My favorite play was this one, though it's so quick: Mitchell runs off a screen directly towards the sideline on the out-of-bounds play, catches the ball, squares his shoulders and drains a three from very deep.
Dear Donovan, You are ridiculous.

Sincerely,
Us pic.twitter.com/wcJb9mc7AJ

— Utah Jazz (@utahjazz) December 6, 2017
There are roughly ten NBA players capable of making that shot, and they're some of the best in the league. Damian Lillard, Steph Curry, Klay Thompson, guys like that. Mitchell's been in that class over his last few weeks.
The other thing about the shot: Mitchell's been shooting some incredibly deep threes over the last few games. Donovan has shot 6-10, 2-5, 5-10, 6-12, 3-6, and now 5-12 in his last six games from beyond the 3-point line, but some of those threes have been from a few feet beyond the line.
Mitchell explained how he's able to shoot those shots:
"For fun, I used to do it all the time. I couldn't really shoot in high school. And then when I got to Louisville, I shot like 29 percent, 18-72 from the three. I just remember that number because it's stuck with me for a while. So I just started shooting the gun, and just went farther back and farther back. And most of the time was when I was by myself, you can't really shoot those shots when coach is watching."
To coaches: if your player is making deep threes, let them take them. It only helps your offense out by spacing the floor
"But it's just about having the confidence to shoot from there, and now I'm just having confidence and stepping inwards," Mitchell continued. "So long as you have your feet under you, you can really can shoot from anywhere, as long as the arc is high enough. If you look at Steph Curry's shot, his arc is incredible from so far away. The higher arc, the more likely it is to go in, and that's one of the things I've really focused on."
3. Jazz get 13 steals in the first half
As Snyder said after the game, "All in all, there were a lot of good things that we did." One of those things was the number of deflections, steals, and turnovers the Jazz were able to get on OKC in the first half.
The Jazz ended up with 13 steals in the first half; the NBA's season-high for any team in a game this year is 17. The Jazz ended up falling just short of that total with only three second-half steals, but it's still worth lauding the first-half effort.
This one isn't a steal, but look just how good defensively Joe Ingles is on this play.
NO SAYS JOE 🖐️#UTAatOKCpic.twitter.com/h1V463Gt20 — Utah Jazz (@utahjazz) December 6, 2017
He bodies up Paul George, causes him to lose the ball, the referees judge that Ingles deflected it so that he doesn't get the turnover. The possession continues, George kicks it around the arc, eventually leading to an Anthony corner three, which the Ingles blocks so easily that he ends up catching the ball out of bounds.
Again, given how talented the Thunder are, that the Jazz limited them to 39 first-half points is very impressive. You almost understand how they ended up being so tired by the end of the contest.
×
Most recent Sports stories