Estimated read time: 3-4 minutes
This archived news story is available only for your personal, non-commercial use. Information in the story may be outdated or superseded by additional information. Reading or replaying the story in its archived form does not constitute a republication of the story.
LOGAN — The statistic was 0-for-10 from beyond the 3-point line for the BYU Cougars in the first half of their in-state game at Utah State on Saturday night.
Junior guard Elijah Bryant decided to change that coming out of halftime.
Bryant hit a 3-pointer just 26 seconds into the second half and BYU held off a pesky USU team 75-66 Saturday night in the Dee Glen Smith Spectrum.
"It's just crazy," BYU coach Dave Rose said. "Someone's got to step up and hit that first one and then everybody breathes and then we made 5-of-8 in the second half after 0-of-10 in the first half. When you're having a hard time making threes, that guy that can jump up and make the first one kind of gives confidence to everybody else."
Bryant was plagued by foul trouble in the first half, scoring one point while only playing nine minutes.
But Weber State transfer McKay Cannon made another stellar impact off the bench in just his second game as a Cougar. And it was desperately needed.
BYU was just 3-of-17 from the field in the first 12 minutes. But Cannon changed that over the final eight minutes. The junior guard hit two free throws at the 7:12 mark of the first half to cut into the USU lead.
Cannon then hit a driving layup at the 3:09 mark of the first half that pulled BYU within four at 20-16. From that point, BYU went on a 12-4 run by hitting seven of its final 10 shots of the first half to take a 28-24 lead into halftime.
It didn't take long for Bryant to break the 0-of-10 from beyond the arc stat. It took all of 24 seconds and the pressure was off the Cougars. Bryant hit two more 3-pointers, including one with the shot clock running down and Sam Merrill's hand in his face that gave BYU a 62-52 lead with 3:24 to play.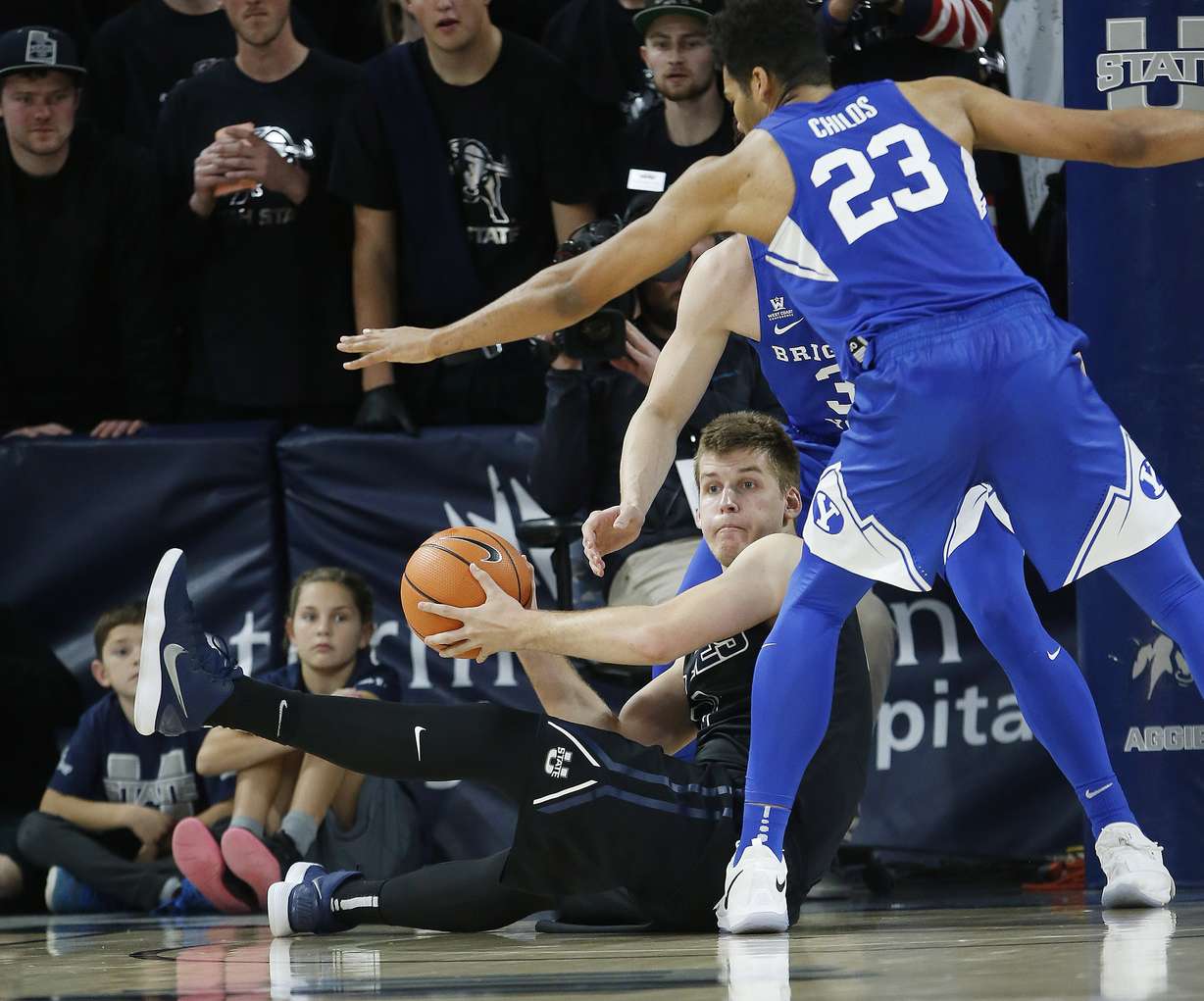 "Regardless of the situation, I'm always going to have a positive mindset," Bryant said. "I think because I'm a leader on the team, the team kind of gets their energy from me so I think, no matter if I'm in foul trouble or I'm not having a good night. I'm still going to need to bring a positive mindset and an assertive mindset."
Cannon had a career night with 17 points on 4-of-5 shooting and finishing a perfect 8-of-8 from the charity stripe. The Cougars finished 24-of-28 from the free-throw line, and it proved to be the difference as USU was just 10-of-23 from the free-throw line.
Yoeli Childs had another solid night with 17 points and eight rebounds.
USU sophomore guard Koby McEwen led all scorers with 20 points but was held to just eight points in the second half. Sam Merrill and Alex Dargenton also finished in double figures for the Aggies with 14 and 10 points, respectively.
But it was the poise of Cannon and Bryant that helped BYU improve to 6-2 and win its second straight in-state game.
"Eli made some big shots and McKay was really big for us," Rose said. "Those are the two most experienced guys that we have as far as playing in NCAA games, so I'm really happy for the guys."
BYU will host Illinois State on Wednesday before taking on Weber State on Saturday night in the Beehive Classic at Vivint Arena.
USU drops to 4-5 on the season and will host UC Irvine on Wednesday before taking on Utah as part of the Beehive Classic Saturday at Vivint Arena. Kyle McDonald is sports fan who loves the Chicago Cubs. Follow him on Twitter at @kylesportsbias
×
Most recent Sports stories