Estimated read time: 3-4 minutes
This archived news story is available only for your personal, non-commercial use. Information in the story may be outdated or superseded by additional information. Reading or replaying the story in its archived form does not constitute a republication of the story.
OGDEN — Jay Hill hadn't seen a final stat sheet before conducting his postgame press conference Saturday night.
But following the biggest victory in program history, a 21-19 effort against Western Illinois that advances the Wildcats to the second round of the playoffs for their third time, Hill didn't need to see anything more to declare one thing as almost certain.
"This is for sure, arguably now the best team in Weber State history," Hill said.
Now 10-2 following Saturday's game, the fourth-year head coach has led the Wildcats to their first double-digit win season since 2008, when the team finished 10-4 and tied in the Big Sky before being ousted by Montana in the second round of the FCS playoffs. As co-Big Sky champions this season, Saturday's victory marked the program's second time of owning both a conference championship and double-digit wins in the same campaign.
For Hill, 42, Saturday's game at Stewart Stadium was the culmination of a years-long rebuilding effort.
When the former Utah assistant took over the program in December 2013, the starting point was as low as any job in the country. Coming off an abysmal 2-10 season caused by John L. Smith (who Weber State originally named as its head coach before Smith bolted for the suddenly open head coaching position at Arkansas without ever coaching a single game for the Wildcats), Hill inherited a program fraught with disappointment.
As a consequence, the Hill era got off to a slow start. The Wildcats finished 2-10 in their first season under Hill, and 2-12 in their first 14 games.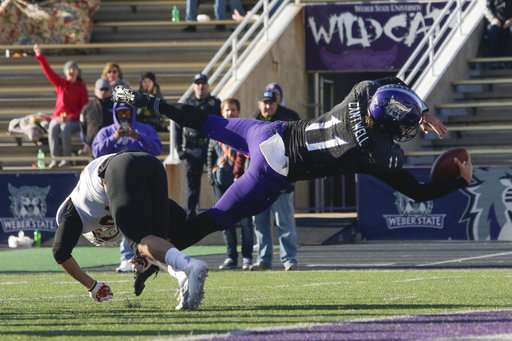 But little by little, things improved at Weber State. In 2015, Hill's second season, the Wildcats finished with their first winning record (6-5) since 2010 before following it up with a 7-5 season and playoff appearance in 2016.
After the initial 2-12 start under Hill that resembled the program's longstanding have-not status, Weber State has reversed course to win 23 of its last 33 games.
"To know where we started and where we are at now is a big deal," Hill told KSL last week. "It's a big deal for (the players), it's a big deal for me, and I'm glad that they get the opportunity to see that if they work hard on and off the field, then good things happen."
As much as anything, Hill's ability to recruit inside and outside of Utah has been essential to the newfound fitness of the program.
Of the Wildcats' conference-leading seven All-Big Sky first team nominees, two (left tackle Iosua Opeta and linebacker LeGrand Toia) are Utah natives. Meanwhile, diamonds in the rough like quarterback Stefan Cantwell (Bingham High School, Dixie and Snow College) and wide receiver Drew Batchelor (Dixie High School), who connected for two of the team's three touchdowns against Western Illinois, and cornerback Xequille Harry (Woods Cross High School), who tied a team-high by logging his fourth interception on Saturday, are also making their impacts felt as in-state products.
Elsewhere, the out-of-state recruits are headlined by California-based talents in tight end Andrew Vollert (52 receptions, 669 yards and four touchdowns), wide receiver Rashid Shaheed (1,174 all-purpose yards, five total touchdowns) and Defensive Big Sky Player of the Year Taron Johnson (39 tackles, three interceptions, seven pass-breakups), in addition to Idaho-born fullback Brady May and Texas-born kicker Trey Tuttle, all of whom were elected to the All-Big Sky first team.
In what has been a slow, steady climb to new heights, the marriage between coaching and player development has loomed large for the program.
But for Weber State, whose forthcoming matchup with in-state and Big Sky rival Southern Utah on Saturday, Dec. 2, is fast approaching, the current results are hardly enough to be satisfied with.
"We're not done," Hill said. "It would be disappointing if we ended it like this right now. We've got to continue to go. We've got to go play one heck of a game on Saturday."
×
Most recent Sports stories