This archived news story is available only for your personal, non-commercial use. Information in the story may be outdated or superseded by additional information. Reading or replaying the story in its archived form does not constitute a republication of the story.
SALT LAKE CITY — Theoretical physicist Kip Thorne, born and raised in Logan, was among three Americans awarded the Nobel Prize in physics Tuesday for their discovery of four signals of gravitational waves that had been predicted by Albert Einstein nearly a century ago.
California Institute of Technology collaborators Thorne, Barry Barish and Ronald Drever, along with Massachusetts Institute of Technology's Rainer Weiss, in 2016 confirmed the existence of ripples through space-time triggered by massive gravitational events such as the merging of black holes. Drever was not recognized for his contributions because he died in March.
The discoveries by the Laser Interferometer Gravitational-Wave Observatory or LIGO collaborators were widely considered the biggest development in physics in 2016 and many observers were surprised the physicists were not awarded the Nobel Prize last year.
An announcement was made early Tuesday at the Royal Swedish Academy of Sciences in Stockholm.
Thorne, 77, graduated from Logan High School. His parents, D. Wynne Thorne and Alison Thorne, were professors at Utah State University, an agronomist and an economist, respectively.
Although raised in The Church of Jesus Christ of Latter-day Saints, Thorne considers himself an atheist, according to multiple media reports.
Thorne, in a recent profile published by the Logan Herald Journal, said when he was 8 years old, his mother took him to a talk by William Peterson, a geologist at USU at the time.
"He talked about the solar system," Thorne told the Herald Journal. "I was really young to go to this, but she took me, and I became enchanted with the solar system."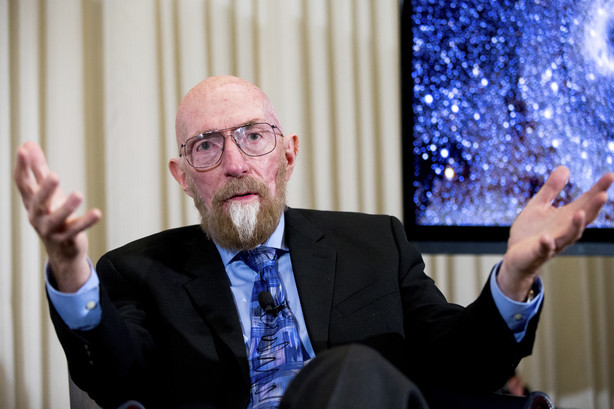 He becomes the second graduate of Logan High School to win the coveted prize. The other was Lars Peter Hansen, a Utah State University alumnus who won a share of the Nobel Prize in Economics in 2013.
He, along with Eugene F. Fama and Robert J. Shiller, were recognized for their research on how bond, stock and house prices change over time.
After earning an undergraduate degree in mathematics and political science at USU in 1974, Hansen received a doctorate in economics from the University of Minnesota. He taught at Carnegie-Mellon to start, then joined the economics faculty at University of Chicago in 1981.
Thorne left Logan after high school and earned his bachelor of science degree from Caltech in 1962 and his doctorate from Princeton University in 1965.
He returned to California Institute of Technology as an associate professor in 1967 and became professor of theoretical physics in 1970. About a decade later, he was named the William R. Kenan Jr. Professor. In 1991, he was appointed the Feynman Professor of Theoretical Physics in 1991. Lastly, he was named the Feynman Professor of Theoretical Physics, Emeritus, in 2009.
Göran K. Hansson, Secretary General of the Royal Swedish Academy of Sciences presenting the 2017 Nobel Prize in Physics pic.twitter.com/i7Z8BoEuhm

— HómērosAhmedAl-Rahbi (@RahbiHomeros) October 3, 2017
According to his biography, Thorne's research has focused on Einstein's general theory of relativity and on astrophysics, with emphasis on relativistic stars, black holes and especially gravitational waves.
He left teaching about eight years ago to pursue writing, producing motion pictures and continued scientific research.
Thorne was science adviser and executive producer of the motion picture "Interstellar," which was directed by Christopher Nolan and starred Matthew McConaughey, Anne Hathaway and Jessica Chastain.
The film, which the Internet Movie Database describes as "a team of explorers travel through a wormhole in space in an attempt to ensure humanity's survival," grew out of an analysis co-written in 2005 by Thorne and movie producer Lynda Obst.
His current research is on the nonlinear dynamics of curved space-time.
Thorne has been awarded the Lilienfeld Prize of the American Physical Society; the Karl Schwarzschild Medal of the German Astronomical Society; the Albert Einstein Medal of the Albert Einstein Society in Berne, Switzerland; the UNESCO Niels Bohr Gold Medal; and the Common Wealth Award for Science; and was named California Scientist of the Year in 2004, according to his biography.
He was elected to the American Academy of Arts and Sciences in 1972. A year later, he was elected to the National Academy of Sciences and the Russian Academy of Sciences, as well as the American Philosophical Society in 1999, according to his biography.
His book for nonscientists, "Black Holes and Time Warps: Einstein's Outrageous Legacy," was awarded the American Institute of Physics Science Writing Award, the Phi Beta Kappa Science Writing Awar. and Russia''s Priroda Readers' Choice Award, his biography states.
In 1973, Thorne co-authored the widely used and well-regarded textbook "Gravitation."
Fifty-two physicists who earned doctorate degrees at Caltech were mentored by Thorne.
Thorne and his first wife, Linda Jean Peterson, married in 1960, had two children, Kares Anne and Bret Carter. The couple divorced in 1977.
Thorne and his current wife, Carolee Joyce Winstein, married in 1984. She is a professor of biokinesiology and physical therapy at the University of Southern California. Email: marjorie@deseretnews.com
×
Photos
Related Stories