This archived news story is available only for your personal, non-commercial use. Information in the story may be outdated or superseded by additional information. Reading or replaying the story in its archived form does not constitute a republication of the story.
LOGAN — After four weeks of averaging less than 10 points per game, backup quarterback Beau Hoge was leading a resurgent BYU offense.
Hoge's 40-yard heave to Beau Tanner gave the Cougars a 21-7 lead with 13:30 left in the half of Friday night's in-state rivalry game at Utah State.
But that would be his final drive of the game.
Jalen Davis had three interceptions, including a 30-yard pick-six that prompted a 26-3 run and later a 50-yard pick six. Utah State scored 26-unanswered points en route to a 40-24 win over rival BYU for the fourth time since 1993.
Quarterback Kent Myers completed 16-of-27 passes for 176 yards and two touchdowns with one interception for the Aggies (3-2), and also rushed for 28 yards and a score.
"I'm not from Utah, but I know nobody likes BYU," said Myers, who beat the Cougars for the first time as a starting quarterback. "It was one of those things that we wanted to do for our Utah guys. It's another game and another win that gets us closer to being bowl eligible. It's another win giving us the momentum into our Mountain West game against Colorado State."
LaJuan Hunt led the Aggies with 65 yards on 18 carries, and Ron'quavian Tarver caught six passes for 76 yards and a touchdown.
"That's a tremendous win and I know how much it means to our fans and alumni," Utah State head coach Matt Wells said. "It's a rivalry win and it's a great feeling for a lot of Aggies. There were a lot of great individual plays."
After Myers hit tight end Dax Raymond with a 32-yard score on the opening drive of the game, Micah Hannemann returned an interception 46 yards for a touchdown that initiated a 21-0 run for the Cougars (1-4).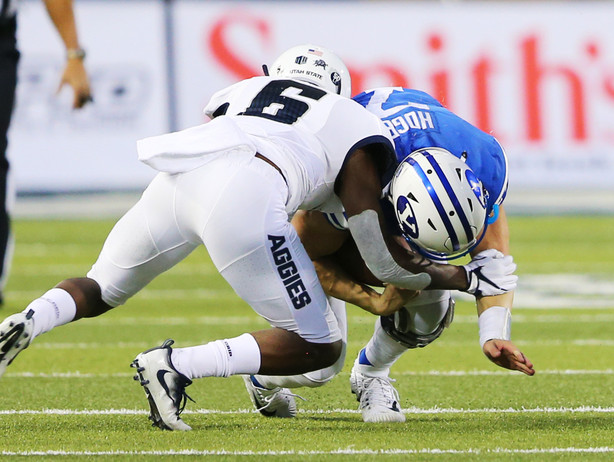 But Hoge struggled to his feet on Davis' pick-six, and left the game for good on the ensuing drive after a violent collision. The redshirt sophomore from Fort Thomas, Kentucky stumbled as he was helped off the field by BYU's medical staff, and fellow redshirt sophomore Koy Detmer Jr. replaced him for the remainder of the game.
But the nephew of BYU offensive coordinator Ty Detmer threw three interceptions to help the Aggies outscore the Cougars 33-3 the rest of the way.
After Hoge left the game, BYU did not find the end zone — including posting a zero in the third quarter.
"That's a tough loss," said BYU coach Kalani Sitake, whose team outgained the Aggies 396-288 but committed seven turnovers. "We made way too many errors for us to overcome and to have a chance to win this game. We'll have to evaluate everything again, and get ready for next week.
"It's the only choice we have: get back to work. Go back to square one and try to find a way to win games."
Detmer Jr. completed 7-of-20 passes for 91 yards and three interceptions for BYU. Ula Toluta'u ran for a career-high 102 yards on 21 carries for the Cougars.
Next up:
BYU returns home for another Friday night game against Boise State.
The Aggies host Colorado State next Saturday, Oct. 7 at 2:30 p.m. MT.
#Box
×
Photos