Estimated read time: 5-6 minutes
This archived news story is available only for your personal, non-commercial use. Information in the story may be outdated or superseded by additional information. Reading or replaying the story in its archived form does not constitute a republication of the story.
Thanks toAmerican HVACfor contributing to this article.Summer's dog days become a dogged daze for those trapped in a house with a broken or malfunctioning AC unit. Even if your AC works, a look at your energy bill after a month tethered to it may empty your wallet and leave you thinking of apocalyptic scenarios.
There are remedies, however. A happy balance must be reached between the necessity and efficiency of AC. Follow these tips to save energy and money, then put those savings into a well-deserved reward — like maybe a vacation to somewhere cooler?
Close Vents in Unused Rooms
In the apocalypse, people will flock to places with food an water. In apocalyptically hot summers, we flock to the coolest rooms in the house. Naturally, this leaves areas of the home unoccupied. Close the vents in rooms you don't use as often so your cool air focuses more efficiently on high-traffic areas. Be sure your ducts are well sealed so the pressure of the cool air isn't lost. Narrow down the rooms you'll spend time in so that the cool air can be solely directed there.
Rearrange Furniture
A lengthy couch or loveseat might provide the proper feng shui for your living room setup, but it could be a liability in the summer if it blocks any of the vents. Rearrange the furniture to allow proper airflow. If it isn't possible to move anything (some of us live in cramped spaces!), seek out vent attachments to redirect the air away from the furniture.
Use Ceiling Fans
A great way to reduce AC costs is readily available in many homes: trusty ceiling fans. Circulating the air takes the edge off the heat, allowing you to set your thermostat a couple degrees higher. If you don't have any ceiling fans (or even if you do!), an upright fan or two will help.
Raise the Thermostat
The Department of Energy recommends a 78-degree indoor temperature when you are home. A programmable thermostat is a great way to automate your AC for the times of the day you do and don't need it. If the home is empty during the day, even for a few hours, it is best not to run the AC at all. If you must run it while gone, raise the temperature a few degrees at a minimum. The same applies at night since it will naturally be cooler outside. Each degree raised will bring noticeable savings at the end of the month. Also, don't believe the myth that keeping the AC running while away will save energy in re-cooling efforts.
Tune and Clean the AC Unit
An efficient, clean AC is essential on the money-saving checklist. Dirt, mold, leaves and other types of blockage build up, which forces the AC to work harder for less benefit. If feasible, replace (or at least rinse) filters monthly during high-usage times in the summer. Keeping the unit clean also prevents gunk from circulating throughout the home. If you take good care of your AC unit, it will take good care of you.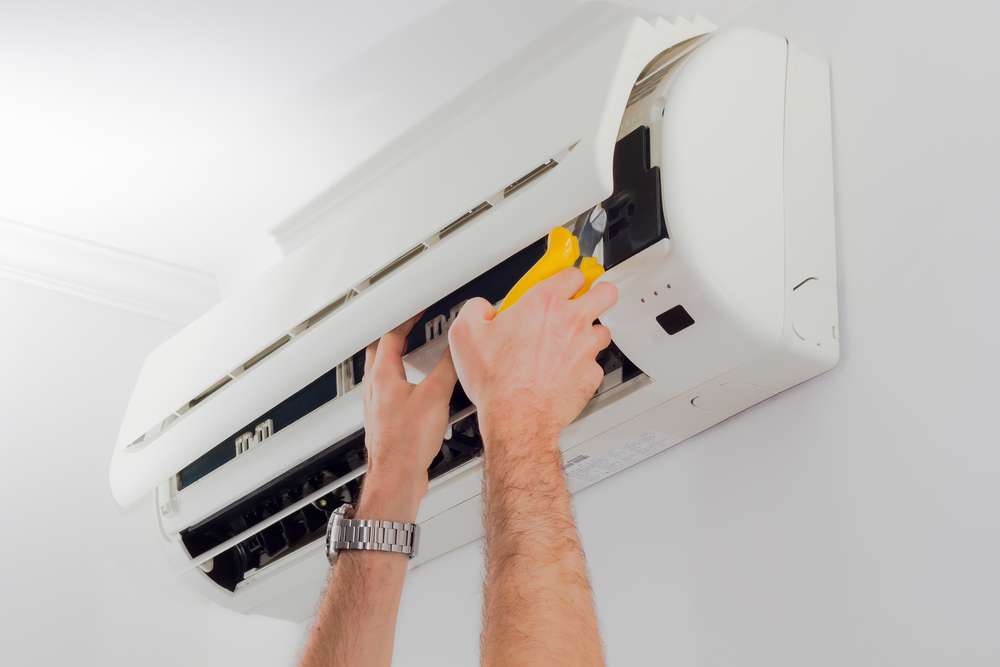 Open Windows Early, Shade Them When Closed
Relentless sunlight on a cloudless day is a given during the summer. But you can avoid the greenhouse effect in your home with a little daily dedication. If you're an early bird, take advantage of the pre-sunrise cool air outside. Make sure your AC is off and then open as many windows as possible while running a few well-placed fans.This will prime your home with cool air that's free. If you can't rise really early, keeping windows open during the night could be just the solution you need. During the day, shade or block the windows on the sunny side of the house. Tinted window film will quickly pay for itself, as will insulating curtains. Consider the potential for more shade by planting a tree near your biggest window.
Unobstruct the Vents and Unit
Registers, vents and grilles are easily unobstructed. It can be as readily apparent as the aforementioned furniture blockage, but even household items like vacuums or books can get in the way. The unit itself can be obstructed outside by foliage or trees, so be sure to check the AC unit in the springtime to make sure it is clear of debris and blockage. The savings will add up as you make your AC more efficient.
Upgrade the System with a Professional
Older AC units could be beyond the pale, so scheduling maintenance with a professional every few years is wise. Keep in mind the possibility of upgrading the entire system, since doing so will increase the efficiency of the unit while keeping costs manageable. Aim to service the unit before summer hits since the professionals will be slammed during the summer with service calls. They will be able to apprise you of changes in technology and the best ways to manage the upkeep of the AC unit in between service inspections.
Not bad, right? Take these fairly simple tips to heart and you'll start saving yourself money, energy and suffering. And with any luck, no apocalypse.
After following our tips, make sure your AC unit is functioning properly and efficiently by scheduling a checkup with one of our top rated KSL ServicesHVAC specialists.
×