Estimated read time: 1-2 minutes
This archived news story is available only for your personal, non-commercial use. Information in the story may be outdated or superseded by additional information. Reading or replaying the story in its archived form does not constitute a republication of the story.
SALT LAKE CITY — The University of Utah football program was picked to finish second in South in the Pac-12 preseason media poll Wednesday.
The high preseason ranking for the Utes comes after Utah lost several players to the NFL or graduation last season and is the highest ranking for the program since joining the Pac-12.
Utah had one of its best years of recruiting coming into the 2017 season, securing several talented athletes, including six four-star recruits. The recruiting effort has seen a steady increase as the staff is able to bring talent into the state.
Last week, Utah welcomed the commitment of receiver Josh Nurse, a junior college transfer. On Tuesday, former University of Oregon star receiver Darren Carrington II transferred to Utah following his dismissal from the program for a DUI. The pickup of both receivers significantly adds to Utah's receiving corp. Voting for the poll closed prior to Nurse and Carrington II transferring to Utah.
USC was picked by media to win the conference, receiving 28 first-place votes. Washington was a close second with 22 first-place votes, followed by Oregon and Utah with one vote apiece.
USC tops the South division with 309 points, followed by Utah (220), UCLA (209), Colorado (182), Arizona State (109) and Arizona (61). In the North, Washington comes out on top with 309 points, followed by Stanford (247), Washington State (206), Oregon (163), Oregon State (101) and California (64).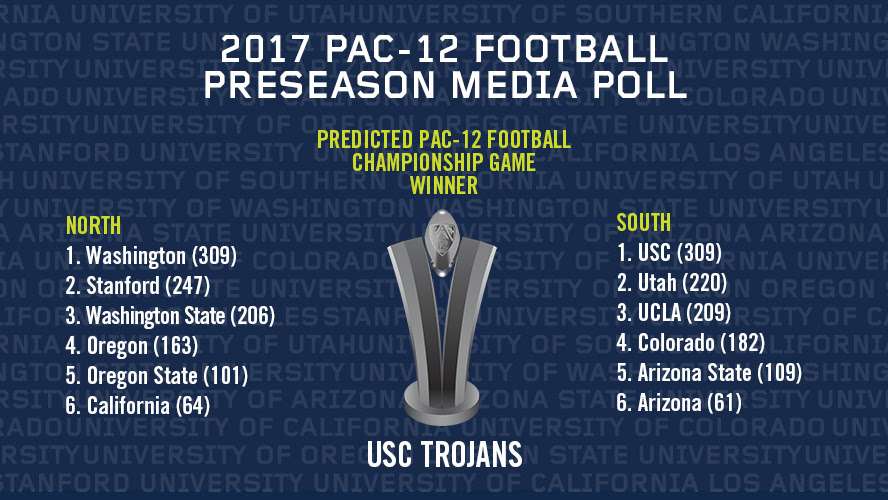 As a voter for the Pac-12 preseason media poll, my ballot was identical to that of the final one, including USC as the favorite to win the conference.
×
Most recent Sports stories