Estimated read time: 4-5 minutes
This archived news story is available only for your personal, non-commercial use. Information in the story may be outdated or superseded by additional information. Reading or replaying the story in its archived form does not constitute a republication of the story.
SALT LAKE CITY — As Chad Bettis walked toward the mound to throw his warmup pitches, a few fans clad in Colorado Rockies purple let out a cheer.
That grew to a noticeable amount of the 4,044 fans — small because of a firework-less Sunday July night — as his name was announced on the public address system. The mini ovation Sunday night may have been the smallest of gestures, but one that sticks with Bettis everywhere he goes.
"It's awesome," the Albuquerque Isotopes pitcher said, standing outside of the dimly lit tunnel outside of the visitor's locker room in Smith's Ballpark.
Not only is Colorado (Albuquerque's parent ballclub) the regional team for Utah television, many baseball fans know Bettis' name now from his story. It has been chronicled all over the country from ESPN to the New York Times, and countless other outlets.
Bettis had just completed another season with the Rockies in 2016, winning 14 games for the team — his career-most in what was also his first full season in the big leagues. However, he was diagnosed with testicular cancer in November, shortly after the season ended.
Bettis could only describe his year as a rollercoaster. He dealt with the joys of being declared cancer-free in January and the fears of that cancer returning in March. He also became a father for the first time while going through chemotherapy. Now he's going through the minors again, regaining his stamina to eventually — and hopefully — rejoin the Rockies, which remains in prime position for their first playoff berth in eight years.
While the journey back to the majors isn't complete just yet, he has found that he doesn't just have the support from Rockies fans, but baseball fans everywhere.
Even the Salt Lake Bees, which Bettis was slated to pitch against, posted a video on Twitter of the pitcher warming up in the bullpen before the game with the note, "Opponents tonight, but #TogetherForBettis" — a hashtag used by the Rockies in support of the pitcher.
"It's a little bit overwhelming — in a good sense," he says, of the support and of the attention. "It's been good to have the support of not only my family and friends but the fanbase, too. It's been unbelievable."
The righty returned to baseball on July 13, making an appearance for a Colorado Double-A affiliate in Hartford. After another appearance there, the Rockies transferred him to Albuquerque, where his first Triple-A start came Sunday.
Bettis struggled at times in that start. He allowed three runs on six hits over 2 2/3 innings before reaching his scheduled pitch count of roughly 60 pitches. He also struck out four and walked two. Since he was limited on a pitch count, he nearly received the scorekeeping credit for Albuquerque's 9-8 victory despite falling short of the innings minimum for a win.
He said during his next start he's expected to throw 75-80 pitches, though noting he felt strong enough to keep going in his start against Salt Lake. While he was encouraged with his strength, he felt that his pitching wasn't enough to help the Rockies win games just yet.
"An outing like tonight is not going to help them," he admitted. "That's why this next outing all I want to work on is just executing all my pitches. But (being in a playoff race) has motivated me a little bit. I want to be up there, even though I'm there with the team, I want to be contributing somehow.
"... I feel mentally ready now but at the same time there are some of those pitches I wanted back from tonight."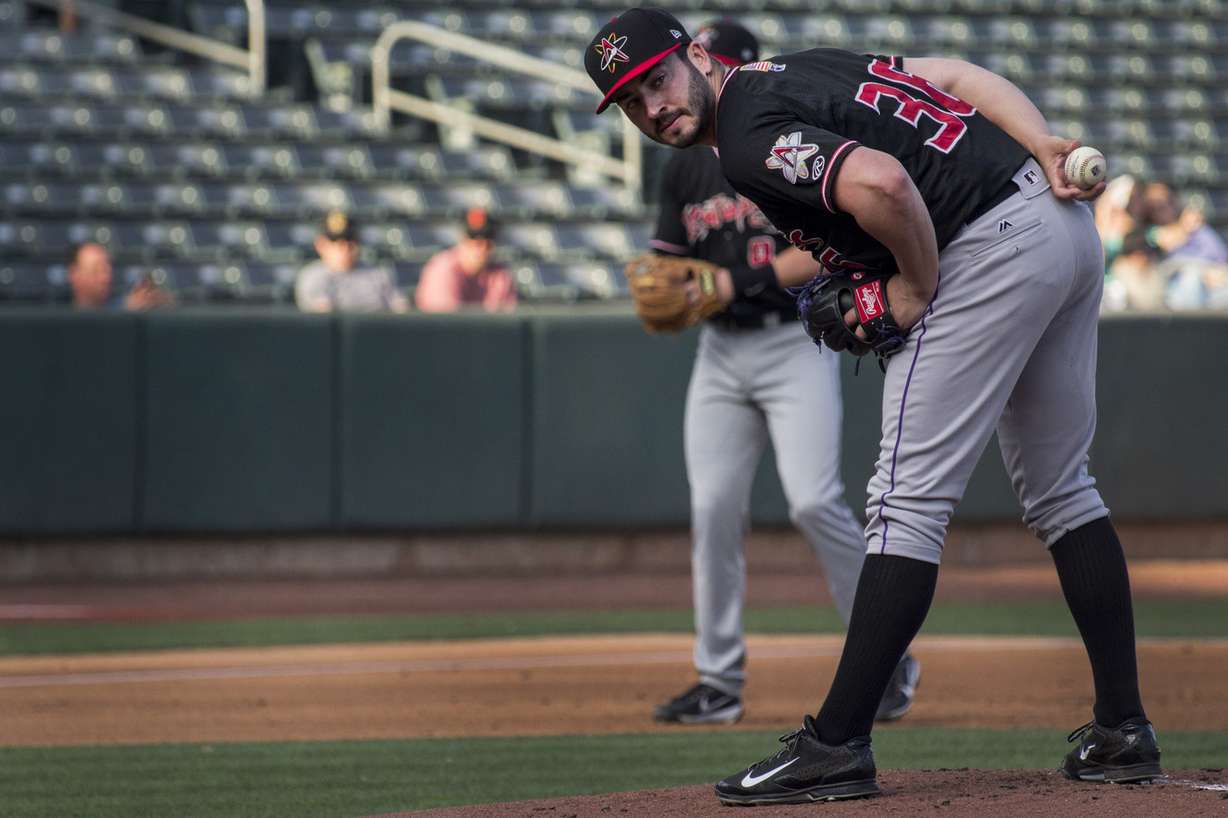 Bettis' only known baseball future heading into this week is that he will make another start for Albuquerque. He said he's unsure what happens after that, with the decision in Colorado's hands.
When he does return to Denver, he will have capped a wild ride back to the big leagues. Despite the ups and downs of it, Bettis said he is happy with where his journey has taken him.
"In the big scheme of things, I'm still here," he said, grinning, "and I still get to play something that I love doing, so throughout all the hard times, you still find light there at the end of the tunnel. Even throughout the bad times, it's been a good year."
×
Photos
Most recent Sports stories