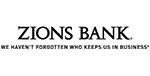 This story is sponsored by Zions Bank.
Getting a loan for your business isn't always easy, especially when you're just trying to get things off the ground. The better prepared you are, the easier the process will be and the more likely it is that you'll get approved.
1. Build your personal and business credit scores
When you're just starting out and your business has no credit history, you may feel like you don't have a chance. But lenders may still be willing to still lend to you if your personal credit history is in good condition. If your personal credit is in bad shape, work to get back on track and rebuild your credit. Consider applying for a secured credit card or a credit builder loan. Also, be sure to check your credit report to see if there are any errors.
If your business has an established credit history, lenders may not take your personal credit score into consideration. It doesn't matter if it's excellent or poor. Make sure that the information on your business credit report is accurate and be sure that you work with creditors who report tradelines to the credit bureaus.
2. Know the lender's requirements
Not all lenders may be willing to lend to you. Most lenders have specific eligibility requirements that you need to meet for them to be willing to approve your loan. In most cases, your business needs to meet an annual revenue minimum. You'll also have a tough time getting approved if you've declared bankruptcy or have made late payments in the past.
Before you apply for a loan, chat with a loan officer to become acquainted with the lender's eligibility requirements and anything else that can give you a foot in the door.
3. Gather all your documents
When it comes to applying for a small business loan, information is power. The more documentation you bring with you when you meet with the loan officer, the sooner the lender will be able to see if you're a good fit. While not a comprehensive list, be sure to bring the following documents:
Income tax returns (both personal and business)
Financial statements for the business and future projections
Personal and business bank statements
Your driver's license
Leases and licenses
Articles of incorporation
A resume to showcase your background and experience
The deeper a loan officer can dig into who you are and what your business is about, the easier time he or she will have to approve your loan.
4. Have a bulletproof business plan
Lenders have very clear goals in whether to lend money to businesses. They want to know as much as possible how you plan to use the money and the likelihood that they'll get a return on their investment.
Research tips for writing a strong business plan. Be as detailed and realistic as possible. Lenders can often sense if something is off. Providing a strong business plan will boost the lender's confidence in you and your business.
5. Put up collateral
A good way to put lenders at ease is to provide collateral to back the loan. This can be a piece of equipment, real estate or your inventory. That way, if you default on the loan, the lender can recoup some or all of its loss by taking control of the collateral and selling it off.
Some lenders don't allow collateral. Instead, they want a personal guarantee on the loan or may request to put a lien on the assets of the business. Don't agree to anything that you don't feel comfortable losing. If you can safely provide collateral, however, it will put the lender at ease.
The bottom line
The more you know about the process of small business lending and what keep lenders happy, the better your chances are at getting approved. Before your next funding request, be sure to brush up on these tips to make your business more attractive to lenders.
×