Estimated read time: 5-6 minutes
This archived news story is available only for your personal, non-commercial use. Information in the story may be outdated or superseded by additional information. Reading or replaying the story in its archived form does not constitute a republication of the story.
INDIANAPOLIS — Three thoughts on the Jazz's 107-100 loss to the Indiana Pacers from KSL.com's Utah Jazz beat writer, Andy Larsen.
1. Jazz's stars have career nights, no one else steps up
You would think that, in a game where Gordon Hayward scored a career-high 38 points, and Rudy Gobert had a career-high eight blocks, that the Jazz would have enough to win.
Let's start with the good: Hayward and Gobert were incredible all night long. Hayward scored 10 points in each quarter, except for the fourth, when he scored eight. That came on only 24 shots, and Hayward only went to the line four times. In other words, the performance was simply due to Hayward's shot-making skill. And it all came against one of the league's best defenders in Paul George.
The points came in a variety of ways. He began the game by scoring from the 3-point line, but eventually, the Pacers shut that down. So then Hayward started driving inside, with and without the ball, to score from there.
Gordon Hayward (career-high 38 pts) highlights #UTAatINDpic.twitter.com/guftkMxdxx — Utah Jazz (@utahjazz) March 21, 2017
He was absurdly good. Even better, his career performance came in his hometown and in front of his parents, Jody and Scott. "We wanted him to continue to attack," Jazz head coach Quin Snyder said. "He did that tonight, and was rewarded for it. He carried us during certain stretches."
Gobert had 16 points, 14 rebounds, and eight blocks, nearly getting the first Jazz triple-double since Carlos Boozer's in 2008 against the Seattle Supersonics.
He was very special defensively, especially in the fourth quarter. Time and time again, he stopped the Pacers when the Jazz had mismatches in the post, coming over to help when the Jazz needed it. Those blocks set up the 8-0 run late in the fourth that gave the away team a chance, before big Paul George shots gave Indiana control of the game.
And offensively, he continues to evolve. Gobert was best tonight in transition, beating fellow bigmen Myles Turner and Al Jefferson down the floor to get easy looks at the rim. Even in the half-court, he finished above and around double teams at times.
Count 'em! ✋✋✋✋✋✋✋✋#UTAatIND@rudygobert27#DPOYpic.twitter.com/MsclFLJzao — Utah Jazz (@utahjazz) March 21, 2017
Both players deserved a win tonight, but the rest of their team didn't come through.
2. Jazz get no help from secondary players
As Hayward and Gobert tried to carry the Jazz on their back, they needed help to carry them over the top. And unfortunately, it never really came consistently.
We'll give credit to George Hill first. He only had 16 points on 17 shots, but did turn it on somewhat in the fourth quarter with 4-for-8 shooting. Defensively, he did some work on Paul George when switched on him, but did allow Jeff Teague to score 21. He was the best of the other bunch.
Rodney Hood started the game with three fouls in his first four minutes of play, and immediately had to be sat. When he did come back, he picked up a fourth in the second half, and then started playing toreador defense, allowing the charging Pacers to score rather than put his body in front of guys. He hit a couple of shots late, but still only ended up shooting 4-10.
Joe Johnson scored just two points, shooting 1-7. He has now made just five of his last 22 shots, right when the Jazz needed it most. It may just be a normal shooting slump. It also may be that Johnson struggles more against better starting unit defenders. It also may be that fatigue is also a part of what's going on, playing more minutes throughout the game with Favors out.
The Jazz's bench was poor. Alec Burks got to the line, though didn't play much defense. I thought Dante Exum had solidified his backup point guard role, and then he played so badly in his six minutes tonight that Raul Neto played. Neto got blocked on two consecutive runaway layup attempts, and let us never speak of them ever again. Boris Diaw was fine, except for the team-low -11 he had. Jeff Withey got roasted by Al Jefferson. Trey Lyles was bad in his four minutes. Joe Ingles was decent in a supporting role with the starters, but didn't contribute his own scoring.
If any third player has a good game for the Jazz, whether it be Johnson, Hood, Ingles, or even Burks, Exum, or Diaw, I think the Jazz probably win that game. But Hayward and Gobert can't do it alone.
3. Pacers alternating wins and losses
I'm not sure what's more frustrating, a three-game losing streak (as the Jazz are on) or 14 straight games alternating wins and losses (as the Pacers have done).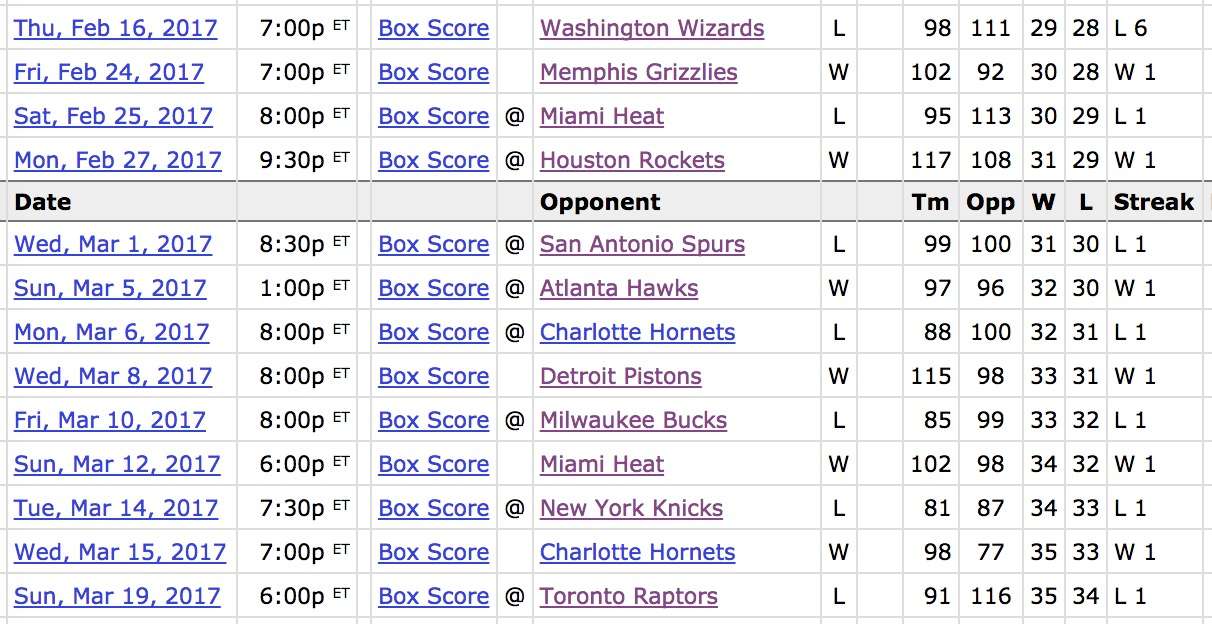 What's up with the Pacers? They're great at home, now 25-10 and awful on the road, 11-24. But even in that framework, their performances over that stretch don't make a ton of sense. How do you lose on the road in New York, only scoring 87 points against a very bad Knicks defense, then beat the Hawks and Grizzlies in their buildings on a four-game road trip?
Honestly, their starting lineup is pretty good: Jeff Teague, Paul George, C.J. Miles, Thaddeus Young, and Myles Turner is a nice balance of shooting, speed, rim protection, and perimeter defense. They feel like they should be a little bit better than .500 that they currently are (36-34). Though the Jazz have lost the last two games against Chicago and Indiana, it's a nice reminder that having Paul George or Jimmy Butler alone isn't enough to guarantee victories in the NBA.
×
Most recent Sports stories