Estimated read time: 5-6 minutes
This archived news story is available only for your personal, non-commercial use. Information in the story may be outdated or superseded by additional information. Reading or replaying the story in its archived form does not constitute a republication of the story.
SALT LAKE CITY — Jerry Nustra has been waiting since the 1960s for the Northwestern basketball team to make it into the NCAA Tournament.
On Sunday, Nustra and many other Northwestern basketball fans finally got to see a dream become a reality: the NCAA Selection Committee had included the Wildcats as one of 68 teams in this year's NCAA Tournament. It was a first for the Wildcats and a monumental day for the players, coaches and fans that believed the day would eventually come.
Now that Northwestern has finally arrived, Nustra, a two-time president of the basketball booster organization and undergraduate and dental student in the '60s, wasn't about to miss the opportunity. Not after more than 50 years of giving back to the program in hopes of an eventual payout of seeing his team play in March.
"This is the day you've been hoping and praying for all these years," Nustra said while taking in the Northwestern practice Wednesday afternoon in Salt Lake City. "I think we're in a little different situation than we have been most of the time in the past. We've had some good teams in the past, but nothing quite at this level."
Nustra was not alone as hordes of Northwestern fans flocked to Salt Lake City to see their team make history. Fan Bob Swee, who has followed the team for several decades, watched the team practice Wednesday and said being a fan of the Northwestern basketball program has been "tiring, it's been exhausting." However, seeing the team finally have some success has been exciting.
"It's really cool just seeing the outpouring," Swee said. "The last game we went to was the most crowded game I've ever seen at Northwestern."
The closest Northwestern got to an invitation into the Big Dance was its four NIT appearances since 2000. But for much of the history of Northwestern basketball, the most consistent aspect about the program has been its lackluster appeal and losing record. This season, the Wildcats recorded their first winning record in conference play in 49 years and second in 68 years.
Northwestern is one of the most prestigious academic institutions in the country and is considered a Top 15 university. Its acceptance rate of 10.7 percent in 2016 makes it one of the hardest schools in the country to be admitted into. Simply put, basketball has not been an essential part of the university's makeup and culture.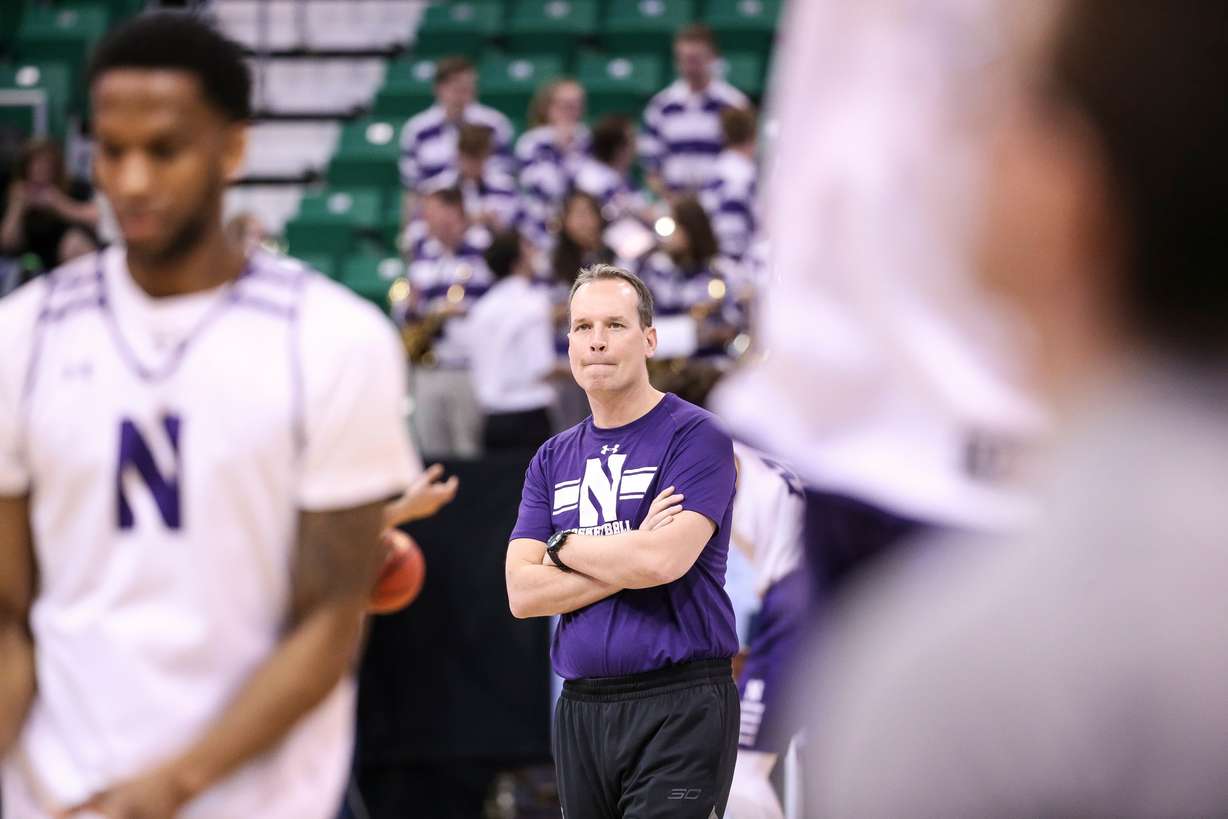 For many of the student-athletes currently on roster, and likely many preceding them, a similar question was asked when they committed to the university: Why would you go to Northwestern?
Sophomore forward Vic Law would tell people, "When we win, we're going to blow the roof off and people are going to come," as told by his father Victor Law, Sr. on Wednesday.
Law was head coach Chris Collins' first recruit after joining the program four years ago and was one of the early adopters to the proposed culture change of the Northwestern basketball program. No longer was Northwestern going to be a mediocre program that could barely justify its existence, particularly in the Big Ten.
"That was Chris' vision and my son believed in him and was the first one to commit to say he was on board," Law said of his son who is a starter for the team. "He wanted to be a part of it and something special. For the rest of his life he'll be a part of something special."
The special moment is certainly not lost on the players, who have already become the early darling of the tournament. Video of the team celebrating on Selection Sunday was shared all over the internet as others got to experience the excitement and moment of relief for a program desperately looking to end its tournament drought.
"I think we can't emphasize enough that this isn't the end goal," junior guard Bryant McIntosh said. "It's one of our goals to make the tournament, but we're not just satisfied to be here. We're going to go out and try and win a game and continue playing, playing for our lives, just to continue the season. It's been such a special year that you don't want to see it end."
"We all came here to be a part of a different Northwestern, and be a part of history," senior forward Sanjay Lumpkin said. "We achieved that goal. Now that we are here, we want to do everything we can to stay here. We see this as the starting point, a new standard that can be set for our program. It's been a magical season, it's been awesome. None of us want to see the season end."
Collins, who has helped change the culture of Northwestern basketball, has seen the program improve each of the four seasons he's been at the university. He said he's wanted to change the "perception of the program" and create something special.
"We wanted guys that wanted to be at a place like Northwestern for everything that it had to offer, not just the academics, not just the basketball, but both," Collins said. "I want this to be the beginning of our program. And hopefully the sign of more success and more NCAA Tournaments."
For the fans in attendance, the season has already been a success and will be regardless of whether Northwestern is able to get a win over a tough Vanderbilt team Thursday.
"I just want to see them get out there and enjoy the experience of being here and playing here," Swee said. "And if they win, that's just the icing on the cake; that's great and we'd love to see that. But just knowing that the guys got here, that's the fun part. Enjoy the whole experience, the whole trip."
"There are so many Division I schools that are sitting at home. We knew that feeling, but to have them call your name on Selection Sunday that you're one of the elite 68 teams in the country, that's big, that's special," Law added. "We're enjoying the ride."
×
Photos
Most recent Sports stories