This archived news story is available only for your personal, non-commercial use. Information in the story may be outdated or superseded by additional information. Reading or replaying the story in its archived form does not constitute a republication of the story.
PROVO — For the first time in Dave Rose's 12-year tenure as head coach of the BYU men's basketball program, the Cougars ended the season at home.
Drew Charles scored a career-high 26 points for UT Arlington, and Kaelon Wilson added 20 points to lead the Mavericks to a 105-89 win over BYU in the opening round of the National Invitation Tournament in front of 7,247 fans Wednesday night at the Marriott Center.
"I think the two teams were in two different places tonight," Rose said. "They were extremely good executing, and a step ahead of us the whole time. We weren't reacting quickly enough, and had a really hard time getting stops in the first half."
Eric Mika had 29 points and seven rebounds to lead the Cougars, who end the season with a 22-12 record. Nick Emery supplied 24 points, seven rebounds and five assists for BYU.
"They're a good team, and they played really well tonight," Mika said. "They executed what they wanted to execute.
"You credit them a lot."
UT Arlington became the fourth of four No. 6 seeds to win in the NIT first round, joining Boise State, Georgia Tech and Richmond as six-seeds to advance to the second round. In total, nine lower-seeded teams won in the NIT first round Tuesday and Wednesday.
The Mavericks (26-8) will host seventh-seeded Akron in a second-round matchup on ESPN.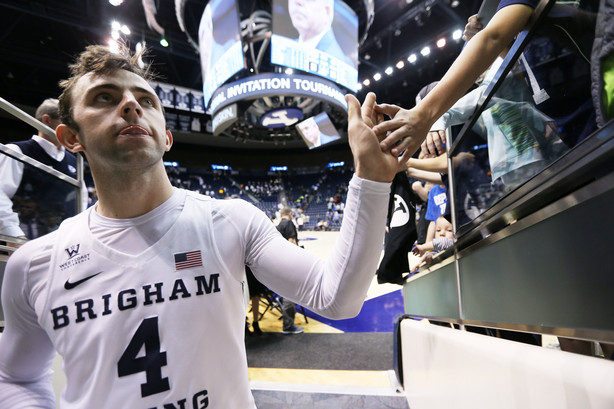 TJ Haws added 11 points and three assists despite playing with flu-like symptoms for the Cougars, who were already down a starter when Elijah Bryant suffered a knee injury in the semifinals of the West Coast Conference tournament. Colby Leifson made 3-of-8 field goals in the second half to finish with 10 points.
Emery scored 14 of his 24 points in the first half, including the game-tying bucket at 38-38 at the 7:31 mark of the first half. But UT Arlington shot 63.4 percent from the field, including 7-of-15 from 3-point range, to take a 62-55 lead at halftime that swelled when Charles opened the second half with back-to-back buckets that put the Mavericks up for good.
"One of our bullet points was how we started each half. We were not very good in either one," Rose said. "Offensively we were stagnant, and then took tough shots. We looked tired all night long."
UT Arlington, which averaged 77 points per game before Wednesday night, were led by Kaelon Wilson's 18 first-half points, while Kevin Hervey had 11 points, three rebounds and three assists at the break.
"(Hervey) is a tough matchup, and you want to focus in on him," Mika said of the Sun Belt player of the year, who finished with 22 points, eight rebounds and four assists. "But all their guards are quick, and they can finish at the rim. It felt like we were one step behind. They had 15 points in four minutes, and from there, they felt good and they were going to make a lot of shots they took."
Mika had 23 points and two assists in the first half, and Emery supplied 15 points and four assists before the break as both teams combined to make 45-of-73 shot prior to the break.
Related Story
"I thought our pace was good to start off the game, but what really got us was they scored 62 points in the first half," Emery said matter-of-factly. "If you're up for a 120-point game, that's a lot of points in college basketball."
BYU gave up 100 points for the first time since a 114-101 loss to Utah Valley back on Nov. 26. The Mavericks couldn't keep up their torrid shooting pace in the second half; they shot just 45 percent from the field.
But BYU made just 9-of-33 field goals after the break, and UTA scored 32 points on 20 turnovers to pull away for the comfortable victory.
"If you turn the ball over 20 times at home, you're going to have a hard time beating people," Rose said. "We've done it before, but these guys (UT Arlington) were playing really well tonight."
×
Photos