This archived news story is available only for your personal, non-commercial use. Information in the story may be outdated or superseded by additional information. Reading or replaying the story in its archived form does not constitute a republication of the story.
SALT LAKE CITY — Football has led former Highland High star Haloti Ngata to fame and a way to provide for his family as a defensive lineman with the Detroit Lions.
But he's never forgotten his roots.
The owner of D-I Sports Training in Salt Lake City returned to the Salt Lake Valley for the grand opening of his facility, which helps high school athletes fulfill the dreams he once had as an area teenager.
"I wanted to bring something different to Salt Lake City," Ngata said during a visit to KSL Sportsbeat. "It was exciting. We had a little over 300 people out there, and it was a lot of fun. We had a blast."
The franchised gyms are locally partnered as a locale where adults can get back into shape and teenagers can do a little more to try to earn a college scholarship or go where Ngata dreamed of going years ago.
"Anybody can come. The whole family can come out," Ngata said. "Parents can watch the kids train, and it's a lot of fun. My oldest goes there and hangs out with a lot of the rookies."
The Haloti Ngata Family Foundation is also a big part of Ngata's professional life. His mother instilled a love of education, and he's passing that love on via ACT preparation classes and charitable acts in the community.
One of those players helped through the foundation was former Corner Canyon football standout Cameron Forte, who was diagnosed with cancer after a severe broken leg during his senior year.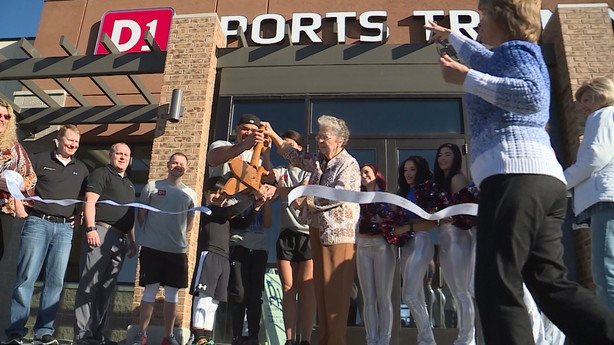 Ngata flew Forte and his father to Detroit as special guests of the Lions' pregame and postgame activities, providing plane tickets, game access and a complimentary dinner with Ngata and his friends.
"I've received my joy and satisfaction from being able to do that. Seeing Cameron in that bed was really emotional for me," said Ngata, fighting back tears. "He's a sports guy, too, and to see him have cancer and not able to play out his dream really hit me.
"I just wanted to give him a little joy in his process, and bring him to Detroit, show him how much fun we could have. We had a blast; it was so much fun."
Ngata just finished his 11th season of pro football, and the Super Bowl inner and All-Pro standout is on the path toward the biggest of honors: Hall of Fame enshrinement.
"I love football," Ngata said. "I love playing the sport.
"That's my motivation, with my family. But being mentioned as a possibility of the Hall of Fame is something I never imagined as a kid. I knew I wanted to do it since I was a kid. But being a Hall of Famer? I don't even know."
Ngata and his foundation will be at Monday's Salt Lake Screaming Eagles game, and part of the proceeds of the contest will go toward the foundation's success.
Anyone who likes the Screaming Eagles on Facebook and comments "Haloti Ngata KSL" will be entered into a raffle, with the winner sitting with Ngata and his crew at Monday night's game.
"You get a chance to sit with me throughout the game and just hang out," he said. "We'll give you tickets and a parking pass, so you don't have to worry about any of that.
"We'll do something at halftime, too. It's going to be awesome."
×
Photos