This archived news story is available only for your personal, non-commercial use. Information in the story may be outdated or superseded by additional information. Reading or replaying the story in its archived form does not constitute a republication of the story.
LAS VEGAS — After Utah State's season-ending loss at UNLV and before its Mountain West tournament opener Wednesday in Las Vegas, Aggie head coach Tim Duryea gave his team a few days off.
For one major contributor, the layoff worked — and he needed it.
Utah State freshman Koby McEwen has fit into Duryea's system as a first-year starter, and the former Wasatch Academy standout and ESPN top 100 recruit was in full fitness when he scored 27 points for the Aggies in a 90-64 win over San Jose State in the Thomas & Mack Center on Wednesday afternoon.
"I definitely felt fresh," said McEwen, who recorded his 20th double-figure scoring game of the season and seventh game with 20 or more points. "I was ready to go.
"I just gain confidence, and anything can happen."
Utah State will top-seeded Nevada in a Mountain West tournament quarterfinal Thursday at 1 p.m. MT on CBS Sports Network.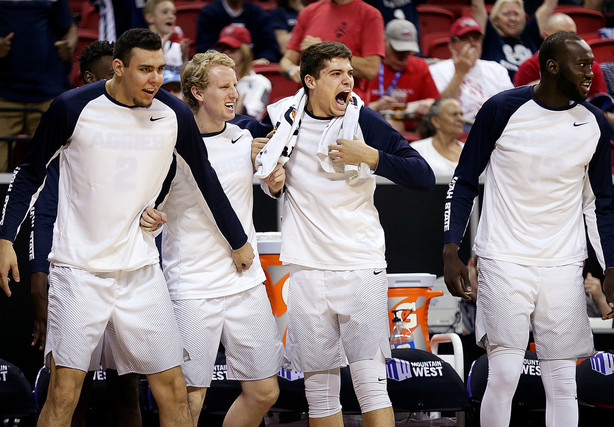 McEwen has done everything the Aggies (14-16) have asked of him — and more — since committing to Utah State shortly after arriving in Mount Pleasant from his home in Toronto, Ontario. He finished just shy of the "freshman 15" — scoring 14.4 points per game, that is — while adding 2.96 assists per game, tied for the team-best with fellow freshman Sam Merrill.
Once a score-first point guard, McEwen ran the Aggies' offense en route to Mountain West Freshman of the Year honors.
"He and Sam both have had a pretty rough go for freshmen, and we put a lot on those guys, not only offensively but defensively," Duryea said of McEwen. "Koby is kind of learning to run a team as he goes, along with always having to score the ball at a high rate for the team he's played on."
The Aggies were his first offer, and even when bigger programs came with offers like Baylor and Ole Miss. But he remained firm to his original commitment.
After averaging 18.7 points, 4.6 rebounds and 5.4 assists per game for the Tigers en route to a 29-4 record as a senior, there were plenty of offers. Even more came when he excelled at an Adidas Nation event in Long Beach, California, the summer before his senior year, when he averaged 21 points, five rebounds, three steals and 2.8 assists while playing among the nation's best.
McEwen had just two points on 1-of-2 shooting before the final possession of the first half, and his 3-pointer at the buzzer tied the score at 31-31.
.@McewenKoby drains a three right before the half to tie the game at 31-31! #AggiesAllTheWay#MWMadnesspic.twitter.com/8eUflP9nRi

— USU Men's Hoops (@USUBasketball) March 8, 2017
He turned it on after the break, when he scored 22 of his game-high 27 points.
"It wasn't that shots weren't falling," he explained. "I was just really getting my teammates involved in the first half. I wasn't really taking any shots. And that wasn't really what I was supposed to do in the first half. All my teammates were helping.
"I was just trying to make the right play at the right time."
McEwen then made four of his game-best five 3-pointers in the second half, another decision that freed his teammates to do what they do best. Behind his 3-point shot — McEwen scored 14 of the Aggies' 20 points during a second-half run that helped put the Spartans away — senior Jalen Moore and Merrill also got into the offensive rhythm of the game.
"They're good shooters, so when I'm in the post and teams like to double me, I kick it to them. And they can usually knock it down," said Moore, who had 19 points and seven rebounds while playing on the wing and the high post. "It expands our whole team when they're hitting the outside shots. We're tough to guard. We shoot well from the outside. We can drive it. We can kick it to open guys.
"It just opens up our whole offense for our team when they start hitting threes."
When McEwen only had five points at halftime, nobody panicked. The freshman has proven to be a second-half guard — and he did more of that Wednesday against the Spartans.
Mountain West Tournament
"I think he kicked it into another gear," San Jose State coach Dave Woljcik said. "We didn't do anything differently. We tried to change up a lot today defensively, and did a good job in the first half.
"I didn't want them to get into a rhythm. And they got in a rhythm in the second half and we tried to change up a couple of times and they figured it out."
The Aggies hope to ride that second-half mentality as far as they can this postseason.
"When you come to a tournament the first game, the first half of the first game is hard because they all obviously know it's single elimination," Duryea said. "You're fighting for every possession. You're fighting for your life. You're fighting to get to the next day. And it takes a little bit to kind of work through that and start playing basketball."
×
Photos
Related Stories