Estimated read time: 9-10 minutes
This archived news story is available only for your personal, non-commercial use. Information in the story may be outdated or superseded by additional information. Reading or replaying the story in its archived form does not constitute a republication of the story.
SACRAMENTO — Three thoughts on the Jazz's 110-109 overtime win over the Sacramento Kings from KSL.com's Utah Jazz beat writer, Andy Larsen.
1. Jazz win the weirdest game ever
What a strange game. Not only was the ending weird, but all of the game's defining plays were just unusual, unexpected or otherwise just bonkers in one way or another. Let's look at all of the plays that led to the Jazz having a chance to win, before going in depth with Rudy Gobert's winning tip.
Weird moment number one: We'll start with a minute left in regulation, with the Jazz down six, when Gordon Hayward shot a 15-footer and missed it. got the offensive rebound and kicked it open to the corner for the wide-open 3. George Hill missed it, despite not having anyone within 15 feet of him.
In today's TT, I'm writing about how weird that game was. Play #1: George Hill misses a corner 3 despite no one being within 15 feet. pic.twitter.com/0OZH3cuhpF — Andy Larsen (@andyblarsen) March 6, 2017
**Weird moment number two:** After this, the Kings dribbled the ball up the court and called timeout to set up their play. But on the ensuing inbounds play, a 5-second violation was called, giving the ball to the Jazz. This seemed like an awfully quick violation, to be honest. There are [something like](http://www.nbaminer.com/five-seconds-are-getting-shorter-and-shorter/) four 5-second inbounds violations called per every 100 games, so whenever one happens, it's a rarity.
Kings inbound violation:
One...
Twothree...
Four...
Five. pic.twitter.com/KaTFQfuQKu

— Andy Larsen (@andyblarsen) March 6, 2017
**Weird moment number three:** trying to take advantage, the Jazz get a very good 3-point look from Joe Ingles, which he misses. Gobert gets another rebound, gets Hill another wide open look at a 3, which he airballs. But because he airballs it, the Jazz get the rebound, leading to Hayward FTs. It would not be the last time that a Hill airball led to two Jazz points.
Hill airballs a shot, but luckily, the Jazz get the offensive rebound. But not the play you're thinking of. pic.twitter.com/tzm9WMf174 — Andy Larsen (@andyblarsen) March 6, 2017
**Weird moment number four:** So now down five points with 37 seconds left to go, the Jazz opt not to foul. That's an interesting decision on its own, but the Kings' dutifully waste time until Hill comes up with a steal with 16 seconds left. A missed shot plus rebound would have taken more time, I suppose, but mostly the Kings did the right thing. The Jazz would still have to score four points with 16 seconds left, which is hard to do.
Weird moment number five: Hayward hits a three, which is normal. But the Kings run this inbounds play with Willie Cauley-Stein to set a screen for Lawson, which then Hayward denies. Afflalo has to inbound the ball to WCS, but then Ingles can just foul the second-worst free throw shooter on the Kings. Why is Cauley-Stein even in this play? Just have someone else set the screen! He makes only one of two free throws.
Kings inbound the ball to Willie Cauley-Stein? 🤔 pic.twitter.com/FCQTeAmcfQ — Andy Larsen (@andyblarsen) March 6, 2017
**Weird moment number six:** The Jazz definitely take over five seconds to inbound the ball on the game tying play. It's not called, despite a short 5-second call given earlier.
Here was the inbounds on Gobert's tying basket. Timing it, I think it's 6 seconds. pic.twitter.com/2YEheblQuv — Andy Larsen (@andyblarsen) March 6, 2017
**Weird moment number seven:** Gobert's game-tying basket. You'll so often see the perimeter player hold the ball for a bad shot on this sort of play, but Hayward smartly finds Gobert here. Gobert takes two giant steps (not a travel, because Gobert was still gathering the ball when he was at the top of the arc), and completes a finger roll layup with his left hand.
Two GIANT steps for mankind.#UTAatSACpic.twitter.com/VERVc4HYuC — Utah Jazz (@utahjazz) March 6, 2017
**Weird moment number eight:** Kings have the opportunity to win, 3 seconds left. But Gobert reaches around Darren Collison, fouls him by putting his arm around his waist, and deflects the ball. After a review, it belongs to the Jazz. If the foul is called, the Kings likely win on the free throws. By the way, Hill did nicely to get a good look with 3 seconds left and inbounding the ball, but his floater doesn't go down.
Gobert fouls Collison, but also tips the ball off his hand and out of bounds. pic.twitter.com/UFtMBtfKaN — Andy Larsen (@andyblarsen) March 6, 2017
**Weird moment number nine:** Let's fast forward to the end of overtime, though there were a couple of weird plays during those early overtime minutes, too (for example, the 24-second violation after a Jazz loose ball). The Jazz have the ball, a one point lead, 17 seconds left. Kings have to foul, and get Hill, an 80 percent FT shooter. For the sake of continuing the weirdness, he misses both.
Weird moment number ten: Now with a chance to take the lead, the Kings go super early to get Cauley-Stein an incredible near-dunk that was a few inches away from being one of the best posters of all time. Cauley-Stein, a 60 percent free throw shooter at the line to take two very pressure-packed FTs after just having missed two, makes the game-tying and go-ahead FT.
Willie Cauley-Stein attempted to murk Rudy Gobert pic.twitter.com/TlLNz3HrhC — CJ Fogler (@cjzero) March 6, 2017
So in conclusion, all the Jazz needed to get into position to win was numerous weird calls going their way, some Kings mistakes, and some excellence by Gobert and Hayward. Right.
2. Gobert's final tip, and the rule change that may have made a difference
Weird moment number eleven: The Gobert tip-in game winner. Cauley-Stein switches out on Hill, Hill forces an incredibly tough jumper which he airballs. Gobert, incredibly, redirects the shot into the basket as time expires. The referees initially call it an offensive goaltending, but on review, call it a good basket that wins the game for the Jazz. Here's the play from all of the angles, with "My Heart Will Go On" added on for good measure, thanks to the terrific Twitter account @titanichoops.
INSANE FINISH IN SACRAMENTO!!! RUDY GOBERT TIPS IN AN AIR BALL TO BEAT THE BUZZER!!! JAZZ BEAT THE KINGS!!! EVEN BETTER W/TITANIC MUSIC! 🏀🚢🎼 pic.twitter.com/mS3v8sWyc9 — Titanic Hoops (@TitanicHoops) March 6, 2017
On this last one, I think a minor rule change that happened within the last decade helped the Jazz. You see, [one version of the NBA's rulebook](http://www.nba.com/analysis/rules_11.html?nav=ArticleList) that I found online said that a player may not "Touch any live ball from within the playing area that is on its downward flight with an opportunity *to touch the basket ring*." However, it looks like that page on the NBA's site was posted in 2001. The most [recent version of the NBA's rulebook](https://turnernbahangtime.files.wordpress.com/2015/11/official-nba-rule-book-2015-16.pdf) says instead that a player may not "Touch any ball from within the playing area that is on its downward flight with *an opportunity to score.*"
It's very clear that the ball was outside of the cylinder when Gobert first touched it. I honestly can't tell, though, if the shot was going to knick the rim. I think it might have. In the old rulebook, that'd be an offensive goaltending, but that four-word change means it had to have an opportunity to score, which it definitely didn't. In other words, that four-word change may have saved the Jazz tonight.
3. The Jazz played really badly, though
So given that it took all of the weird things above to happen in order for the Jazz to win the game, it's fair to say that the Jazz underperformed against a very talent-short Kings team.
In particular, the defense was very lackadaisical on the perimeter. Look at the Kings' shot chart: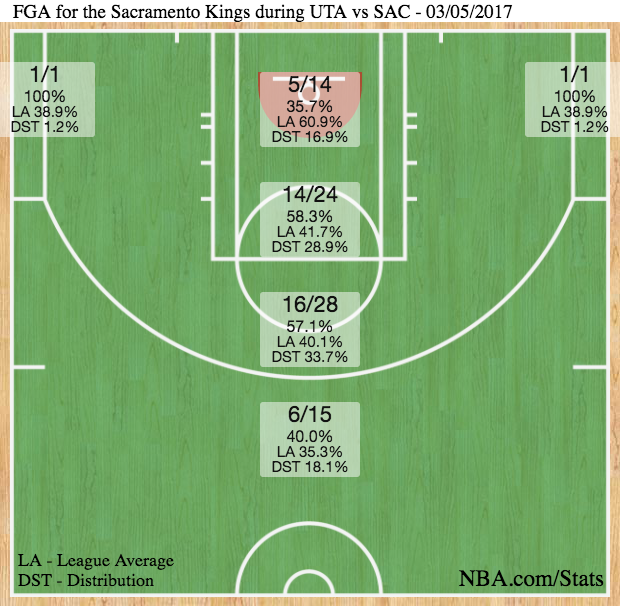 While it took some good shooting for the Kings to make those shots, Collison, Afflalo, and Lawson are good mid-range shooters. The Kings continually ran plays to get them open looks at the elbow, and they knocked them down all night long.
"You don't deserve to be ahead when you're playing that poorly defensively," Quin Snyder said.
I wonder if the Jazz's injuries on the wings are hurting them here. Hill has his nagging toe injury, and Hood said today that his knee injury may bother him all season long. It does seem like they're having problems maneuvering themselves to stay in front of their attackers. But maybe the biggest problem is them not being able to quickly explode vertically to contest like they usually would be able to. Both Hill and Hood have great length, but the diminutive Collison and Lawson were able to get an easy elevation advantage over them.
Dante Exum coming into the game helped the Jazz at that end of the floor, and did a much better job staying with the smaller guards. But then Exum couldn't shoot at all, and the Kings sagged off of it to ruin the Jazz's offense.
While the underlying problem won't get better for the Jazz with a game tomorrow, the good news is that the Pelicans have such bad guards that it shouldn't be much of a problem. It may be in the future, though.
×
Most recent Sports stories