This archived news story is available only for your personal, non-commercial use. Information in the story may be outdated or superseded by additional information. Reading or replaying the story in its archived form does not constitute a republication of the story.
MONTELLO, Nevada — Flooding from a breached earthen dam continues to plague an Elko County town and has washed out a stretch of highway just past the Utah border.
And as officials get a better look at the scope of the damage, estimates of a fairly quick repair schedule — a week or so — may fall by the wayside.
Nevada law enforcement reported Thursday that days of wet weather in the state had strained the Twentyone Mile Dam in Elko County, causing it to fail on Wednesday. Water from the reservoir went rushing out, flooding the town of Montello and compromising travel by road and rail.
Traffic on state Route 30 in Utah has been stopped at the state line, as a large section of Nevada Route 233 has been washed out about 4 miles from the border.
Boyd Ratliff, assistant district engineer for the Nevada Department of Transportation, said the stretch of highway had been closed as a precaution once water started flowing over it.
"We haven't seen anything like this in our district in quite some time," Ratliff said.
A long-haul trucker caught in the flooding, won't soon forget his ordeal Wednesday night.
Remus Spiridon, a truck driver for S&D transport out of Montreal, Canada, was hauling a load on his way to California, but he ran into trouble on route 233 and was stuck overnight, surrounded by water. He descibed seeing the road begin to break apart near him and water rushing by. He couldn't turn around.
"I pushed the gas ... there was no turning back," Spiridon said. "I would have been dead."
He made it through that stretch but had to stop a few miles down the road as the highway was awash with water. He didn't reach safety until Thursday morning.
"I'm the luckiest guy on Earth, at least for now," Spiridon said.
Ratliff said NDOT engineers are evaluating the damage and drawing up emergency contracts to repair the highway and let drivers through again as soon as possible, hopefully within a week.
But after an aerial tour of the damage Thursday, NDOT's Trent Averitt says their inital assesment of a week or so to fix the roads was way off.
"I think it was about 200 yards of washed out roadway with a river still running through it, so we can't get there until that water is drained out, Averitt said. "We have a lot of work to do."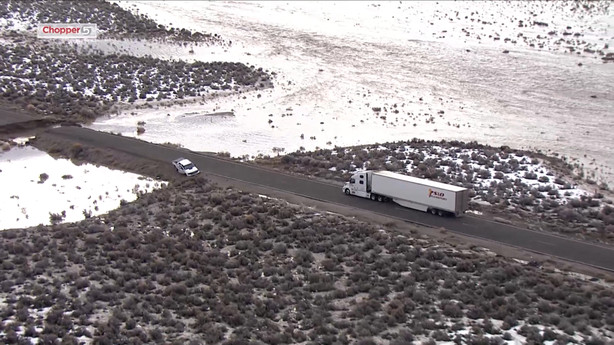 He noted that culverts are at capacity and the flooding created steep dropoffs along the highway, making travel too dangerous. He estimates it could take until March or April to get the work done.
In the town of Montello, an unincorporated community in Elko County in northeast Nevada, emergency crews set up sand bags around homes and businesses.
Flooding also had railroad tracks underwater on Wednesday and into Thursday.
Union Pacific regional spokesman Justin Jacobs said that closures to two lines through northeastern Nevada had delayed both freight and commuter trains, including some bound for Salt Lake City.
Those trains were being rerouted and were moving again Thursday, Jacobs said.
Union Pacific has two rail lines that run between Salt Lake City and Elko, Nevada, meeting near Wells, Nevada, Jacobs explained. At one point Wednesday, both those lines were closed due to flooding and weather, but the more southern line has since reopened.
"For a little while there we were just completely stopped, but now, I believe that as of early this afternoon, (one line) was reopened but there are several, several trains delayed," Jacobs said.
There is no estimate when second line, which runs near Montello and has been flooded, will reopen.
"There are still several intermittent washouts, there is still quite a bit of area with debris on the track, so our crews are out there right now still assessing," Jacobs said.
An Amtrak representative could not be reached for details about delays to commuter trains to Salt Lake City.
Contributing: Nicole Vowell, Caitlin Burchill
×
Photos
Related Stories