This archived news story is available only for your personal, non-commercial use. Information in the story may be outdated or superseded by additional information. Reading or replaying the story in its archived form does not constitute a republication of the story.
PROVO — The third and fourth set between No. 3 BYU men's volleyball and No. 7 UC Irvine was fitting of a heavyweight bout between two top-10 teams nationally.
But the first two sets weren't in the same category for the Cougars.
Tamir Hershko had a match-high 19 kills as No. 7 UC Irvine upset No. 3 BYU, 25-23, 28-26, 32-34, 21-25, 15-12 Friday night, handing the Cougars their first loss in Mountain Pacific Sports Federation play in the Smith Fieldhouse.
Michael Saeta dished out 44 assists and six digs, and Thomas Hodges supplied 13 kills for the Anteaters, who improved to 7-2 on the season and 4-2 in league play.
"I just felt like the guys didn't feel very comfortable out there," BYU coach Shawn Olmstead said. "I don't know why; I can't understand it. It's hard to pinpoint right now. We'll stay up and watch the film to figure it all out.
"But they didn't feel like they were in rhythm with each other and in sync with each other.
The loss snapped BYU's eight-match home winning streak, dating back to a loss to then-No. 8 Pepperdine last March.
Jake Langlois led BYU with 17 kills and seven digs, and Brenden Sander spiked 15 kills with five block assists.
Ben Patch finished with 14 kills for BYU (7-2, 2-1 MPSF), and Leo Durkin distributed 47 assists.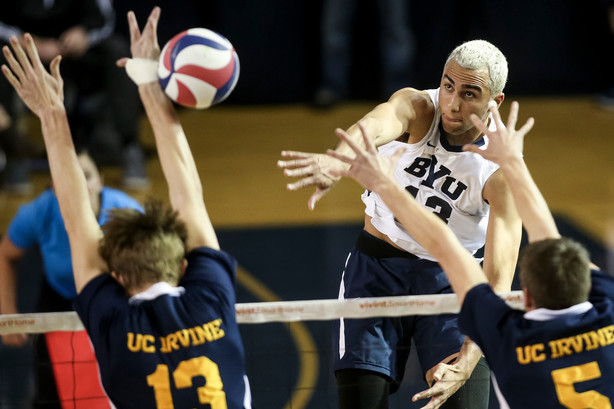 But both teams lost a set apiece from the service line in a match plagued by errors. UC Irvine served up nine aces with 28 service errors, while BYU had 25 errors to just five aces.
Matthew Younggren scored back-to-back strikes to give the Anteaters a 28-26 win in the second set, and the Anteaters became the first team to force the Cougars into a 0-2 deficit at home since Stanford in 2012.
But the Cougars didn't go away like they did nearly five years ago.
"We talked between sets two and three, reviewed our scouting report, and found they were doing what we believed they would do. But we didn't follow it in the first two sets," Olmstead said. "We needed a review, and then they started getting their hands in good spots and staying more disciplined."
Langlois' hustle play forced a crucial sideout, with the Anteaters clinging to a 21-20 lead in the third set. After Tim Dobbert tied the match at 22-22 on a block, the Cougars and Anteaters exchanged nine set-point plays — including five times UC Irvine could've closed out the match — before Ben Patch anchored a triple block with Miki Jauhiainen and Leo Durkin to eke out the 34-32 win.
Along the way, Sander pulled BYU out of the mire with his 11th kill of the night, and UCI's Thomas Hodges nearly ended the match three times. But service errors sent the game to a fourth set.
"I was proud of them. I don't want to ever take that away from these guys," Olmstead said. "They fought and battled. But I believe we let it slip away in the first two (sets).
"To be able to respond when it could've been just as easy to forget it, they showed some grit and some heart. We've got to figure out why we did not show that heart and determination in the first two sets."
Storm brewing
BYU took its first lead of the fourth set on Durkin's ace that capped a 7-2 run for a 12-11 advantage. They reclaimed it two points later on a double-block by Langlois and Price Jarman, and never trailed again. Langlois put down consecutive kills for the 25-21 win, and the Cougars rallied back to force a decisive fifth set.
Hodges' ace capped a 4-0 run to give UC Irvine the 7-3 advantage in the first-to-15 fifth set. BYU made a run of it, pulling within two at 10-8 on Patch's kill out of a timeout. But two untimely service errors down the stretched proved the Cougars could get no closer, and Reid Dominguez closed out the match with a kill and the 15-12 fifth-set win.
BYU and UC Irvine will play again Saturday at 7 p.m. MST in the Smith Fieldhouse, but the match will not count in MPSF play. The league determined UC Irvine would play BYU in an "unbalanced schedule," but Olmstead and Anteaters coach David Kniffin determined to play two matches during the week.
"You've got to play them in less than 24 hours. But thus is life as a college athlete, especially a volleyball player in the MPSF," Olmstead said. "They've got to find a way to eat well, recover and bounce back."
×
Photos
Related Stories