Estimated read time: 5-6 minutes
This archived news story is available only for your personal, non-commercial use. Information in the story may be outdated or superseded by additional information. Reading or replaying the story in its archived form does not constitute a republication of the story.
PROVO — As BYU prepared to tip off conference play in the middle of the Christmas break, a fog enveloped the Cougars and their 17,415 fans that came to Provo on Thursday night.
Considering the events of the day — the death of a legendary community figure — it could've been expected.
The results couldn't have been much better, either.
Eric Mika totaled 19 points and nine rebounds, and TJ Haws added 17 points, six rebounds and six assists as the BYU men's basketball team opened West Coast Conference play with an 89-59 win over Santa Clara on a somber Thursday night in the Marriott Center.
Steven Beo added 12 points and three assists in reserve for the Cougars, who held the Broncos to just 30 percent shooting.
"We put a good first half together, and then a really good second half together with our ability to be patient offensively and make open shots," BYU coach Dave Rose said.
"I think we all have heavy hearts, especially those who have followed BYU sports for years. We all know what (LaVell Edwards) has done for our university, and the state of Utah and city of Provo. It's a sad day."
Still, the game went forward. BYU (10-4, 1-0 WCC) had not lost to the Broncos since Dec. 2, 1972, and pushed its winning streak to 17 straight victories.
Nate Kratch had 12 points and nine rebounds to lead Santa Clara (6-8, 0-1 WCC), and Jared Brownridge, KJ Feagin and Kai Healy each scored eight for the Broncos.
BYU never trailed in its first league game of 2016-17, and led as soon as Mika's jumper swished through the net 41 seconds after the opening tip.
The sophomore scored eight of the Cougars' first 12 points to jump out to a 12-6 lead early, and finished with 14 points and seven rebounds to pace BYU to a 44-26 halftime lead.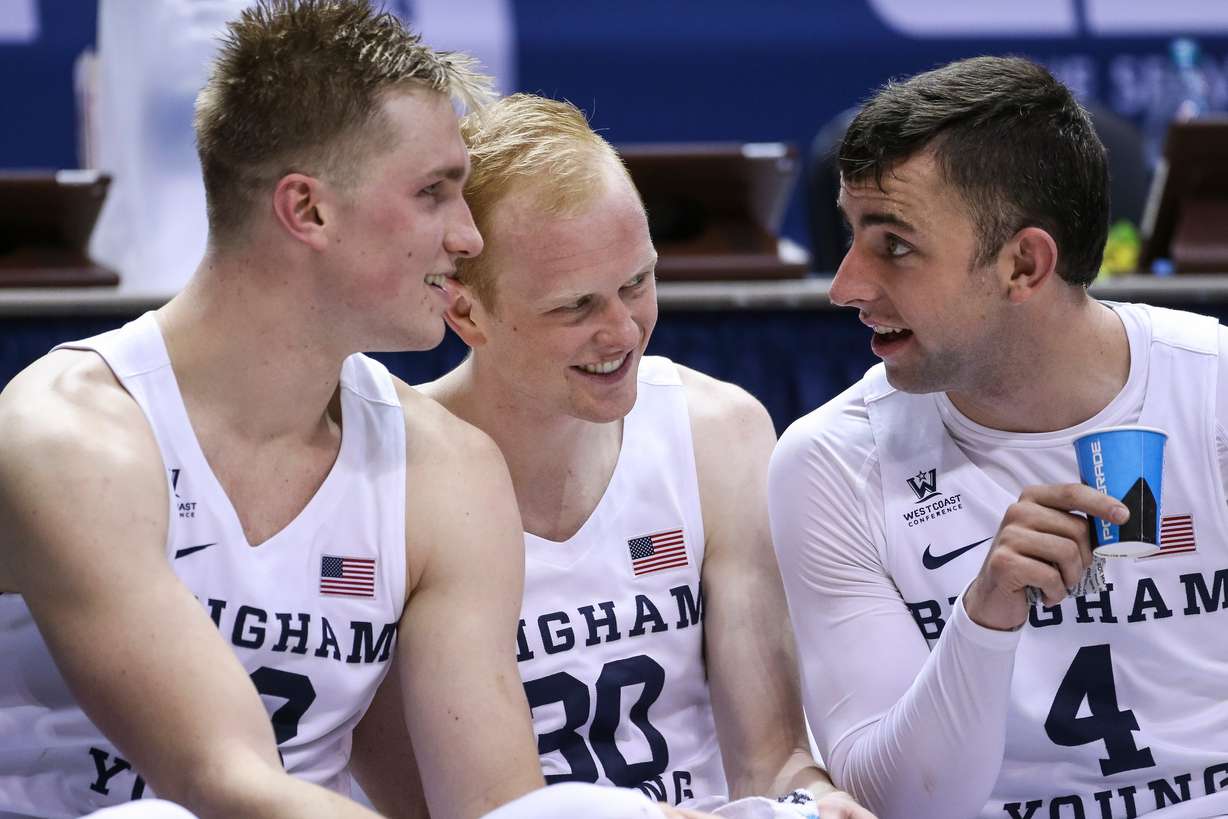 "Last week, we got off to a great start … and I felt like we had a lot of fun in that game," Haws said. "We had that mentality coming in."
All-WCC first-team selection Jared Brownridge had a forgettable opening 20 minutes, scoring just seven points on 2-of-7 shooting. When Nick Emery, who finished with seven points and two assists, guarded the standout guard in the first half, Brownridge had just two points.
"Defensively, Nick did as good of a job as I've seen this year on Brownridge," Rose said. "He doesn't play many games where he doesn't score in double-figures, and Nick reminded me a little bit of (former BYU guard Jackson Emery) tonight."
Santa Clara shot just 28.1 percent as a team in the first half, led by Nate Kratch's 3-of-8 for eight points.
"Our defense was great tonight, and I thought it was a team defensive effort," Haws said. "They have a great shooter, and Nick did a great job on him. But we were all helping."
The Cougars hit three 3-pointers to open the second half, including a triple by Beo that gave the Cougars a 64-36 advantage with 13:12 on the clock in cruising to the win.
Here are three quick thoughts as BYU prepares for its first true road trip Saturday at Loyola-Marymount.
TJ Haws, playmaker
Haws has proven he can score, and he hit double-digits in the opening minutes of the second half.
But the freshman just a few months removed from a two-year mission for the LDS Church in France showed off his ball-handling skills, as well. Haws dished out six assists, including four in the first half.
"I don't think we've hit our potential yet, but I think we've found more flow on offense," Haws said. "We're getting comfortable with each other.
"Every day in practice and with each game, we are trying to get a little bit better."
On one sequence, he dished to the newly inserted Aytes in the first half for an easy bucket. He then drove to the rim for two on the next possession, and followed that up with a dime to Aytes for a jumper that gave BYU an 18-9 lead with less than 12 minutes left in the opening half.
Much of Haws' maturity at the point came as a result of Beo. When the freshman replaces starting point guard L.J. Rose in the lineup, Haws move over to the point while Beo slots in as a shooting guard — and it worked flawlessly Thursday night, with the Cougars shooting 53.3 percent and 9-of-14 from deep.
"Steven came in and changed the game," Rose said. "When you put Steven in, it puts TJ at the point and TJ changes gears, which is good for him. He can attack, be more aggressive with the ball in his hands, and it's all evolved over the 14 games we've played."
Off the bench
BYU's bench outscored the Broncos 15-3 in the first half, and the Cougars will look to continue that production from the non-starters as they move forward into league play — the annual reset time of year. The Cougar reserves finished with 30 points, led by Beo's 12, Aytes' eight and five from Payton Dastrup, while center Corbin Kaufusi also made his debut just a week after tallying six tackles in the football team's Poinsettia Bowl win over Wyoming.
"The bench is dialed in," Beo said. "When we go in, we are ready to go.
"I think the bench has matured a lot, and it helps when big guys get in foul trouble that we have guys ready to step in and do their part."
Tribute to a legend
The late-arriving crowd at the Marriott Center was subdued for a conference-opening basketball game. But maybe that was to be expected, given the holiday season and the circumstances the day brought.
Legendary BYU football coach LaVell Edwards died at 86 earlier Thursday morning, and the Cougars posted tributes to the Hall of Fame mentor at the under-8 timeout, as well as on the BYUtv broadcast at halftime.
Edwards was a vehement supporter of BYU, not just football but all athletics. Rose's speech slowed as he thought about the close friend he and the community had lost hours earlier.
"I'll miss him. He was a good friend and a great supporter of BYU athletics and the BYU basketball program," Rose said of Edwards. "I loved seeing him at the games, and I'll miss the interaction I had with him."
×
Photos
Related stories
Most recent Sports stories