Estimated read time: 8-9 minutes
This archived news story is available only for your personal, non-commercial use. Information in the story may be outdated or superseded by additional information. Reading or replaying the story in its archived form does not constitute a republication of the story.
PROVO — In December 2015, Cougar nation was shocked when its coach for over a decade, Bronco Mendenhall, took a more lucrative job at Virginia. After an exhaustive search, Kalani Sitake was selected as the new face of BYU football.
Shortly after, Sitake named Ty Detmer as his offensive coordinator and Ilaisa Tuiaki as his defensive coordinator. With one year under their belts, here's how the three coaches fared during the 2016 season.
Kalani Sitake, head coach
Sitake hit the ground running when he became the man in charge at the Y. While Mendenhall won a lot of football games during his 11-year tenure in Provo, he had an often tense relationship with Cougar fans. In what was partially an attempt to reduce that alienation, he conducted LDS firesides in which he and players would talk about football and faith. However, in these firesides, Mendenhall openly mused about the conditional nature of fan support and how he would not cater to them.
Sitake addressed this issue in his first press conference.
"I grew up a BYU fan, so I was voicing my opinion from Day 1," he said. "... So my job isn't to tell them what to do because I was one of those guys having some criticism. My job is to make sure that they rise and shout and are cheering."
This fresh take in how to deal with fans was refreshing from the beginning and made it easy for a lot of Cougar nation to get behind him.
BYU fans were not the only ones who had some reservations with how Mendenhall ran his program. Former Y players griped about the lack of accessibility to the introverted former coach and his players, and felt unwelcome in the locker room and around the team. The change could not be more palpable than at Sitake's first press conference, where dozens of ex-players posed with the new coach. This new embrace of former players has been echoed throughout the season and could pay big dividends in recruiting.
Sitake has done just about everything right off the field as head coach, thus far. A big measure of his influence will be felt on signing day 2017 to see if his focus on recruiting lures any big prospects. However, coaches do not win games off the field. Many charismatic and likeable head guys have been fired for lack of performance on the gridiron.
In that respect, Sitake's results in 2016 were mixed. If you had told most Cougar fans before the season that the team would go 9-4 with a bowl win, almost all of them would take it. However, the Cougs beat only two teams with a winning record (9-4 Toledo and 8-6 Wyoming). Though three of the four losses could be considered moral victories, in that they were narrow defeats to quality opponents (Utes, West Virginia and Boise State), it is arguable that a more experienced head coach and staff would have won all three games.
Grade: B
Analysis: Sitake had a solid rookie season on the field and seems to be the shot in the arm the program needed. He coaches with energy, and players gravitate toward him. Whether it will be enough to convince big recruits to take their talents to Provo and translate into big seasons will be interesting to watch for the next few seasons.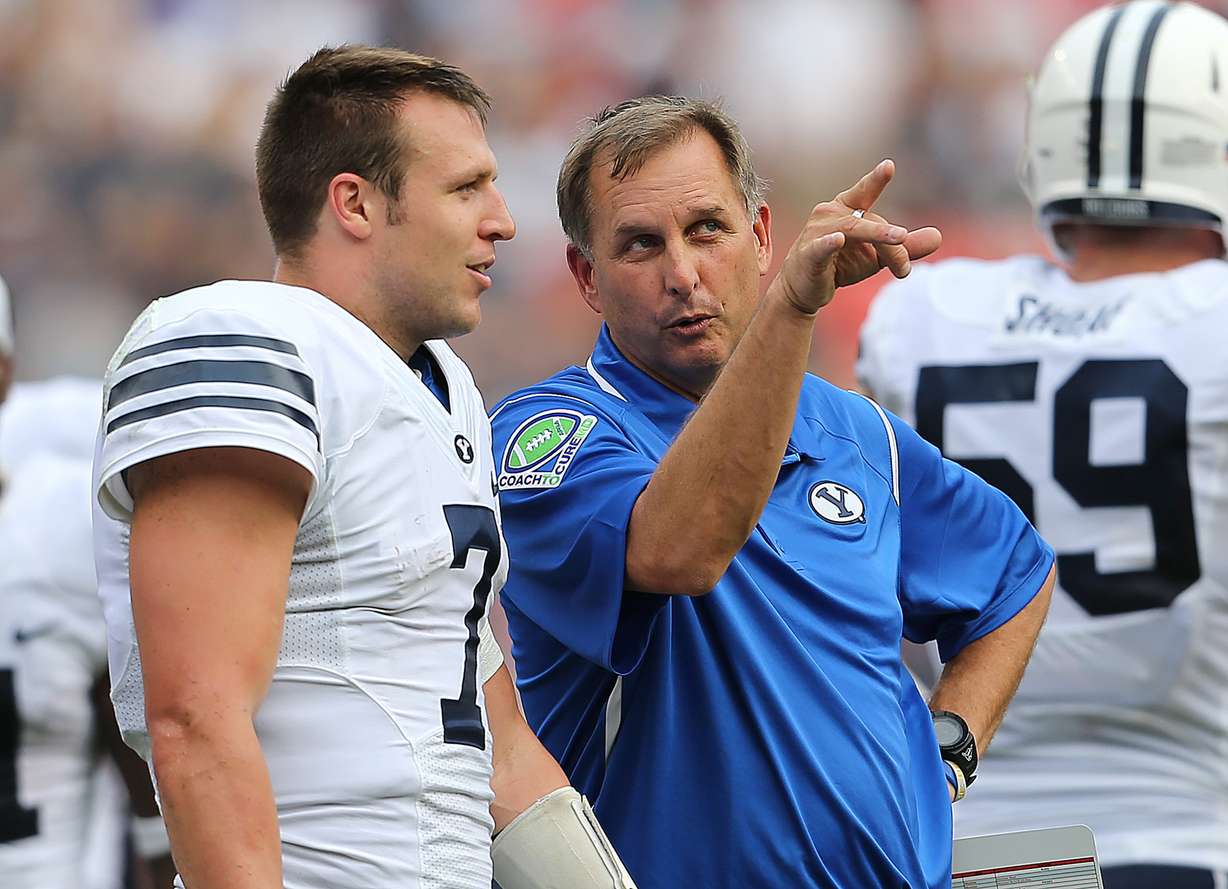 Ty Detmer, offensive coordinator
Perhaps no coach has come to BYU in any sport with more fanfare than Detmer. The former Cougar quarterback solidified his legacy in 1990, when he beat No. 1 ranked Miami and went on to win the Heisman trophy. After leaving Provo, he had a long career in the NFL. During his tenure in the pros and later as a high school coach, Detmer earned a reputation for being an offensive wiz.
With all that hype, some letdown was almost guaranteed to happen. Fans expected the former gunslinger to air it out on every play and help the Y put up Nintendo numbers. Instead, Detmer brought to Provo a complex, pro-style offense that focused on ball security and eating up clock.
Looking back, the transition away from former offensive coordinator Robert Anae's up-tempo spread offense was not going to be a smooth one. The Cougs had returning quarterback Taysom Hill. Hill had provided some incredible highlights for the team over his first four seasons, but almost all of them were with his legs, and he was not known for accuracy or precision as a passer.
It became apparent as early as the game against the Utes, the second contest of the year, that Hill probably was not the right guy at quarterback. His passes were all over the place, he looked uncomfortable and he and his receivers did not look to be on the same page. Unfortunately for BYU, this would be a theme for the rest of the year. The senior signal-caller put up pedestrian numbers with just 12 touchdowns compared to 11 picks and a weak 116.9 passing efficiency rating. Hill also seemed to lose a step or two on the ground and was not explosive running the ball.
With the passing game struggling, Detmer was forced to make his offense one-dimensional. This was good news, at least statistically, and for his NFL draft prospect, running back Jamaal Williams. The senior ran for 1,375 yards and 12 touchdowns despite only playing in 10 games.
However, it was bad news for the team as a whole, as the Cougar O only put up 29.5 points per game, good for a full four point drop from the year before. Worse, the team averaged less than 24 a contest against power 5 competition. That will not win many games.
How much can the offense's struggles be blamed on Detmer? He arguably should have chosen Tanner Mangum as the starter or at least replaced Hill when he was struggling during the season. But, it's not a given Mangum would have been leaps and bounds better. It's also hard to judge a first-year coach implementing a brand new system with players not recruited for that scheme. Also, the focus on eating up clock no doubt helped the defense recuperate and spend less time on the field. Still, it was a disappointing year on the offensive side of the ball, and three of the four losses can be squarely placed on the O.
Grade: C
Analysis: It is too bad conditions were terrible for the Poinsettia Bowl because Cougar fans were unable to see if Mangum would have been a significant upgrade throwing the ball over Hill. Detmer came with too many good references to not know what he is doing, so there is hope that year two will be better.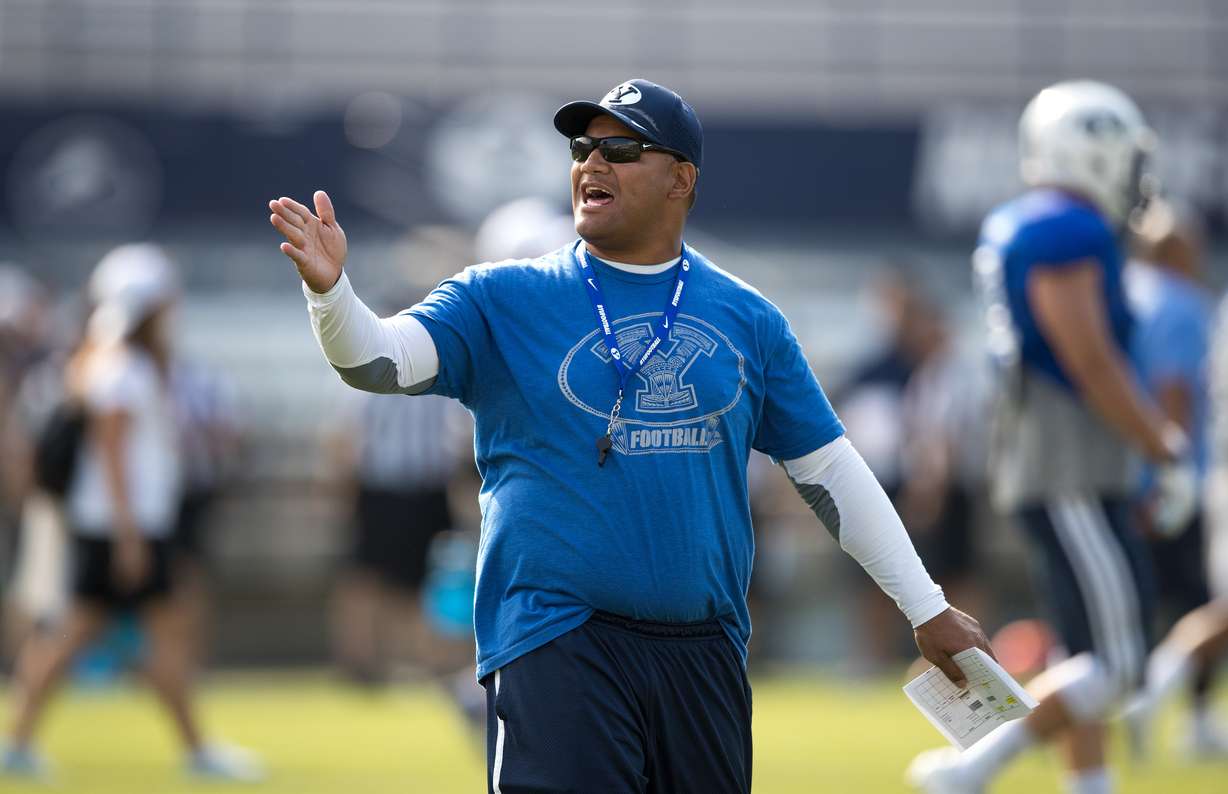 Ilaisa Tuiaki, defensive coordinator
Tuiaki came to Provo with less buzz than Detmer. He is one of the few coaches on Sitake's staff that did not play for LaVell Edwards and had never been a defensive coordinator before taking the position at the Y. Cougar nation had no idea what to expect, other than what they knew from Sitake talking him up and saying he trusted Tuiaki.
Before the season, the new defensive coordinator announced he was going to change the Cougs to a 4-3 defense. That news was not alarming to BYU fans because that had been the base defense during most of Edwards' time. However, many hearts momentarily stopped working when Tuiaki also said BYU cornerbacks would primarily be playing man press defense. Given that lack of elite speed in the secondary had been a constant concern in Provo for decades, almost no media or fans associated with the program thought it could work.
But it did — sort of. Depending on what measures you use, the 2016 Cougar defense was one of the stronger ones in school history. The unit allowed only 19.5 points a game (15th best in the nation) and finished with 31 takeaways (second best in the nation). While the D's numbers are helped by an easy final four games in which it gave up a total of 29 points, it also held power 5 teams to just 20.5 a game, showing it was no fluke.
On the other hand, the defense's penchant for creating turnovers hid the fact it struggled against the pass. The secondary gave up 252 yards a game through the air, "good" for 95th in the nation. Toledo quarterback Logan Woodside did the most damage, as he threw for 505 yards on 30-38 passing with five touchdowns, on his way to a ridiculous 223.5 efficiency rating. The man press defense was not always pretty and may need to be tinkered with after the loss of ball hawk safety Kai Nacua.
Grade: B+
Analysis: Tuiaki might not have come in with a lot of hype, but he more than earned his keep this season. The defense sometimes took a bend-but-don't-break mentality (as many Provo defenses have), but it is hard to argue with the takeaways and how effective the defense was at keeping opponents off the scoreboard. Recruiting will dictate whether Tuiaki can continue to play the style of defense he wants. Dylan Cannon is a regular KSL.com contributor and can be reached at DylanCannon86@gmail.com or via twitter @DylanCannon11.
×
Most recent Sports stories