Estimated read time: 3-4 minutes
This archived news story is available only for your personal, non-commercial use. Information in the story may be outdated or superseded by additional information. Reading or replaying the story in its archived form does not constitute a republication of the story.
PROVO — When Kyle Davis' senior season ended with knee injuries, the former Utah State post didn't wear out his emotions in a eulogy for his BYU career.
That's what his coaches and teammates did.
"It sucks," said freshman forward Yoeli Childs, who will replace Davis when the Cougars open West Coast Conference play at 7 p.m. MT Thursday against Santa Clara. "That's a guy I look up to a lot. He's a great basketball player, a great leader, but an even better guy and teammate. He's a role model for all of us."
One of just two seniors on the team — and the only one before Houston graduate transfer L.J. Rose joined the Cougars this fall, Davis naturally assumed a leadership role during offseason workouts following BYU's run to the semifinals of the NIT last March.
After averaging 8.8 points and 4.0 rebounds in his final season, the leadership trait won't let Davis sit idly on the sideline on a team that could start two freshmen and two sophomores going forward.
"He is really supportive of this group of guys and wants to continue to be a part of our team in any way he can," BYU basketball coach Dave Rose said of Davis. "He's getting a degree from the Marriott School that will set him up for a really successful future. You have to be happy for the things that he got."
Davis' minutes have gradually decreased since a 114-104 loss to Utah Valley University when he suffered a knee injury. After trying to fight through the pain, the former Alta High standout watched last week's wins over Idaho State and Cal State Bakersfield from the bench in street clothes.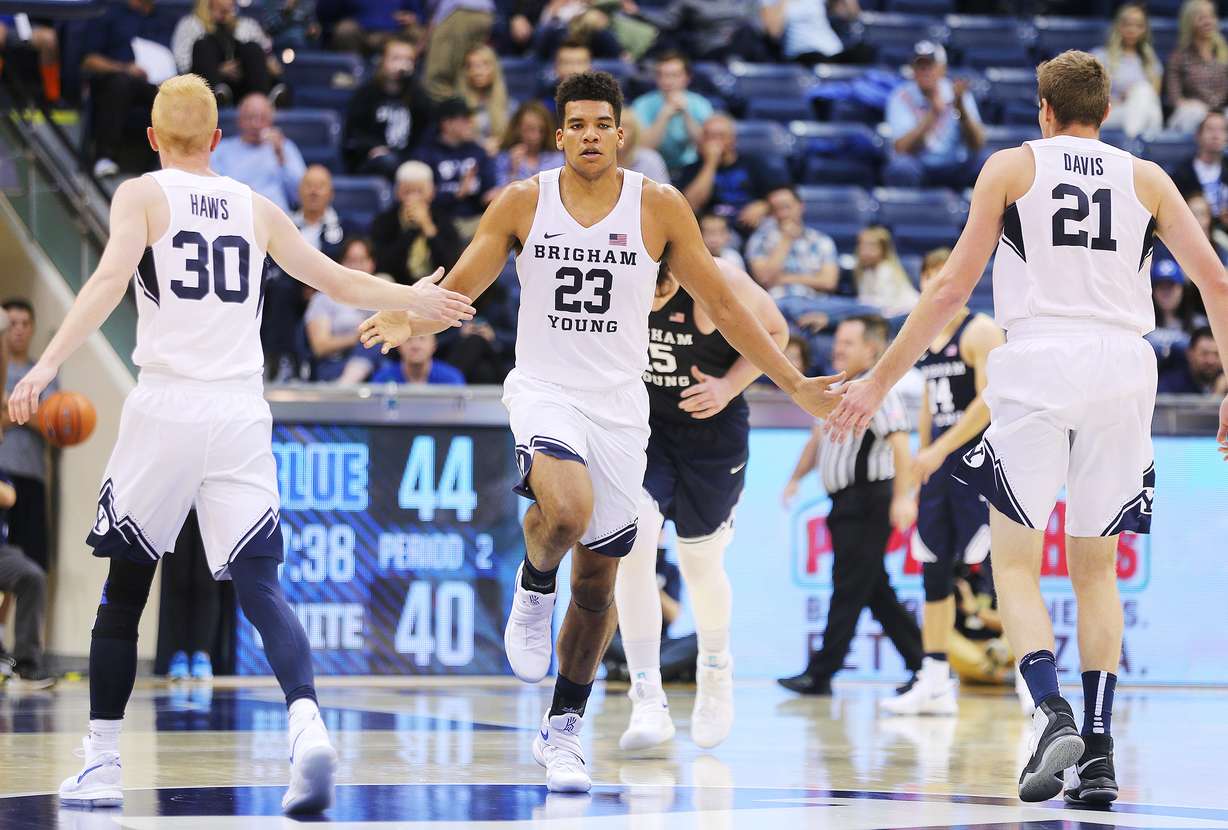 Since Childs entered the starting lineup in Davis' place, the Cougars have gone 5-2, including the former Bingham High standout's career-high 19 points and four blocks in an 81-71 win over Bakersfield.
"He helped me a lot in the physical aspect," said Childs, who is averaging 8.4 points and 8.5 rebounds. "I'd go one-on-one with him every day, and he'd kick my butt. Eventually, I got better and better and could beat him a couple of times. He's helped me a lot."
Davis will have surgery this weekend, but Dave Rose insists the senior team captain will have a place with the team — on the bench, in the video room, and mentoring a young team that needs it.
On the court, Davis' injury could mean increased playing time for posts Braiden Shaw and Jamal Aytes. Aytes, a UNLV transfer from San Diego, is averaging 3.2 points and 1.6 rebounds in 7.8 minutes, while Shaw averages 2.2 points and 1.6 rebounds in 6.5 minutes per game.
The Cougars also got a boost with the return of junior center Corbin Kaufusi a week after finishing the football season in BYU's 24-21 win over Wyoming in the Poinsettia Bowl.
Kaufusi averaged 5.7 points and 4.5 rebounds off the bench a year ago and leads all active BYU players with 70 games played.
He's also not the same player Dave Rose sent to spring football last April.
Related Story
"The numbers are still the same," Dave Rose joked. "He left at 238, and now he's 283. So we'll deal with that and see how he does."
The first step begins Thursday against the Broncos, led by all-WCC first-team selection Jared Brownridge and 19.2 points, 3.8 rebounds and 3.2 assists per game. Santa Clara also has a new coach, former Arizona State head coach Herb Sendek, who has the Broncos off to a 6-7 start after last week's 87-80 win at Valparaiso.
"It's a much more physical team," Dave Rose said. "They are a lot more aggressive defensively, and do a really good job of staying out of foul trouble."
×
Related stories
Most recent Sports stories