Estimated read time: 7-8 minutes
This archived news story is available only for your personal, non-commercial use. Information in the story may be outdated or superseded by additional information. Reading or replaying the story in its archived form does not constitute a republication of the story.
PROVO — It's been quite the year for BYU athletics.
A new coach over the school's flagship football program, as well as the final season for an all-time rusher, will do that.
But even more happened to the program. Here are some favorite moments from BYU's 2016 calendar year.
Jamaal Williams becomes BYU's all-time leading rusher
Just call it the "Year of Jamaal."
In a football season marked by plenty of firsts, it was a fifth-year senior running back who paced BYU.
Williams returned after a one-year hiatus needing just over 900 rushing yards to pass former BYU running back Harvey Unga's career record of 3,455. The former 17-year-old freshman eclipsed the program mark with his 76-yard performance in a 28-21 double overtime win over Mississippi State.
The game wasn't Williams' only highlight in the 2016 season. He also honored the family of running backs coach Reno Mahe, who lost a 3-year-old daughter and sister to a tragic accident, with a 131-yard game against Utah State. Then he piled up 210 yards and a touchdown en route to a 24-21 win over Wyoming in the Poinsettia Bowl in his collegiate finale.
The Fontana, California, native ended his prolific collegiate career with 3,901 yards and 35 touchdowns — with just two career fumbles.
BYU hoops' run to the NIT final four
The prolific career of BYU all-time great Kyle Collinsworth was extended with a deep postseason run last March, even though it wasn't the NCAA Tournament appearance the Cougars craved.
Still, BYU's run to the semifinals of the National Invitation Tournament gave fans a reason to watch NCAA career triple-double leader Collinsworth and fellow seniors Chase Fischer and Nate Austin one last time. No one goes into a season hoping for an NIT berth, but the Cougars made the most of it before losing to Valparaiso in the semifinals at Madison Square Garden.
Kalani Sitake's inaugural head coaching season
Sitake was announced as the first former player of the legendary LaVell Edwards to take the head coaching role at BYU at the end of 2015. But his work began with the new year, and the fruits of his inaugural season have played out.
Behind a leadership-laden senior class that included Williams, quarterback Taysom Hill, and safety Kai Nacua, the Cougars compiled a 9-4 record and capped the season with a 24-21 win over Wyoming in the Poinsettia Bowl. The first-time head coach became the first-ever BYU coach to win a bowl game in his first season, and also earned numerous player accolades for his emotional on-field persona, his penchant for joking with the media, and his regular appearances at fan gatherings and public events.
0-for-3 national championship attempts
BYU had the potential to win three national championships last May.
But when the rain clouds descended on South Field prior to its Varsity Cup rugby final against Cal, it proved an ominous sign for national championship games in women's rugby and men's volleyball, as well.
The top-ranked BYU ruggers lost to the Golden Bears 40-29, then watched as the spikers were swept by Ohio State in the NCAA championship match, and its women's rugby team lost to Penn State in Moraga, California, after advancing to its first-ever club national championship appearance.
The journey is half the excitement. But BYU fans will remember going 0-for-3 in title games on one Saturday afternoon for a long time.
BYU women's volleyball reaches fifth-straight regional semifinal
Some may say "quietly," but head coach Heather Olmstead has put together one of the most consistent women's volleyball teams in the nation.
A year after losing star outside hitter Alexa Gray and the school's all-time digs leader Ciara Parker, BYU went 29-4 and claimed a third-straight West Coast Conference title, a fifth-straight trip to the NCAA's round of 16 before a five-set loss to host Texas, and a No. 8 ranking in the final AVCA coaches' poll.
The Cougars will once again replace a dominant player in first-team All-American middle blocker Amy Boswell. But they also saw the emergence of freshman outside hitter McKenna Miller and freshman libero Mary Lake in 2016.
Taysom Hill's final season
The 26-year-old quarterback had an emotional roller coaster sendoff with the Cougars, ranging from his announcement last February that he would return for a final season, to the death of his older brother Dexter and changing to Dexter's No. 7 jersey in his memory before winning back the starting QB job from then-incumbent Tanner Mangum, and ending with an 8-4 regular season and third season-ending injury to Utah State.
The dual-threat quarterback finished his BYU career with 6,929 passing yards and 2,815 rushing yards, as well as 75 total touchdowns, passing former BYU great Steve Young for fifth-most touchdowns in BYU history.
USWNT member Ashley Hatch powers BYU women's soccer to NCAA third round
A semifinalist for the MAC Herman Trophy given to college soccer's top overall player, Hatch returned from last season's knee injury to score a team-best 19 goals and six assists while leading the Cougars to an 18-3-1 record, a spot in the NCAA Tournament's round of 16, and a fifth-straight WCC championship.
In addition to the U.S. women's national team forward, BYU was led by midfielder Michele Vasconcelos, who notched 16 goals and 13 assists to earn WCC Player of the Year. The honor was the Cougars' third-straight, joining Hatch and last year's recipient Nadia Gomes.
Reuniting the 'Lone Peak 3'
Nick Emery, TJ Haws and Eric Mika helped lift Lone Peak to four Utah high school state championships and a mythical national championship in 2012. After three years of anticipation, the trio has finally reunited at BYU and are off to a blazing start.
After the nonconference portion of the schedule, Mika leads BYU with 20.5 points and 8.8 rebounds per game. Emery is a close second with 16.0 points to go along with 3.8 rebounds, while Haws averages 12.5 points and 3.5 assists going into the team's WCC opener against Santa Clara.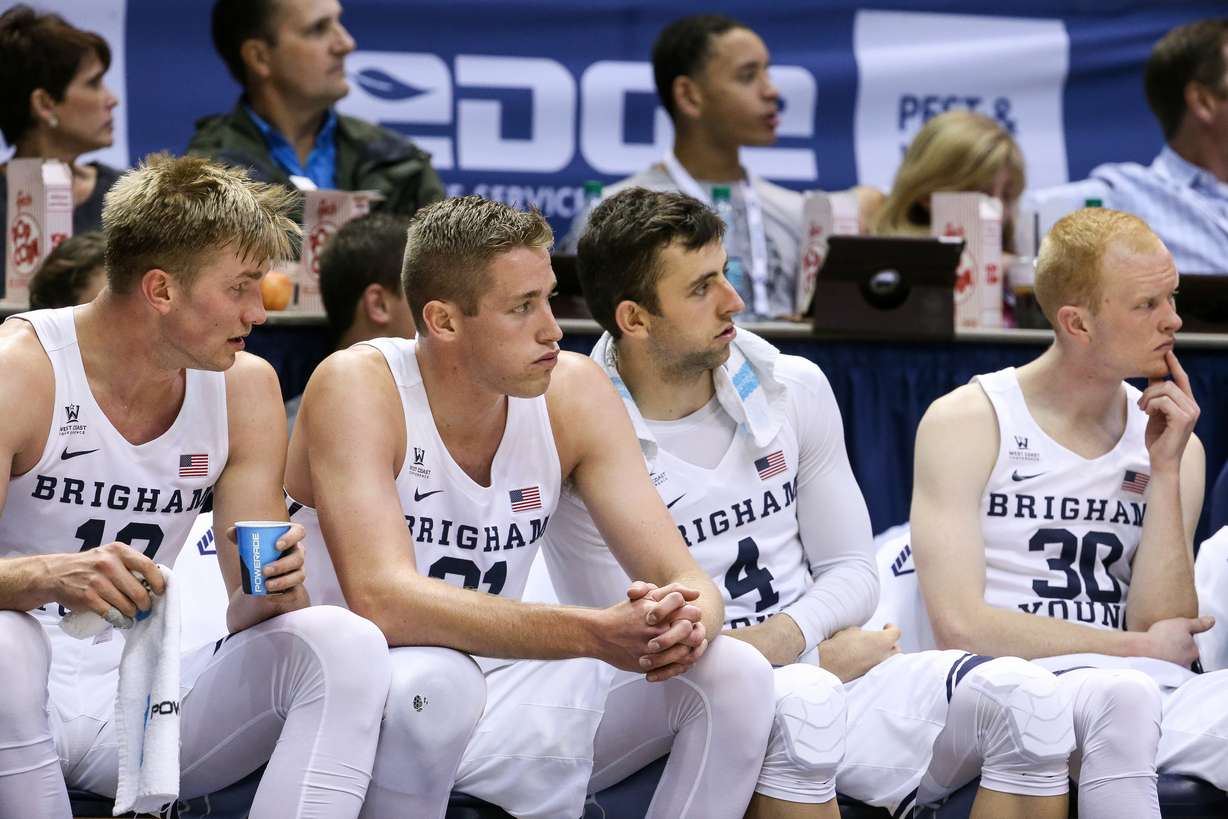 BYU women's hoops takes top spot in WCC
The BYU women's basketball team earned its first-ever West Coast Conference regular-season title.
And senior Lexi Eaton Rydalch was a big part of it.
The former Springville High star became the conference's all-time leading scorer, surpassing the late great Hank Gathers of Loyola-Marymount and his 2,490 points in the first game of the WCC Tournament to claim the scoring title.
Rydalch, whose younger sister Liz Eaton is on the 2016-17 BYU team, finished her career with 2,535 points, 695 rebounds and 341 assists.
Shaquille Walker runs into BYU record books
BYU has a storied tradition of excellence on the track, but Shaquille Walker re-wrote the 800-meter record book this season.
The junior mid-distance runner earned second-team All-American honors, finishing third nationally with a time of 1:45.17 during a record-breaking final heat in Eugene.
Walker won the gold medal at the World University Games last July, helping aid his decision to forego his final season of college eligibility to sign a professional contract with Brooks shoe company.
Best of UVU 2016
Honorable mentions:
BYU women's golf advances to the NCAA Tournament for the first time in nine seasons , gaining no-Sunday play exemption.
BYU baseball capped off a season when it ranked as high as No. 16 nationally with its first conference championship since 2001.
×
Photos
Most recent Sports stories