Estimated read time: 4-5 minutes
This archived news story is available only for your personal, non-commercial use. Information in the story may be outdated or superseded by additional information. Reading or replaying the story in its archived form does not constitute a republication of the story.
SAN FRANCISCO — Utah head coach Kyle Whittingham is ready to put the season's red zone issues behind him. Ask about it and he gives a little chuckle, one with a strong sense of frustration behind it and something that undoubtedly keeps him up at night.
The lack of production in the red zone has been the most consistent theme throughout the season. The Utes are ranked 115 out of 128 teams in scoring in the red zone, which comes out to 76 percent of all trips into the red zone end in a score. It's worse, however, when only 50 percent of all trips into the red zone turn into a touchdown.
That persistent problem was the difference between an 8-4 season and an undefeated season, with realistic wins possible against Cal, Washington, Oregon and Colorado. That's not to say all of those games would have been wins if Utah was able to convert more in the red zone but that the likelihood of doing so would drastically improve.
Following a disappointing ending to the regular season at Colorado, a situation where Utah failed to punch the ball in on the 2-yard line in four downs, Whittingham said the problems started with coaching. Whenever it involves amateur athletes, Whittingham is dismissive about it being a player's fault and lays the blame on his staff — there's always something more that could have been done with coaching.
Senior wide receiver Tim Patrick said, after watching film in the team's three-week break after the Colorado game, the thing that stuck out to him was the individualistic little things that made each red-zone play fail. Pointing out one of his own mistakes, Patrick said there was a play call on the goal line for a sweep right "and if I would have blocked my guy, we would have scored."
"It's always just one thing that messes it up," he said. "It's just stuff like that."
Senior offensive lineman Isaac Asiata said the issue in the red zone has been more of a "mindset deal" than anything else — a belief that Utah can and needs to convert in the red zone. He said the offense needs to have the same drive and mindset needed when trying to convert on "third and short or if you need to convert a fourth down — it has to happen, you've got to get it."
"I feel like those things will be fixed if it's treated as such, and I know the guys have been doing a great job in practice in their preparation," Asiata said. "I think we'll be fine in the game, and the guys will do a good job and get it done in the red zone."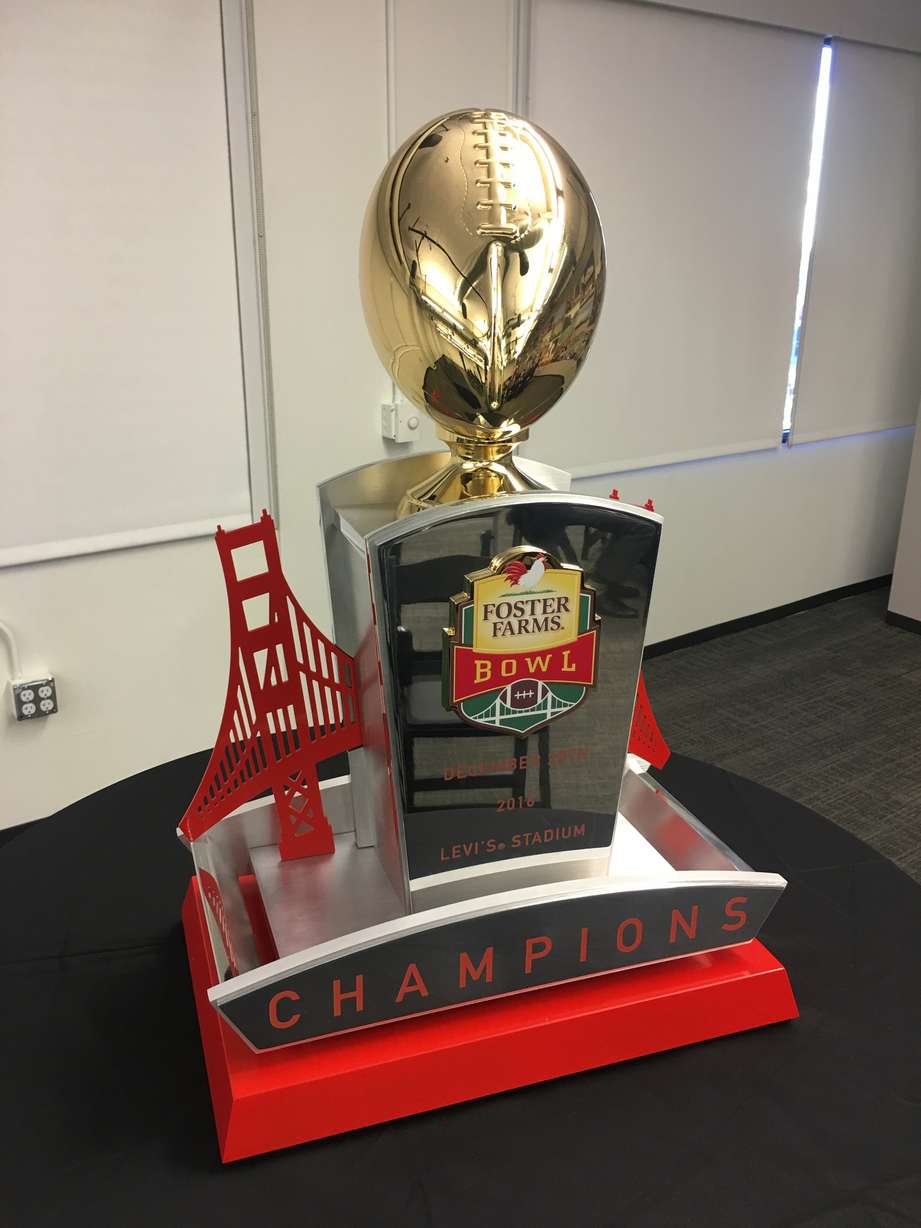 In the weeks leading up to Wednesday's Foster Farms Bowl against Indiana, Whittingham said the team has "been working almost non-stop" at fixing the issues in the red zone.
"All throughout the season it was an emphasis and an area of priority. But for whatever reason, we just couldn't get it done in the regular season, so we're hoping that we can get it done in this game," Whittingham said. "Execution has got to get better, play-calling, everything. It's not just on one guy or one group of guys. It's a collaborative effort that we've got to get better at."
Junior quarterback Troy Williams, in a position that traditionally takes a lot of blame for offensive problems, said the team has "made a lot of progress" in the off weeks and has been focusing more on getting production in the red zone in practice.
"I'm looking forward to going out there and executing in the red zone Wednesday," he said. "I feel like we'll have a lot better outcome."
Utah's opponent, Indiana, will make it difficult for the Utes to convert in the red zone with a physical defense that allows only 27.3 points per game. Indiana's two junior linebackers, Tegray Scales and Marcus Oliver, lead the team in tackles and are big disruptors of opposing offenses. The two combine for 212 total tackles and average 17.67 tackles per game between them.
"Their role has been big all year," Indiana head coach Tom Allen said. "If you look at their numbers, they have been extremely productive, and that's not on accident. Most defenses, if the linebackers are in position, they better make a lot of tackles. That's what that position to me is."
Whittingham calls Scales "probably one of the best players in the Big Ten" and a big, physical defender that covers a lot of the field. His effectiveness in the red zone will only make it harder for the Utes with a limited space to convert.
Speaking about Utah's issues in the red zone, Scales said it's more about "competing."
"When you get down there, it's about who wants it the most," he said.
Fortunately for Utah, Indiana is even worse in the red zone, converting on only 71.1 percent of all trips inside the red zone. Additionally, the offense only scores a touchdown on 48.89 percent of all trips inside the red zone.
Utah and Indiana will kickoff at Levi Stadium in Santa Clara, California, at approximately 5:30 p.m. on FOX.
×
Most recent Sports stories