Estimated read time: 6-7 minutes
This archived news story is available only for your personal, non-commercial use. Information in the story may be outdated or superseded by additional information. Reading or replaying the story in its archived form does not constitute a republication of the story.
SAN DIEGO — After Jamaal Williams had rushed for 210 yards and a touchdown to lead BYU to its first bowl victory since 2012 with a 24-21 win over Wyoming Wednesday night, he was named Poinsettia Bowl Offensive Most Valuable Player.
But before he could accept the award, he turned to his teammates. Williams had just rushed for the most yards in a Poinsettia Bowl since San Diego State's Ronnie Hillman ran roughshod over Navy for 228 yards and four touchdowns in 2010.
But while the bowl committee showered accolades on Williams, he wasn't taking any credit for himself.
The fifth-year senior singled out several individuals on the offensive line — Andrew Eide, Keyan Norman, Tejan Koroma, Tuni Kanuch and Thomas Shoaf as well as the assorted substitutes and rotation players — along with tight ends Tanner Balderree and Hunter Marshall. A bevy of 300-pound linemen and other blockers stepped onto the rain-soaked platform at Qualcomm Stadium.
Without those guys, Williams said, the veteran tailback wouldn't have done any of what he accomplished.
"I'm nothing without my line," Williams said. "You can't run the ball without the line. You can't do a lot of things without the line. You can't pass without the line. They really need more credit for what we do.
"We just run behind them and find the holes and stuff, but they are the ones that open the holes. They are the ones moving people on the ground every down, going against dudes … I don't think they get enough credit."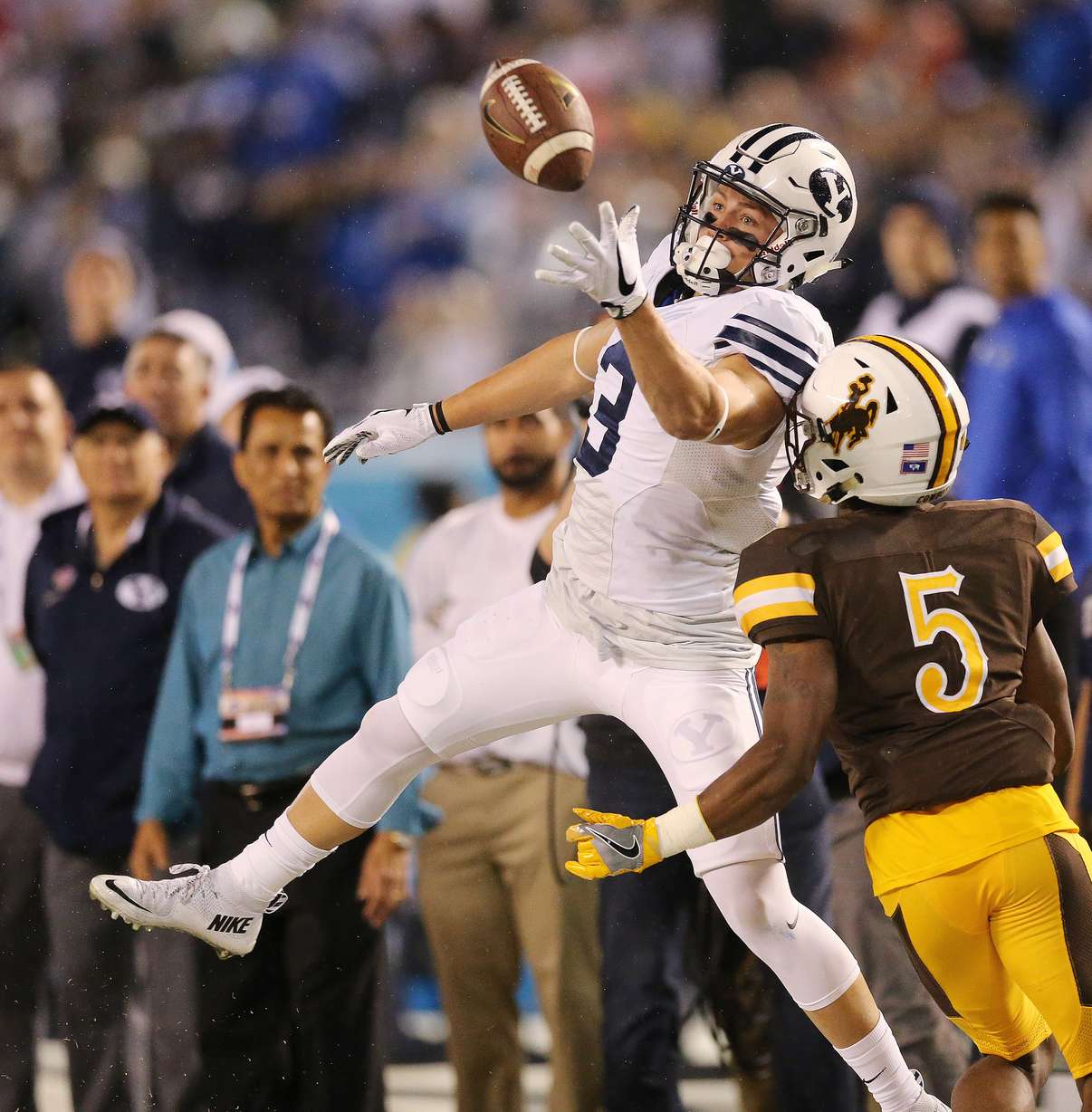 BYU's all-time rushing leader turned to wide receiver Jonah Trinnaman, who had arguably the biggest block of the night to spring Williams' 36-yard touchdown run on the first play of the fourth quarter that gave BYU a 24-7 lead before Tanner Gentry scored twice to pace the Pokes' furious late rally.
Whether Williams would have cruised into the end zone without the 6-foot Trinnaman's help is debatable. What isn't debatable is the way the former Snow College standout knocked Wyoming cornerback Antonio Hull onto his back en route to the endzone.
"Jonah is the man," Williams said. "That man had the best block in the world. I wanted to celebrate before I scored. I was like, 'Wow, that man!'?
Jamaal Williams final touchdown as a BYU Cougar. He rushed for 210 yards and finishes his college career with 3901 yards rushing and 35 TD's pic.twitter.com/wrVgHnudRs

— Jeremiah Jensen (@JJSportsBeat) December 22, 2016
Senior defensive team captain Harvey Langi was BYU's other standout. The ex-Bingham High star running back was listed on BYU's depth chart at middle linebacker, defensive end and fullback prior to the game.
But when Francis Bernard was suspended from the Poinsettia Bowl for non-injury reasons, Langi started at outside linebacker and finished with a career-high 16 tackles and defensive MVP honors.
Langi revealed after the game that moving back to linebacker after spending most of his senior season on the defensive line was a bigger challenge than he initially let on.
"First and foremost, I want to give a shoutout to the D-line and the other linebackers that got me up to speed these past couple of weeks, trying to come back to linebacker," Langi said. "The way coach coaches the linebackers and the defense really got me back up to speed in that short amount of time that I had."
Langi also heaped credit on the defensive line, like starters Corbin Kaufusi, Kesni Tausinga, Sae Tautu and Logan Taele, whose senior season ended when he left the bowl game with a first-half injury.
Again, it's a group that doesn't always get the praised for BYU's season. But the players in the trenches have played a key role in the Cougars' success, both in Kalani Sitake's first season and under former head coach Bronco Mendenhall.
"I think it's impressive when you listen to Harvey and Kai (Nacua) and Jamaal talk about their teammates and how much they love their teammates, how much they appreciate it — they give a lot of credit to their teammates," Sitake said. "The guys that don't get a lot of attention for it. I think it's important to respect the other team because they do what we do. You just have a little bit more appreciation for the game."
Sitake's first season ended with a 9-4 record, rebounding from a 1-3 start to finish with four losses by a total of eight points. He became the first BYU football coach to win his first bowl game, doing something Mendenhall, Gary Crowton and legendary coach LaVell Edwards didn't do in their inaugural seasons.
But like his players, Sitake didn't take credit for continuing the run of success put in under 11 seasons of Mendenhall. His focus, instead, turned to the seniors — stars like Williams and former starting quarterback Taysom Hill, as well as less-heralded seniors like receivers Nick Kurtz, Mitchell Juergens and Colby Pearson and defensive end Sae Tautu.
"I think it's a huge compliment to these young men," Sitake said. "They've been leading this team — the entire time. I think I get way too much credit for doing things as a head coach when these guys have made it so much easier for me."
Sitake's upcoming classes won't be devoid of leadership. Linebacker Fred Warner and bowl game starting quarterback Tanner Mangum, among others, will help pave the way for the 2017 squad that opens the season Aug. 26 against Portland State before facing LSU in Houston Sept. 2.
But there is little doubt the senior class left an indelible impression on Sitake and his first-year coaching staff and vice versa.
"I felt the way that coach would care for us and love for us, and he would do it through his actions," Langi said. "But he would verbally say it, constantly — every day. When you have someone like that, on and off the football field, you have his back and you want to do the best (you can). I don't ever want to disappoint coach Kalani or any of the staff members because of that."
Related Story
After Williams sat out the final season of Mendenhall's tenure in what was supposed to be his senior season in 2015, there was no guarantee he would come back. The former 17-year-old phenom could've graduated, declare for the NFL Draft and started a career.
But he wanted one more season of BYU football — and just as importantly, one year under Sitake.
"I think he got me when he first came in," Williams said. "He was totally like, I ain't your bishop. I ain't none of that; I'm your football coach.
"He walked the walk and talked the talk, and he put in so many things at BYU that we never knew could happen, and he's always fighting for us to get new things. He always is working for us. He wants the best for us on and off the field."
×
Photos
Related stories
Most recent Sports stories