Estimated read time: 3-4 minutes
This archived news story is available only for your personal, non-commercial use. Information in the story may be outdated or superseded by additional information. Reading or replaying the story in its archived form does not constitute a republication of the story.
SANTIAGO, Cuba (CNN) — Fidel Castro's ashes were placed in a granite mausoleum Sunday morning during a private ceremony attended by Castro's little-seen family and a handful of Latin American and African leaders, Cuban state media reported.
The three-minute ceremony at Santiago de Cuba's Santa Ifigenia Cemetery ended nine days of public mourning for the charismatic but polarizing revolutionary who led Cuba for half a century.
Cuban President Raul Castro slid the box of ashes into an opening in the mausoleum, made from a boulder excavated from the town of Las Guásimas, east of Santiago. The mausoleum was sealed with a plaque that says simply, "Fidel."
At 7:40 a.m., the brief funeral ended.
According to the Cuban government website Cubadebate, the urn was initially carried by Dalia Soto del Valle, identified by the site as Castro's wife.
Soto del Valle has rarely been seen in public and most Cubans did not know that Castro, secretive about his personal life, was married and had a large family.
Castro's bodyguards, household staff and invited dignitaries laid white roses at the gravesite, state media said.
The attendees included Argentine soccer legend Diego Maradona, Venezuelan president Nicolas Maduro, Nicaraguan president Daniel Ortega, Bolivian president Evo Morales, Congolese president Denis Sassou Nguesso, Ethiopian president Mulatu Teshome, Alfred Marie-Jeanne of Martinique and former Brazilian presidents Luiz Ignacio "Lula" da Silva and Dilma Rousseff.
Castro died in Havana on November 25 at age 90.
His ashes arrived Saturday in Santiago after a four-day tour across the island nation. Santiago is located on the eastern end of Cuba, about 880 kilometers (546 miles) from Havana.
Starting in Havana in the west, the tour reversed the route Castro took across the island after seizing power in 1959.
Crowds of Cubans lined the roads and stood on rooftops to catch a glimpse of Castro's remains, which were carried in a box on a simple trailer and towed by a military Jeep. On Sunday morning, they did the same thing as the remains were taken to the cemetery.
The private funeral service stood in contrast to the public mourning for Castro.
On Saturday night, tens of thousands of people crowded into Antonio Maceo Revolution Square to shout "Yo soy Fidel!", or "I am Fidel!"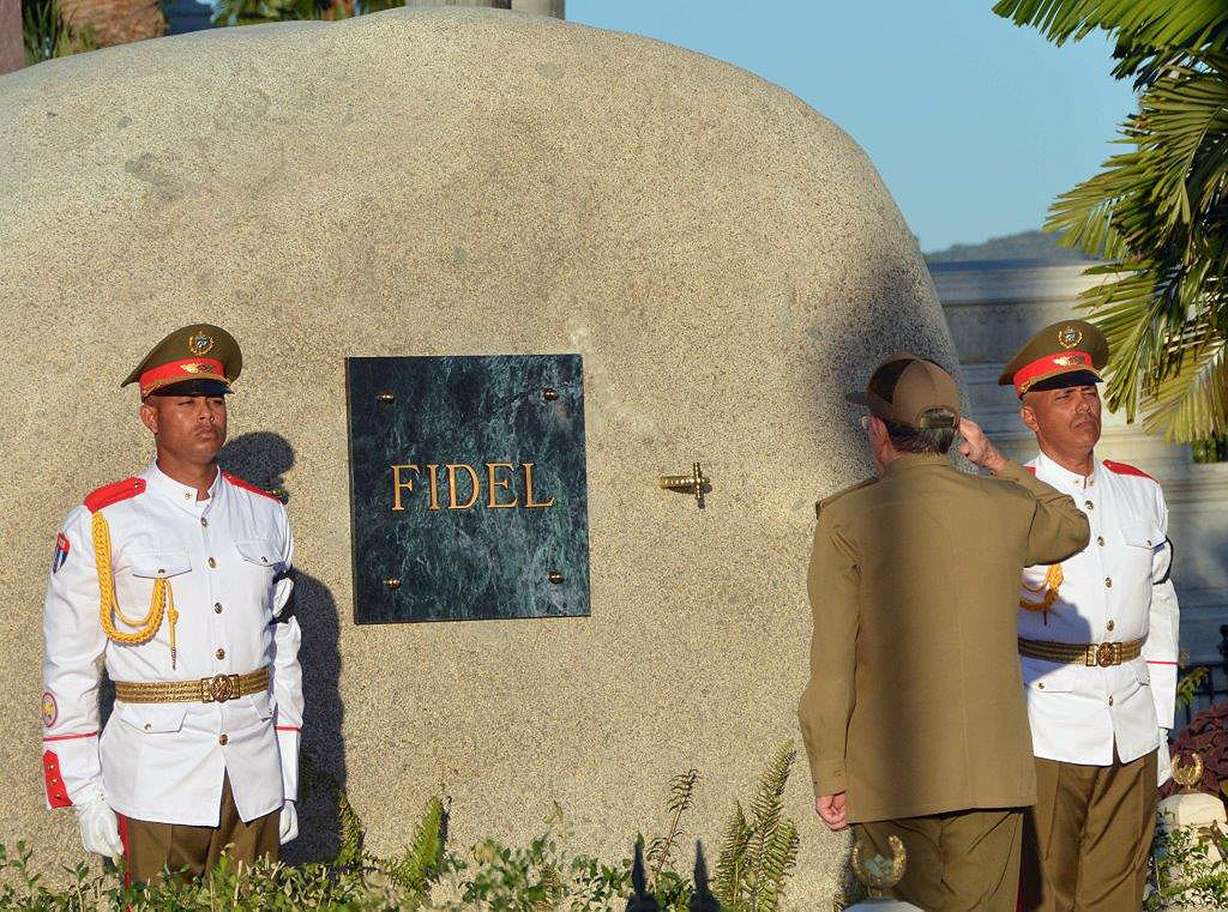 Raul Castro, who took over when his older brother fell ill in 2006, spoke at the event and praised Fidel Castro's accomplishments, especially his willingness to stand up to the United States.
Presidents from Latin American and African nations paid their respects. No representative from the United States attended the memorial or the funeral, despite a thawing in relations with Cuba under President Obama.
Raul Castro said his brother insisted that no public spaces or monuments be named after him, saying he wanted to avoid "a cult of personality."
Castro was born in Biran, about 94 kilometers (60 miles) north of Santiago, the second-biggest city in Cuba.
In 1953, a young Fidel Castro led a group of about 150 rebels who attacked the Moncada military barracks in Santiago in an unsuccessful attempt to overthrow dictator Fulgencio Batista.
Castro later launched another revolt and declared victory January 1, 1959, from the balcony of the Santiago City Hall. He then made his way across the country to Havana.
Castro ruled Cuba for half a century in his trademark military fatigues and cigar, inspiring revolutionaries in some nations while antagonizing American leadership.
The cemetery where Castro was buried is the resting place for other Cuban heroes. Buried there are Jose Marti, the Cuban revolutionary leader from the 19th century; Carlos Manuel de Céspedes, who freed the slaves; and men who perished fighting at the beginning of Castro's revolution in the 1950s.
Copyright 2016 Cable News Network. Turner Broadcasting System, Inc. All Rights Reserved.
×
Most recent News stories