Estimated read time: 5-6 minutes
This archived news story is available only for your personal, non-commercial use. Information in the story may be outdated or superseded by additional information. Reading or replaying the story in its archived form does not constitute a republication of the story.
SALT LAKE CITY — Three thoughts on the Jazz's 105-98 win over the Denver Nuggets from KSL.com's Utah Jazz beat writer, Andy Larsen.
1. Gordon Hayward scores 21 points in 3rd quarter to key Jazz run
Gordon Hayward's climbing the ranks of the NBA's elite, after scoring 21 points in the 3rd quarter tonight, outscoring the Nuggets by himself in the period. Ultimately, it was a 17-point advantage in that quarter for the Jazz, which they ended up needing in the fourth.
How did he do it? Here's some video of his scoring.
Gordon Hayward finished with 32pts/4reb/2stls 👏#DENatUTA#takenotepic.twitter.com/rcKXSjV4Ev — Utah Jazz (@utahjazz) December 4, 2016
Maybe Hayward's best trait is the variety of the ways in which he can score. He's athletic, so he can fly through the air for dunks, of course. But he's also very much under control, so he can use hesitation, slow-down moves to get open shots for himself.
"We talked about this early in the season and we felt like he'd expanded his game. He added a comfort level on the post that I think is still going to improve. He's shooting off screens, so he's able to score multiple ways when someone takes something away. He's able to have another option," Quin Snyder said. "The biggest thing Gordon's been doing is he's been defending and as a result he's getting some things out in transition and getting some easy baskets."
That's now three straight games for Hayward in which he's scored 30 points or more, the first time he's done that in his career. He's also scored 20 in seven straight, and in 12 of the 15 games he's played so far. He's taking another step forward in a contract season.
2. Nuggets comeback in fourth quarter
So the Jazz led by a maximum of 23 points, but then the Nuggets went on a 3-point and small-guard fueled run. At one point, the Nuggets made eight threes in nine attempts in a seven minute stretch, the only miss coming on a 41 foot buzzer beating heave that actually was pretty close to going in too.
That's pretty fortunate 3-point shooting, yeah, but I thought more worrisome was how easily the Nuggets' quick, small guards were breaking down Utah's defense. Jameer Nelson scored 10 points on 4-4 shooting, and Will Barton scored 11 points on 4-5 shooting. Those are two quick scoring guards that the Jazz had trouble staying with, continuing a trend after Wayne Ellington and Goran Dragic were so successful against Miami.
Quin Snyder talked about that performance at shootaround today. The Jazz's current guard rotation of Shelvin Mack, Dante Exum, Rodney Hood and Joe Ingles are pretty big, but they aren't necessarily all that quick. So teams can take advantage of that quickness advantage while George Hill is out. It's something to watch for when the Jazz take on teams with quick guards for the time being. (Normally, that would be their next opponent, the Los Angeles Lakers, but both D'Angelo Russell and Nick Young are sidelined right now with injury.)
This comeback meant that the Nuggets got that 23 point lead down to four (though it was changed to five on a 3-point review). But despite that, the Nuggets really didn't have much of a chance to win the game. I know, it's 2016 and probabilistic win modeling might be dead after the Jazz missing the playoffs last year, Leicester City winning the title in the English Premier League, and Donald Trump winning the presidency. But just in case it's still a thing: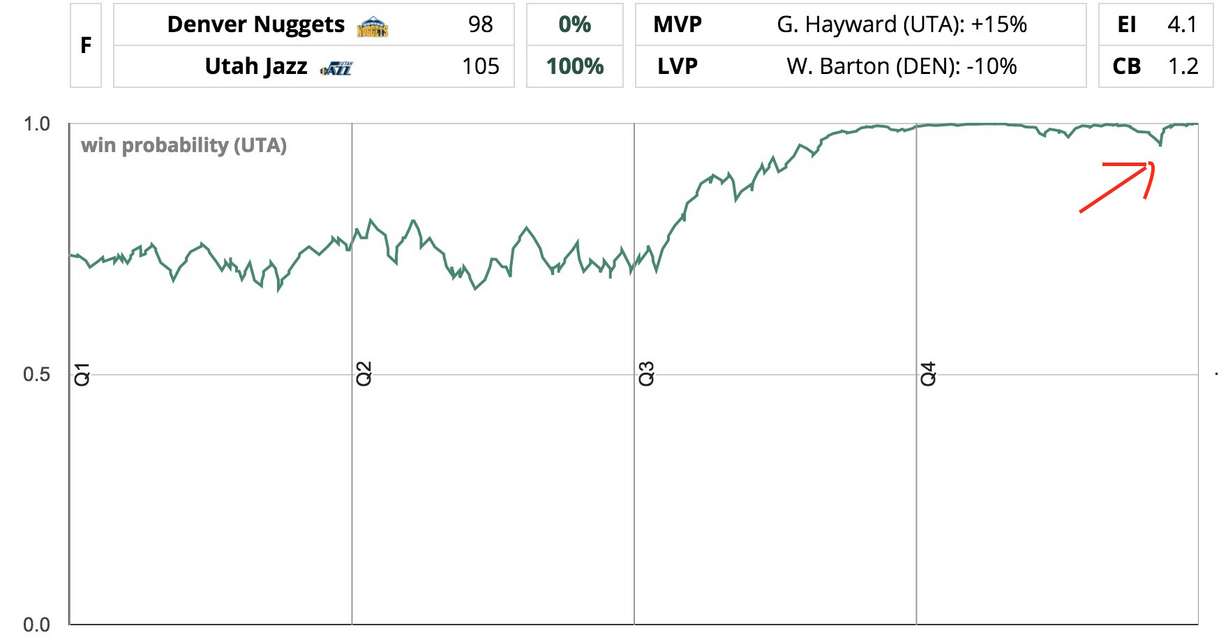 The lowest the Jazz's win probability ever became was 95.4 percent. That's a comeback, sure, but the Jazz won relatively comfortably.
3. Ouch, my ears
This is the oldest man thing I've ever written about. I'm 25 years old, and I'm about to complain about loud music. But Vivint Arena's current sound setup is so rough that I have to say something about it, and I'm not the only one who thinks so.
Right now, in-game announcer Allen Handy's voice rings through the arena, echoing off the concrete and coming in hot and high at ear-ringing volume levels. (I used to think this was just a problem with Handy's voice, but any time anyone else subs for him, I think it's worse.) It's just too loud, and makes every timeout a pain.
The same thing extends to a new addition to the Jazz's in-game routine this year, DJ Juggy's performances. I think Juggy does good work with his song selection, but when the timeout comes when it's his turn to shine for a whole two minute period, the record scratching is pretty rough on the ears. I like the segment! I just think it needs to be turned down a notch.
I do think the sound system is objectively louder than it's been in years past. I've heard a rumor that the bass of the arena's system isn't working well, so they've had to turn up the whole system in order to make up for that. My response: no, you don't have to do that. Please stop doing that. More treble is not the solution.
I am not an expert on this at all, but I also wonder if a loud PA system means that broadcast crews have to turn down the in-arena microphones in the sound mix for TV. I feel like this is true in my experience in re-watching Jazz broadcasts from Vivint Arena, but it might just be confirmation bias. But if it is true, that also means that local broadcasts get less fan noise and authentic game sounds than before. That's a bummer.
Anyway, if it's fixable, please fix it. Thanks!
×
Most recent Sports stories