Estimated read time: 3-4 minutes
This archived news story is available only for your personal, non-commercial use. Information in the story may be outdated or superseded by additional information. Reading or replaying the story in its archived form does not constitute a republication of the story.
PROVO — Princeton's plan to take down 13th-seeded BYU women's volleyball became pretty evident within the first few points of the first set: take away the Cougars' pin hitters.
BYU had to adjust toward the middle.
Adjustment made, and cleared.
Whitney Young Howard had nine kills and seven blocking touches to help BYU to a 25-22, 25-15, 25-23 sweep of the Tigers in Friday's first round of the NCAA tournament Friday night in the Smith Fieldhouse.
"She really changed momentum there with a couple of blocks in a row, some of them solo blocks," BYU coach Heather Olmstead said of Howard. "She owned her space well, got into their space, and I think it intimidated them and changed that second set. And she was also getting kills, too."
Howard, whose nine kills tied for the team-high, led a front row that out-blocked the Tigers 14-3. The senior finished with two solo blocks and five block assists with just one error to lead the Cougars (28-3), who advanced to face UNLV in the tournament's second round Saturday at 7 p.m. MT. The Rebels stunned No. 22 Utah, 3-1 in Friday's earlier match.
"It's always fun. I love blocking," Howard said.
"You just always have to have calm eyes as a middle. You can never guess; see the setter and go, but always be over."
Amy Boswell finished with four kills and five blocks for the Cougars, and Lyndie Haddock had 24 assists and two kills. Veronica Jones-Perry had nine kills for BYU, including six in the decisive third set, and also assisted on four blocks.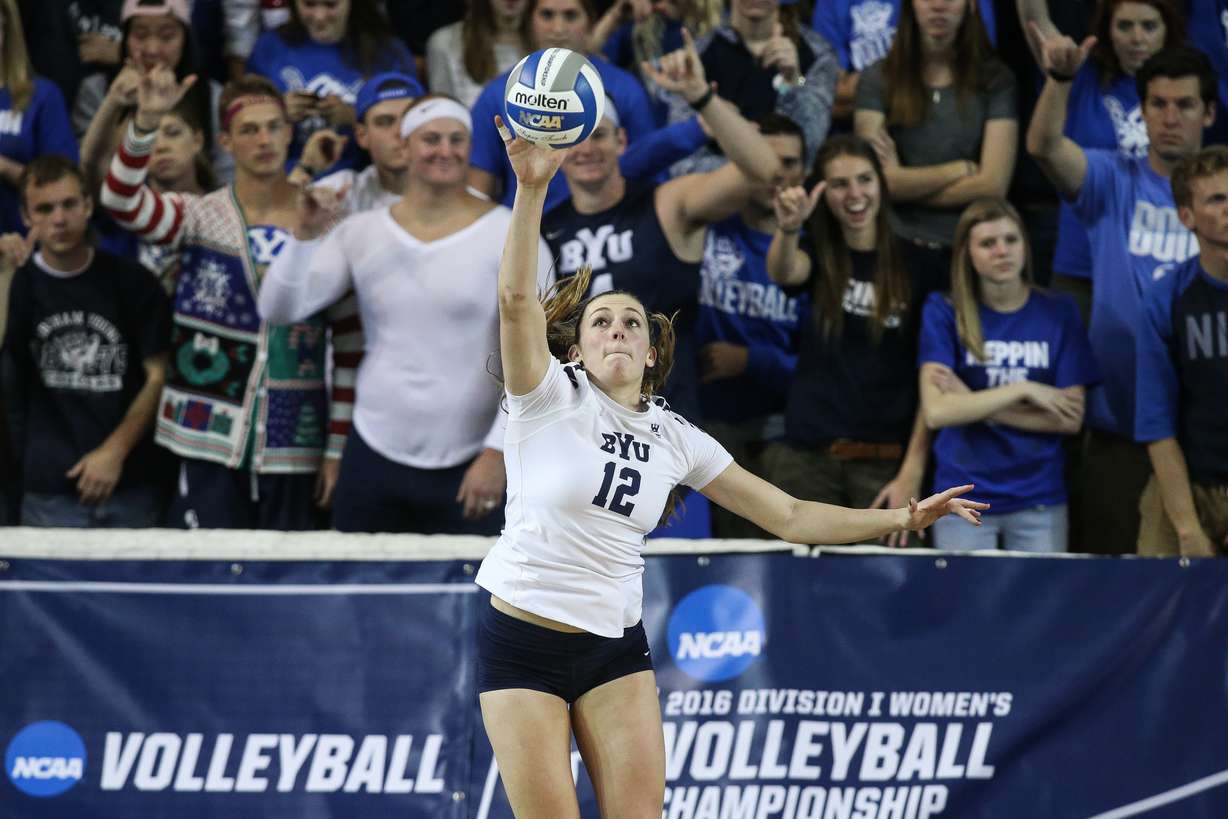 Ivy League freshman of the year Maggie O'Connell led Princeton (19-5) with 12 kills, and conference player of the year Cara Mattaliano had 11 kills and 14 digs. The Tigers advanced to their first NCAA Tournament since 2007.
"Our passing was amazing this game, and our setters were great at distributing the offense," O'Connell said. "The slide was working, and we kept going to it. That takes a little bit of pressure off other hitters.
"I was glad to be able to contribute what I could."
Mary Lake had two of BYU's three aces in the first set to lead the Cougars to a 25-22 advantage. Mattaliano put down three-straight kills to take a 7-5 lead, but BYU rallied to regain the lead on Howard's block, 8-7.
With Boswell on the bench, Howard led a dominant front-row effort that featured seven blocks in the second set. The senior middle blocker had a hand in six points, including three-straight blocks, to give the Cougars a 14-9 lead in the second set.
At one point midway through the set, Howard had scored seven consecutive points for BYU, singlehandedly finishing off Haddock's sets over the middle in addition to stuffing the Tigers' pin-hitters.
Lacey Haddock's kill to go up 21-15 started a run of five-straight points to give the Cougars a 2-0 advantage at the break.
Jones-Perry put down six kills in the decisive third set, including leading a 5-1 run to give the Cougars an 18-14 advantage.
Related Story
"I took a swing and got blocked, but I knew my team was there to cover off the block," Jones-Perry said. "It felt like we were together, and everyone was fighting, and I knew I could count on my teammates. That was really comforting."
Mattaliano led Princeton back, giving the Tigers a 22-21 lead as the Ivy league champions threatened to send the match to a fourth set.
But Howard popped up for a kill to tie the set at 22-22, and Jones-Perry eventually scored the match-winner to clinch an NCAA Tournament win for the fifth-straight year to set up a rematch with UNLV.
"I'm excited to play them," said Jones-Perry, whose team swept the Rebels on Sept. 17. "We saw them earlier in the season, and they were a good team. Both of our teams are different now. It'll be a good game."
×
Photos
Related stories
Most recent Sports stories