Estimated read time: 6-7 minutes
This archived news story is available only for your personal, non-commercial use. Information in the story may be outdated or superseded by additional information. Reading or replaying the story in its archived form does not constitute a republication of the story.
SALT LAKE CITY — The 2016 high school football season wrapped up with state titles won by Bingham, East, Desert Hills, Juan Diego, Beaver and Duchesne.
But we're not done yet; let's get to some individual superlatives.
There were a lot of great players this season, but here are the 2016 KSL Game Night Live MVP awards. Click the video above for in-studio reaction from each of our honorees.
For the second-straight year, the Leopards took the top honor.
Player of the Year: Jaylen Warren, East
Why he won:
Warren didn't just win the state rushing title to help the Leopards repeat as Class 4A state champions.
He ran away with the crown.
Warren piled up 38 touchdowns, 10 more than his nearest competitor, and became the first-ever player to run for 3,000 yards in a season when he finished with 3,099 yards on 257 carries. He averaged 221.4 yards per game, 12.1 yards per carry, and led East to back-to-back state titles for the first time since 1956.
Quotable:
"It's my linemen. They did it all. I want to give my team the credit, because I couldn't have done it without them. I just follow my blocks, and make it happen," said East running back Warren, who has interest from BYU, Utah State and Weber State but only a scholarship offer from Snow College.
5A MVP: Daniel Loua, Bingham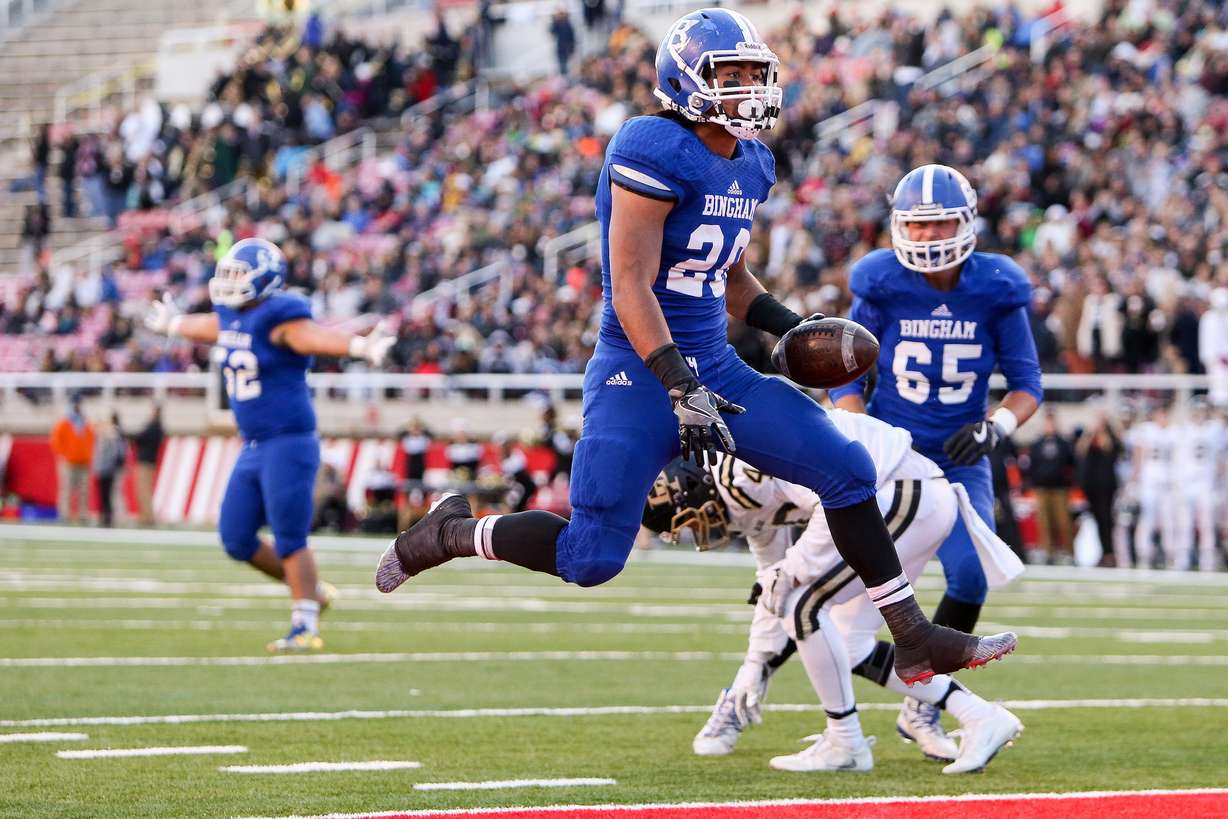 Why he won:
It's hard to pick one player who stood out on a team as dominant as Bingham. But Loua is as good as they come for his contributions on both sides of the line of scrimmage.
The Miners (14-0) capped their "revenge tour" with a 17-10 win over Lone Peak in the Class 5A state title game, when Loua ran for 60 yards and a touchdown on nine carries and also hauled in one of three second-half interceptions for the Miners. Bingham finished the season undefeated, and won its third state championship in four years — while avenging its lone in-state loss over the past two years to the Knights.
Loua finished with 408 yards rushing and seven touchdowns on offense. The 5-foot-11, 195-pound tailback and defensive back had 107 tackles, four sacks and four interceptions on defense for the Miners, who held opponents to 163 total points for an average of 11.6 points per game that included two shutouts.
Quotable:
"He's a great player, but he's a better kid. He does things the Bingham way. I love him. I love him to death. He's one of the hardest workers on the team, every day," said Bingham defensive coordinator Karl Cloward.
4A MVP: Josh Davis, Alta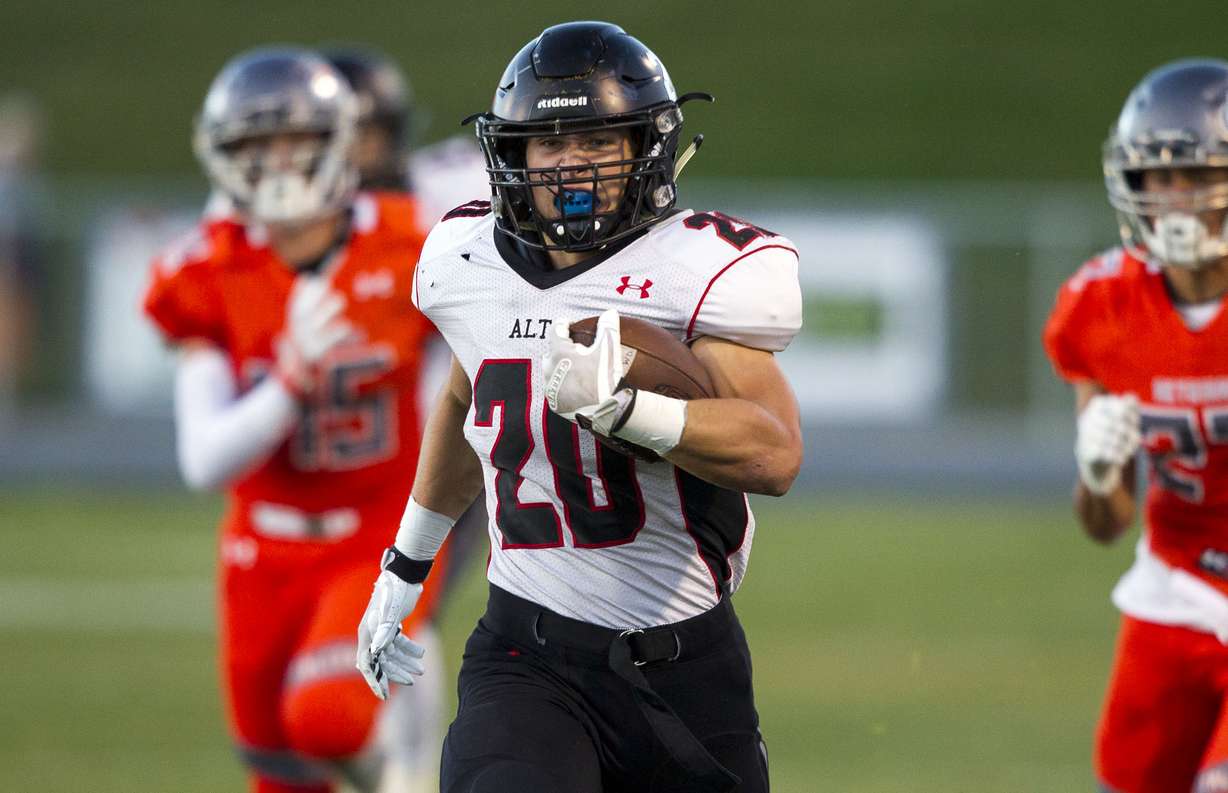 Why he won:
Davis, who was named last year's KSL Game Night 4A MVP as well, ran for the second-most touchdowns in the state to Warren, and finished with 2,645 yards and 28 touchdowns. His 203.5 yards per game puts him in a select club as one of two players to average 200 yards per game, and he became the state's all-time leader in all-purpose yardage while leading the Hawks to the 4A semifinals.
The 6-foot, 170-pound Davis, who holds offers from Air Force, Army, Weber State and Southern Utah, among others, has piled up 5,289 rushing yards and 56 touchdowns in his 47-game career with the Hawks, as well as 1,443 receiving yards with 12 scores.
Quotable:
"The best running back that I've ever coached in my history as a high school coach. The guy is explosive. He's got great hands, great balance; there is just no quit in that kid," said Alta head coach Alema Te'o.
3AA MVP: Nephi Sewell, Desert Hills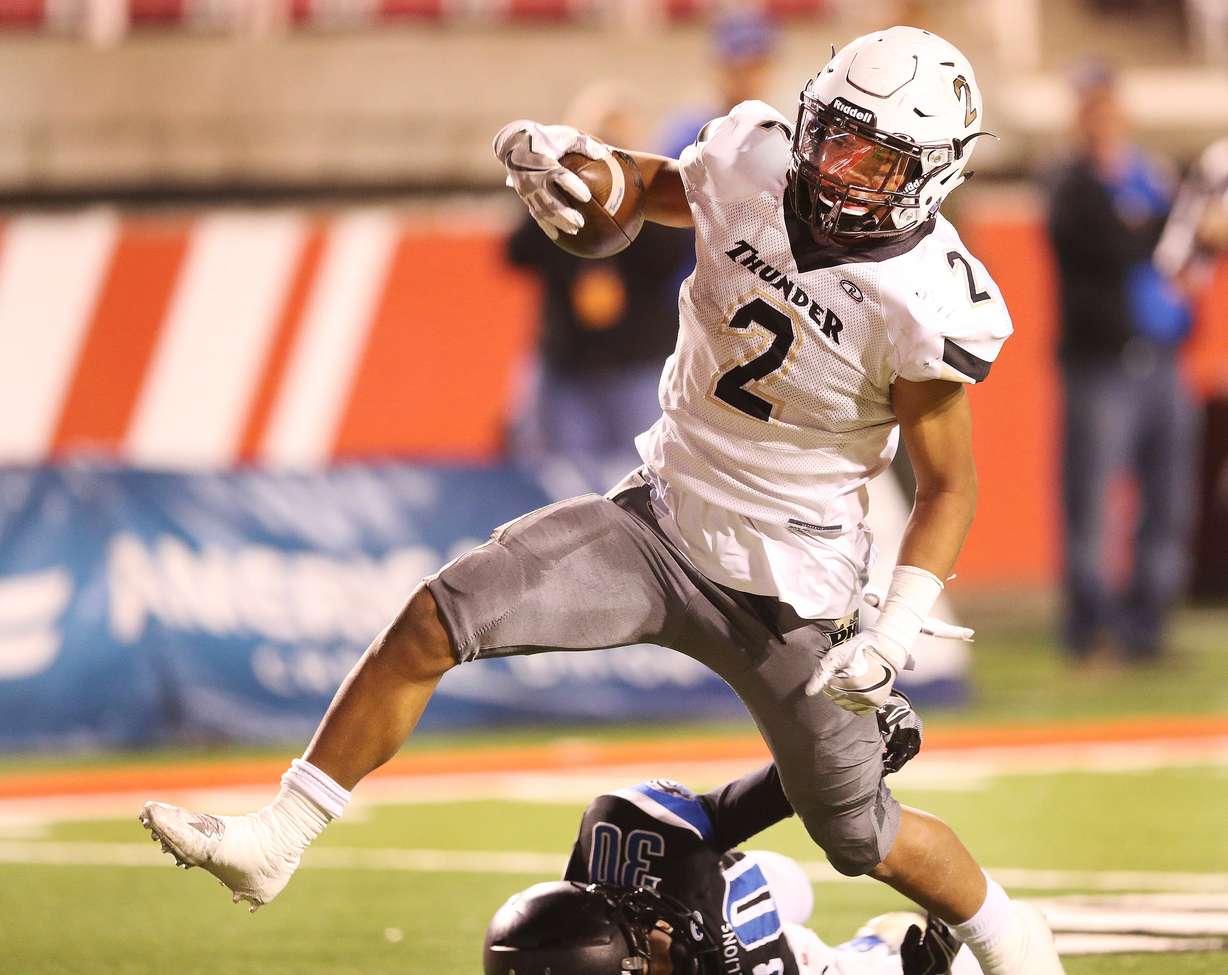 Why he won:
Start with the obvious: Sewell ran for 1,262 yards and 14 touchdowns as a senior to lead Desert Hills to the 3AA state title, despite missing the first two games of the Thunder's campaign.
But that's only half the story.
Sewell's career nearly ended in the first game of his junior season when he broke his neck on a tackle and missed the entire season. His career was in jeopardy, too.
But through hard work, determination and the love and prodding of his family and friends, Sewell, who holds offers from Nevada and Washington State, among others, returned to the field Aug. 26 against Salem Hills and helped the Thunder go 10-1 with him in the lineup for their second state championship in four years.
Quotable:
"I never really saw myself being back here. And then, when I was cleared to come back … there is just so much emotion going through me. I'm just really grateful to have a game like this with my team," said Desert Hills running back Nephi Sewell.
3A MVP: Ryan Baker, Juan Diego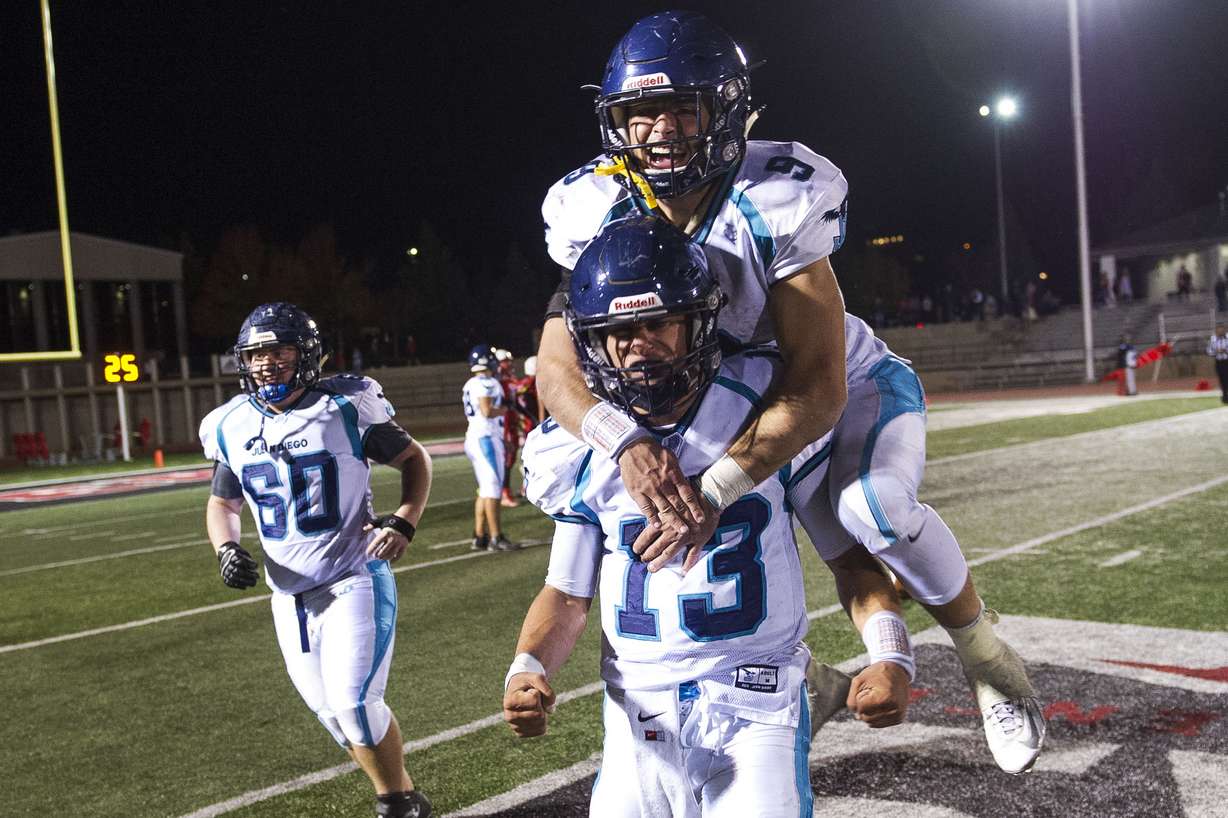 Why he won:
Tied for Utah's leading scorer in 3A, Baker ran for 1,143 yards and 16 touchdowns while helping the Soaring Eagle to consecutive state championships.
Among the two other players tied with Baker for most rushing touchdowns in 3A? His quarterback, Zach Hoffman. That's right, the duo combined for 32 touchdowns to help Juan Diego to an 8-4 record in an offense that averaged 37.25 points per game and claimed its second-straight 3A title with a 35-21 win over Delta.
The Bryant University lacrosse signee has 2,292 rushing yards and 33 touchdowns on 326 carries in his 34-game career.
Quotable:
"No better way to end my football career. Thanks to all those who supported us for the last four years," said Juan Diego running back Ryan Baker.
2A MVP: Jordan Hardy, Beaver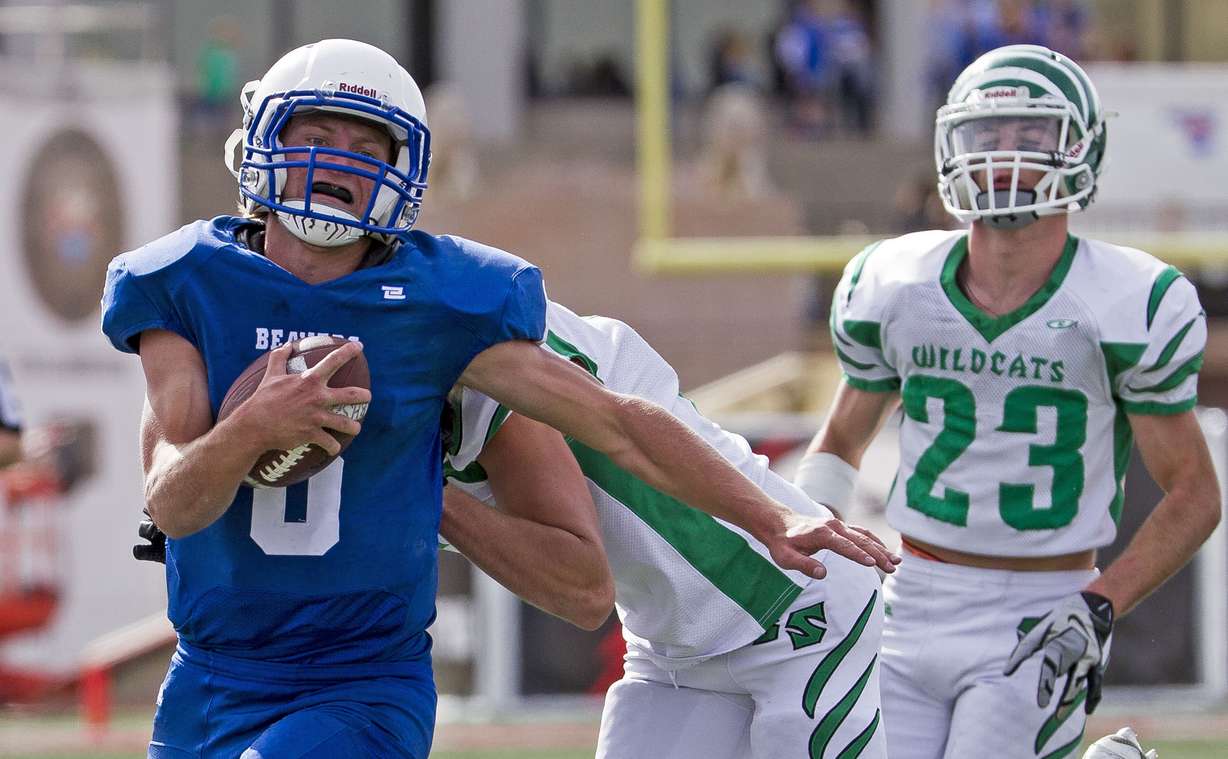 Why he won:
Beaver High waited 25 years for a state championship before winning the 2A title in 2015.
Jordan Hardy made sure they didn't have to wait as long for another.
Hardy threw for 1,095 yards and 20 touchdowns and also ran for 1,471 yards and 18 more scores. But the senior quarterback saved his best for last, rushing for 326 yards to lift the Beavers to the beginning of a dynasty with their second-straight state title in a 55-35 win over South Summit.
The dual-threat quarterback also made 38 tackles with three interceptions while moonlighting on defense for a Beaver team that went 11-1 and outscored opponents by an average margin of 45.6 to 13.5.
Quotable:
"For our community, we are on top. Beaver High School football is on top. Last year was no joke; this is a for-sure thing," said Beaver coach Randy Hunter.
1A MVP: Steven Skewes, Duchesne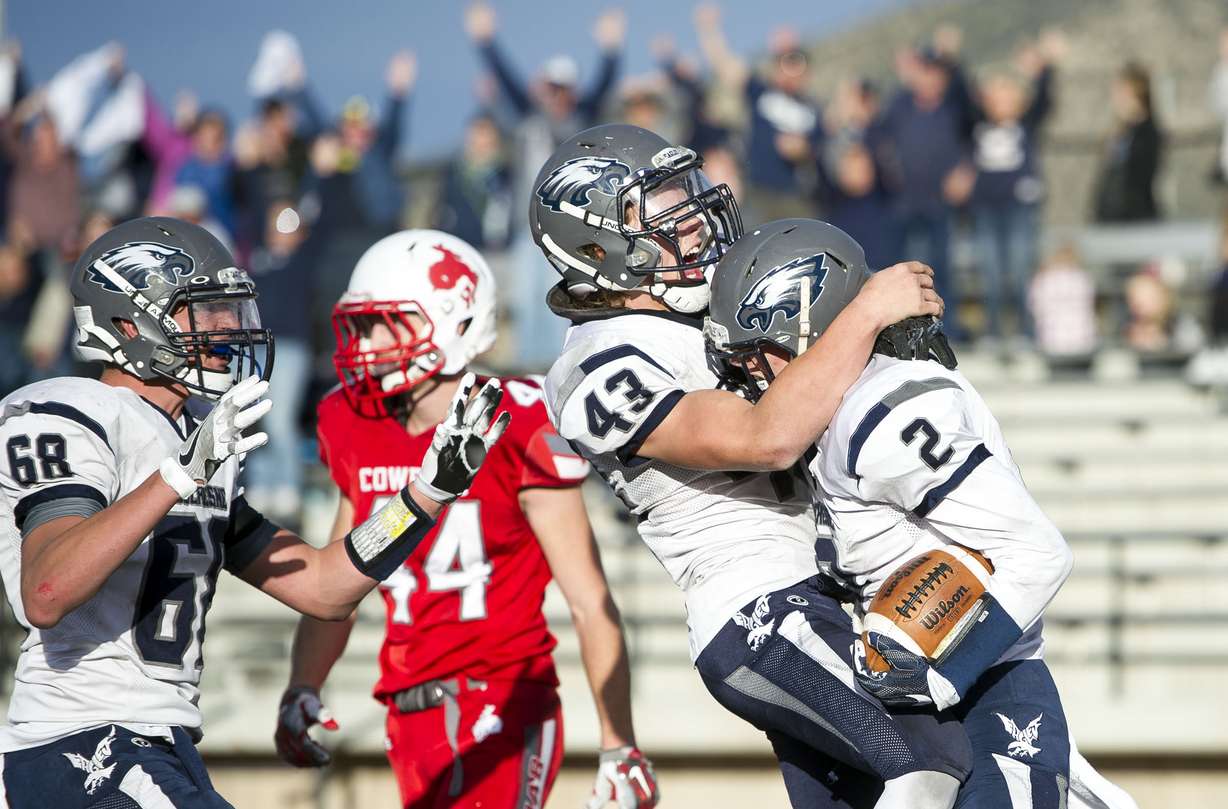 Why he won:
A tally of 11-2 would've been a nice story for Duchesne as it trailed top-rated Kanab early in the Class 1A state championship.
But that wouldn't be good enough for Skewes, whose team grabbed five interceptions to win its first state title since 2013.
Skewes ran for more than 100 yards four times while dragging the Eagles to the 2A title, including 43 yards on eight carries in a 19-17 slugfest over Kanab in the championship game. He finished with 827 yards and eight touchdowns for Duchesne while also leading the team on defense with 97 tackles.
Quotable:
"This is something we've been working for since we were third-graders," said Duchesne defensive back Weston Poulson.
×
Photos
Related stories
Most recent Sports stories