Estimated read time: 4-5 minutes
This archived news story is available only for your personal, non-commercial use. Information in the story may be outdated or superseded by additional information. Reading or replaying the story in its archived form does not constitute a republication of the story.
SALT LAKE CITY — Desert Hills rallied with a 14-point fourth quarter performance to beat Pine View 28-27 as time expired for the 3AA title game Friday afternoon.
With 4 seconds left in the game, the Thunder needed a touchdown to at least force overtime and keep Pine View from winning its first ever state title. Pine View lined up ready with a blitz and nearly sacked Thunder quarterback Quinn Kiser on the snap. Kiser, however, managed to shed defenders and scrambled to score before finding and open Gavin Young in the end zone for a one-yard game-winning touchdown.
"I reversed out and Gavin was right there and I tossed it to him. I don't even know," Kiser said. "I was supposed to hand it off, but the safety was blitzing. If I would have handed it off, he would have gotten smacked in the hole, so I kept it and tried to do something with it."
"That was a Quinn Kiser just make up stuff as he goes because Pine View had it stuffed and did a really good job," Desert Hills head coach Carl Franke said.
"It's been a crazy season and I've had so many different emotions this year and it's been up and down," Kiser added. "You can't even script that right there. That's unbelievable. I guess God's on our side today."
Late in the fourth quarter, Young muffed a punt and gave the ball back to Pine View for what looked to be game-changing turnover. However, Desert Hills' defense stepped up and held Pine View from getting a first down. Franke said after the muffed punt that he pulled Young aside and "gave him a kiss" and said "you know we're going to need you.
"He came in for (Logan) Hokanson, who was hurt, and I said we're going to need you," he said. "Somewhere down the line you're going to make a play for us, and God willing it happened. I'm really proud that he kept his head up and kept fighting."
Desert Hills managed a fourth quarter comeback after switching to a wildcat formation with running back Nephi Sewell taking snaps. The change to the wildcat formation shifted momentum and opened up a more diverse offense based on what Pine View's defense was giving.
"We kinda got behind the sticks a couple of times so I just felt like (going to) Nephi in that fourth quarter in a wildcat, spread the field out and have those guys running around," Franke said. "(It) was an advantage to us. It was a big momentum changer, I thought."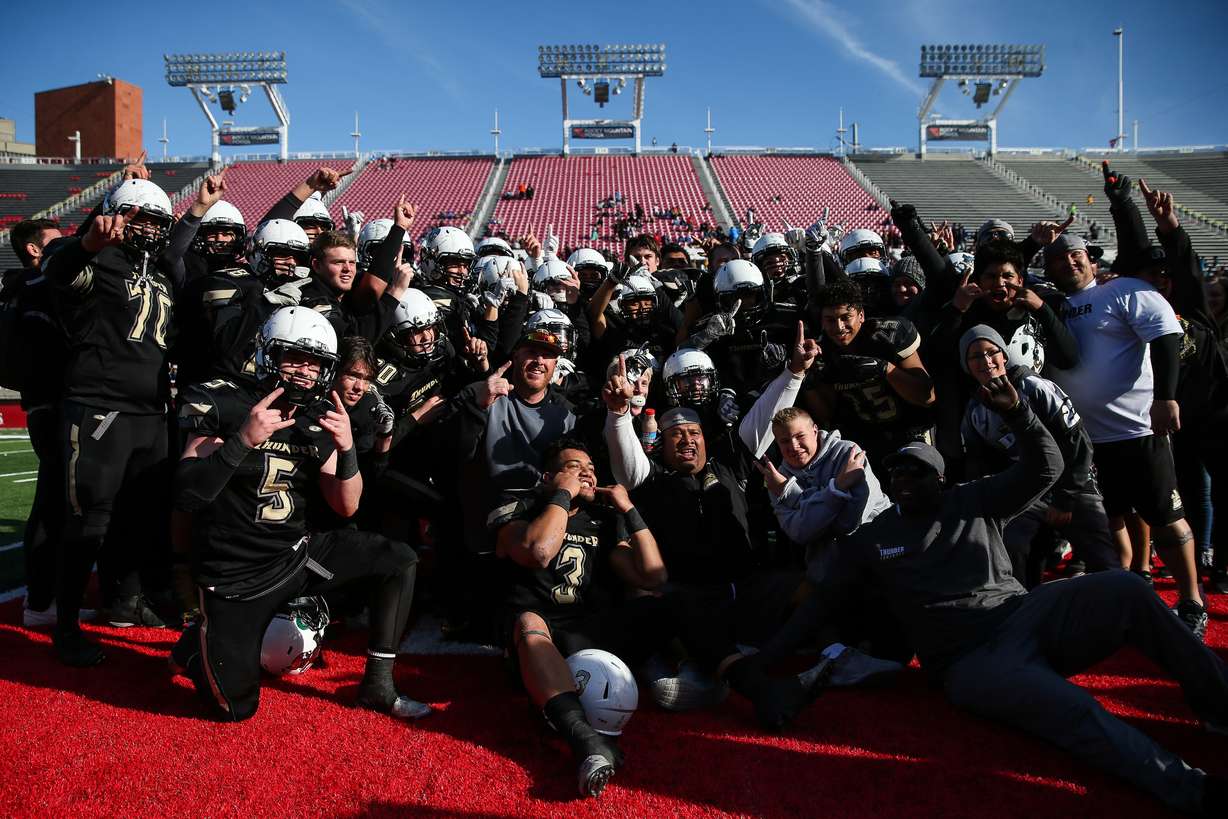 Sewell finished the game with 243 rushing yards and two touchdowns on 24 carries. He averaged 10.1 yards per carry against the Panthers. Sewell was injured twice on the final drive but managed to get back in the game to help lead the offense.
"I can't really speak right now," Sewell said, struggling to suppress his emotions. "Even though I was hurting, I knew the pain would be worth it."
Sewell broke his neck his junior season and was not expected to be back playing football. However, after a long recovery, Sewell returned four games into his senior season and was a difference maker for the offense.
"That's all he's given his whole life," Franke said, holding back emotions as he reflected on Sewell's return to the team. "This was the cherry on top. After coming back from his long return, I couldn't be more happy for him. This one is for Nephi in my book."
"I never really saw myself being back here," Sewell said. "And then when I was cleared to come back … there is just so much emotion going through me right now. I'm just really grateful to have a game like this with my team."
Pine View held a 13-point lead going into the fourth quarter with a dominant defensive showing and a strong performance by running back Jacob Mpungi. Mpungi finished the game with 114 yards and two touchdowns on 25 carries. The Panthers stalled in the fourth quarter and couldn't move the ball against Desert Hills defense. However, a blocked point after touchdown late in the second quarter was the difference in the game for Pine View.
In a previous matchup this season, Desert Hills outscored Pine View 17-0 in the fourth quarter to come back and beat the Panthers. The two teams met up in the 2013 3AA title game, where Desert Hills once again rallied in the fourth quarter to beat Pine View 27-21.
"I don't know if I can handle this anymore, to be honest with you," Franke said. "It's two incredibly coached teams, well-talented teams that know each other so well, playing each other for the second time in the year. And it's very difficult to win. They have every right to win that game as well.
Desert Hills is only the eighth team to rally from a deficit of at least 13 points to win a state championship. The last team to do it was Timpview in 2013, when they beat East 33-28. Desert Hills is the second team to trail by 13 points after the three quarters and come back to win.
Re-watch the game any time at live.ksl.com.
×
Photos
Related stories
Most recent Sports stories