Estimated read time: 3-4 minutes
This archived news story is available only for your personal, non-commercial use. Information in the story may be outdated or superseded by additional information. Reading or replaying the story in its archived form does not constitute a republication of the story.
PROVO — One look at UMass' 2-8 overall record in its first season of FBS independence doesn't do the Minutemen justice.
That's not to say the roster lacks talent, though.
UMass tight end Adam Breneman is one of eight semifinalists for the John Mackey Award, given annually to the nation's top tight end, and he'll be one of the top tight ends BYU will face after the Cougars kick off against UMass at noon Saturday at LaVell Edwards Stadium (BYUtv, KSL NewsRadio).
"They run a lot of slot receivers," BYU cornerback Dayan Lake said. "The tight end is one of their most big-time receivers; I guess he's their main dude. But we've got a good scheme coming up, and I feel like we can cover him."
The 6-foot-4, 250-pound junior from Mechanicsburg, Pennsylvania has emerged as one of the most productive tight ends in the nation, leading the team with 799 yards and seven touchdowns on 58 receptions.
Breneman is helped by a good friend in sophomore quarterback Andrew Ford, who played with Brenemann at Cedar Cliff High School before the latter signed with Penn State.
Breneman's Nittany Lion career didn't last. He transferred to UMass, and has been the backbone of the Minutemen offense.
He's doing it against good competition, too. In the past four weeks, Breneman has averaged 7.5 catches and 100.8 yards per game against Louisiana Tech, Wagner, South Carolina and No. 25 Troy.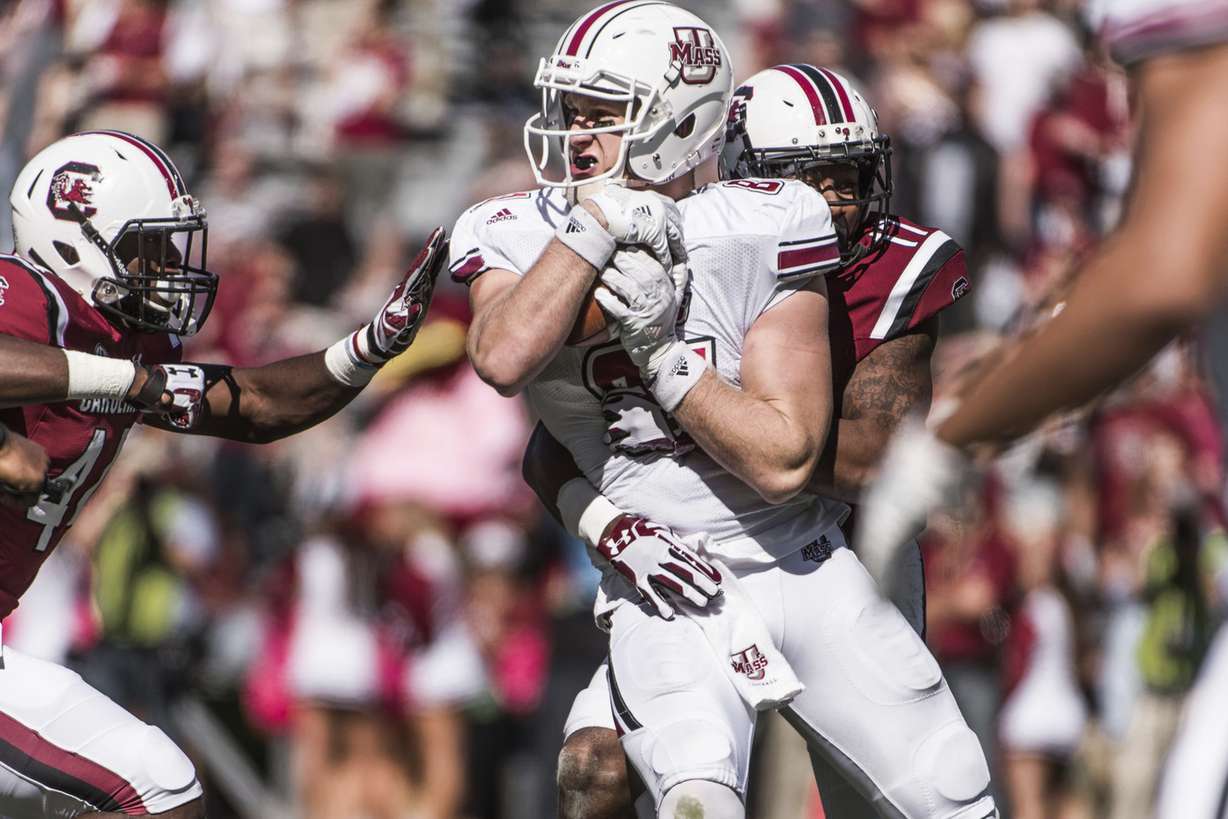 Breneman has fit in well in UMass' offensive scheme, one that has found its fair share of success in finding the end zone since back-to-back single-digit scoring outputs in the first two games of the season. The Minutemen average 23.1 points per game, and have scored 28 points or more for five straight weeks.
"You can see they score a lot of points, so we've got to do a good job of being sound," BYU defensive coordinator Ilaisa Tuiaki said. "They do a lot that hurts people when they aren't sound. We've got to keep it simple enough for our kids to just play sound so that we aren't getting hurt."
UMass is the first FBS independent BYU has faced since a 23-13 loss at Notre Dame on Nov. 23, 2013.
That both schools currently lack a conference affiliation may be the extent of their marriage of convenience, though the series is contracted to continue through Nov. 10, 2018 when the Minutemen host BYU at Gillette Stadium in Foxboro, Massachusetts.
UMass won an FCS national championship in 1998, but has gone just 10-48 since its move to the FBS, including its time as a football-only member of the Mid-American Conference. After the MAC announced a formal separation following the 2015 season, the Minutemen launched a hustled independent campaign at a time when more schools were giving up on the idea. Longtime independent Navy joined the American Athletic Conference, and Western Athletic Conference football holdovers Idaho and New Mexico State had found a temporary home in the Sun Belt.
The Vandals will join the Big Sky Conference in football following the 2017 season, while the Aggies are currently prepared to make another run at independence ahead of 2018.
That left UMass as one of just four FBS independents alongside BYU, Notre Dame and Army this season, and another easy addition for the Cougars' future schedule.
"Just line them up, tell me who we play and we'll play them," Tuiaki said. "Whether it's the Detroit Lions or Kearns High School, we'll be ready to play every single one of them."
×
Most recent Sports stories