Estimated read time: 3-4 minutes
This archived news story is available only for your personal, non-commercial use. Information in the story may be outdated or superseded by additional information. Reading or replaying the story in its archived form does not constitute a republication of the story.
This story is sponsored by Utah Food Bank. Help Utah Food Bank fight hunger statewide this holiday season. Donate now at UtahFoodBank.org.
Turkey, pie, football, repeat. Sound familiar? If so, it might be time to put a little more meaning into everyone's favorite Thursday. This Thanksgiving, instead of focusing on putting a little more sweet potato casserole in your belly, try putting a little more meaning into the holiday itself.
Start a new tradition
Traditions take center stage during the holiday season, and if your only Turkey Day traditions involve pie filling and the NFL, it's time to step it up a notch. This year, find an event or activity the whole family will enjoy that will also reinforce the holiday's meaning.
If you're short of ideas, try the Utah Human Race, an annual Thanksgiving run organized by Utah Food Bank. Your family will join thousands of other community members for a little exercise — and a lot of good vibes. The race, held Thanksgiving morning (Nov. 24) in Draper, raises funds and foods for Utah families in need. For more information — or to register your family (before noon on Monday, Nov. 21) — visit Utah Human Race. Or, register in person on Nov. 23 at Utah Food Bank.
Help out
Thanksgiving is all about, well, just that — giving thanks. In today's world, an attitude of gratitude might not be exactly innate. This year, find ways to help those less fortunate than yourself. Volunteer at a soup kitchen, donate to a food drive or simply befriend an elderly neighbor. Local organizations like Utah Food Bank are always in need of donations and contributions this time of year. Bring the whole family along and show your gratitude by lending a helping hand.
Get a history lesson
If you've successfully made it into adulthood in the United States, chances are you know something about pilgrims, Native Americans and a Plymouth Rock feast. That said, learning more about this time in the nation's history — and the hardships of those who lived it — can really make you thankful for today's modern living. As a family, discuss the Thanksgiving story and what it means to you. National Geographic offers great resources for little historians.
Cook together
It's no secret Thanksgiving dinner requires a lot of work and planning. In fact, Food Network recommends starting preparations a month in advance. With that kind of pressure, you could be so busy stressing over the perfect roasted bird that you completely overlook the holiday's true meaning. This year, cook Thanksgiving dinner as a family. Keep the dishes simple so the entire household — kiddos and all — can participate. Not only will you be spending some quality time together, but you'll also be teaching your children that hard work is rewarding — and in this case, delicious.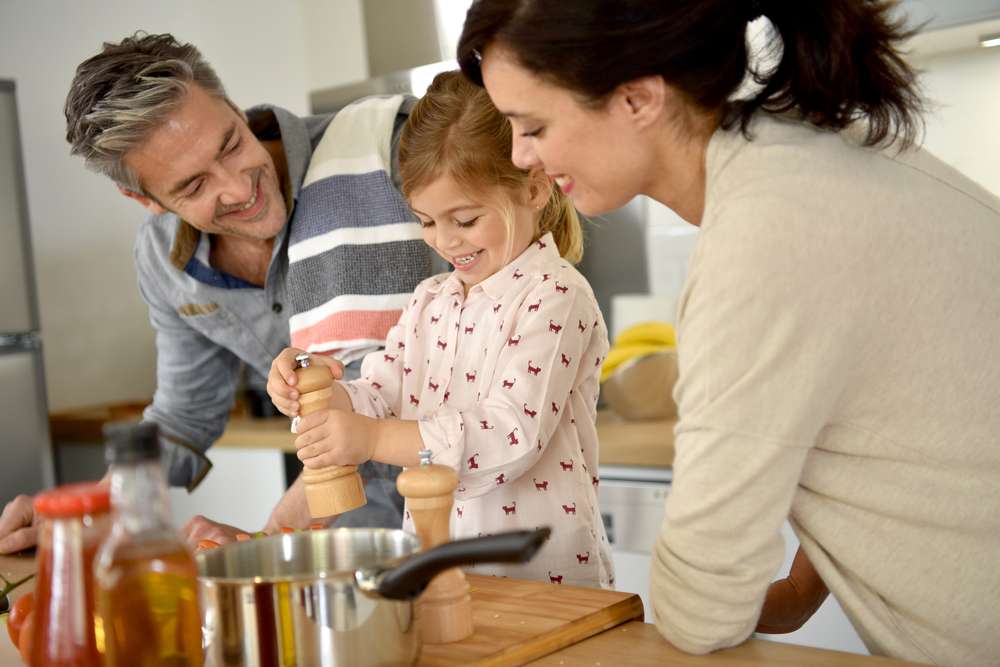 Mend fences
Cornbread stuffing is delicious, but love should be the primary ingredient in any Thanksgiving dinner. This year, try spreading that love to friends or family members with whom you've had some ill feelings in the past. Reach out to someone to apologize, offer forgiveness or simply show some love. Psychology Today promises that forgiveness isn't just good for the offensive party. The act can also help you overcome anger, bitterness and other issues.
This year, make your Thanksgiving more meaningful than ever. Chances are, there will still be room for pumpkin pie.
×