This archived news story is available only for your personal, non-commercial use. Information in the story may be outdated or superseded by additional information. Reading or replaying the story in its archived form does not constitute a republication of the story.
This story is sponsored by MountainStar Healthcare. Our hospitals and outpatient centers deliver high-quality, cost-effective patient care – when and where it's needed.
Winter is coming, and with it something else. No, not "Game of Thrones." Think a little closer to home. That's right — flu season. That means coughing, sniffles, fevers and more.
But it doesn't have to be this way.
Data shows that the flu shot reduces the risk for influenza-related illness by up to 60 percent. Combined with other common sense preventative measures, like washing your hands, the annual vaccination gives millions of people a fighting chance against this serious illness.
Unfortunately, there are still a lot of misconceptions and fears surrounding these vaccinations that keep many people from getting their annual flu shot.
Here are three reasons to say goodbye to your flu shot worries and hello to a flu-free winter.
1. The flu shot is more effective than the nasal spray vaccination
Needles can be scary and uncomfortable, but did you know that the flu shot is more effective at protecting adults and children than the popular nasal spray option?
In June of this year, the Centers for Disease Control and Prevention Advisory Committee on Immunization Practices reported that nasal spray vaccines were only 3 percent effective in children ages 2 to 17, compared with the flu shot, which was 63 percent effective.
That's a whopping 60 percent difference.
Although the nasal spray may seem less intimidating, data over the past three years shows it is widely ineffective. That's why the CDC is only recommending the flu shot for the 2016-17 season, for everyone 6 months and older.
Do yourself a favor and opt for the flu shot.
2. You can't get the flu from a flu shot
It's a common misconception that getting a flu vaccine can actually give you the flu. Luckily, that just isn't true. According to Harvard Health Publications, "the vaccine is made from an inactivated virus that can't transmit infection. So people who get sick after receiving a flu vaccination were going to get sick anyway."
This is because it actually takes a couple weeks for the vaccine's protection to take effect. It is possible to feel a little under the weather the next day because of the shot, but those symptoms won't last long and won't be as severe as coming down with the flu.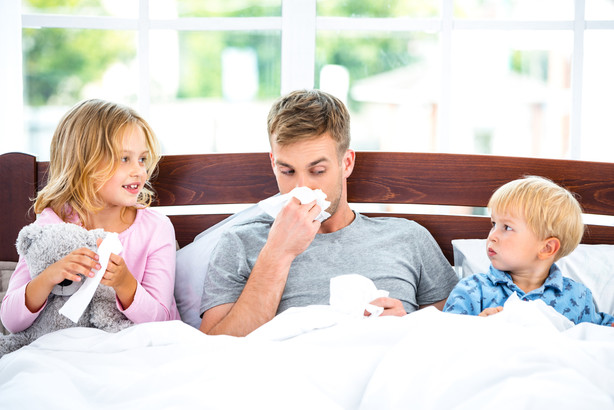 3. Annual flu shots protect you from different strains
By now you might be thinking, "OK, the flu shot is important, but I got one last year, so I'm good." Not so fast.
This means that even if you got a flu shot the year before, it may not protect you in the upcoming season.
There are thousands of strains of the flu, and each season different strains become prevalent, so it is important to get vaccinated annually. Each year, researchers pinpoint the strains they expect to be most common the next season and develop the flu vaccine to protect against them.
In an interview with MountainStar Healthcare, Dr. Preston Wilson of Lone Peak Family Medicine in Draper, explains, "The good news is that this year's flu vaccine is a quadrivalent vaccine, meaning that it will cover against four strains of flu. On top of that, it will also induce an immune response that should help our immune systems fight other viral strains."
Most years, the flu vaccine targets the right strains. But even when it doesn't, and a different strain circulates through the population, your flu shot can still benefit you. While it is possible to contract the flu even if you get the vaccine, the vaccine can provide partial protection and you won't get so sick.
In other words, annual vaccinations will give you the best protection against each year's strains, and guard against more severe cases of the flu and that's a win-win.
Influenza can be a devastating illness, even for the young and healthy. Stay protected this season by practicing healthy habits and getting updated on your flu shot. Schedule an appointment today.
(In the app and can't see the quiz? Click here.)
×