Estimated read time: 5-6 minutes
This archived news story is available only for your personal, non-commercial use. Information in the story may be outdated or superseded by additional information. Reading or replaying the story in its archived form does not constitute a republication of the story.
CEDAR CITY — If Southern Utah wide receiver Mike Sharp needed more motivation to open the final season of his Big Sky career, he got it last week.
Portland State coach Bruce Barnum took to local radio in the Pacific Northwest to blast Sharp's adopted hometown of Cedar City, likening the people to the classic town from Dr. Seuss' "How the Grinch stole Christmas."
"I didn't want to stay in Whoville," Barnum said. "We are going to stay up in the Grinch's castle. We are going to go down, play them Saturday, whoop on them.
"I don't like the town, Cedar City …. We are going to look down on the vortex like the Grinch did on Whoville."
Did the Thunderbirds (2-1, 1-0 Big Sky) know what Barnham said prior to last Saturday's 45-31 win over the then-No. 25 Vikings (1-3, 0-1), a victory that vaulted SUU to No. 24 in the FCS rankings?
Of course they did, and so did a program-record-setting 10,306 of their closest friends who packed Eccles Coliseum on homecoming night, many holding signs saying "Welcome to Whoville" and images of the Grinch in front of Barnham, former Mountain Crest quarterback Alex Kuresa and the Vikings.
"I don't know what he was going for when he said it, or if he didn't think we would hear it," said Sharp, who caught five passes for 139 yards and two touchdowns. "But I feel like the community here really rallied around us. They took offense, and got out here. It was really pretty funny.
"I don't know why he would take a stab at our community, at our players. But we just go out, play and take care of business."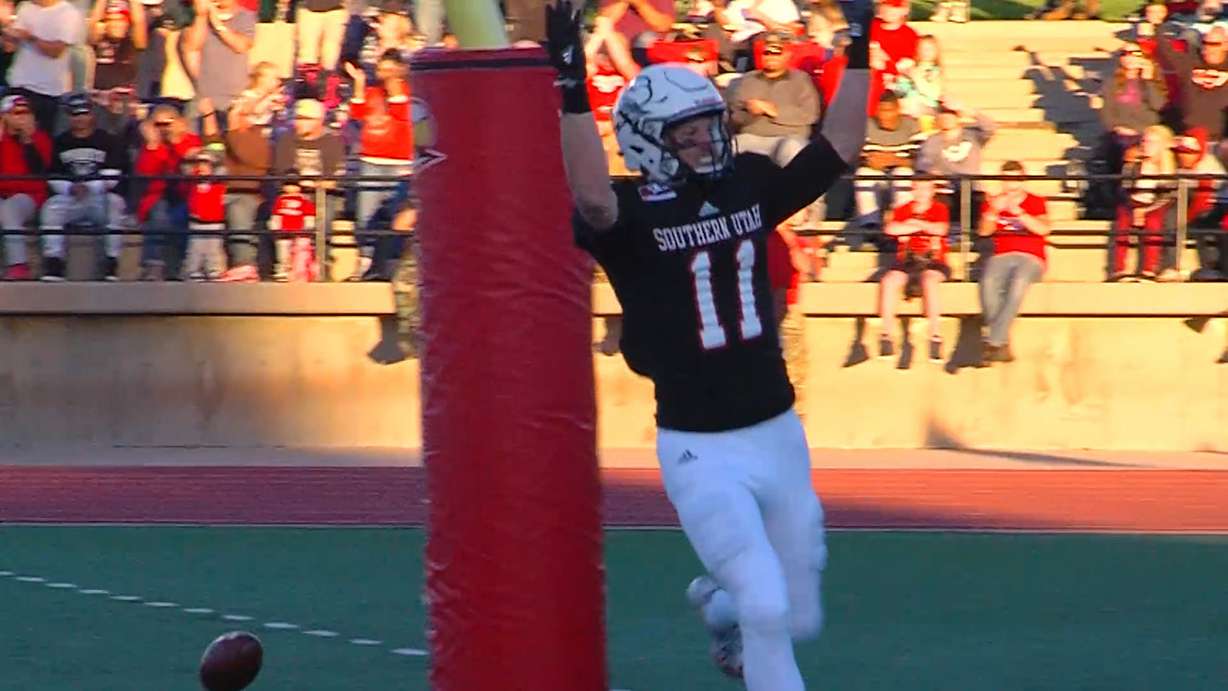 The former Dixie High star was just as impressed by the response from the large grouping of Cedar City Whos, plus a few star-bellied Sneetches mixed in. Coming off the Thunderbirds' first-ever Big Sky championship in their second FCS playoff appearance in three years helps energize the crowd, too, of course.
"The football program has turned around, and it got people excited," Sharp said. "I hope we can keep building this program and keep drawing the fan base to get bigger and bigger. If that happens, it'll get louder and louder and we'll keep having fun."
The noise stood out to fellow St. George native Mike Needham. The former Desert Hills High linebacker had a game-high 15 tackles, including nine solo stops and two tackles for loss in the win.
At one point, Needham looked up into the stands and saw something he had never before seen: a sellout crowd, one that spilled over from both grandstands, lined the grassy bowl beyond the north and south end zones, and a few hundred people peering over the fences to catch a glimpse of the Thunderbirds.
Football had made it in Cedar City, and after watching SUU throughout his life, Needham was a part of it.
"I looked around at the whole stadium and smiled," he said. "It's a beautiful feeling to see the fans here. For them to have the motivation to come support us, it's nice to know that people have your back. I know if they had the chance, they'd put pads on.
"This is a great town. It made me happy, and a little emotional. I love this town. It's a great place."
SUU athletic director Jason Butikofer has only been a citizen of the self-proclaimed "Whoville" for 13 months. The season began with a 24-0 shutout loss at Utah, but the Thunderbirds rallied for a 28-23 win over Southeast Louisiana in their home opener.
And when the final whistle sounded on the Thunderbirds' victory over Portland State, he rushed the field, swung his arms at the crowd, and smiled as he looked out on a victory in front of red-clad fans.
The West Point graduate could hardly contain his emotions as he addressed an unusual postgame press conference following the win.
"I couldn't be more proud of what I saw tonight," Butikofer said. "It was pretty special for Cedar City to step up to the plate the way they did, to have a record-breaking crowd. This is a first-class place."
New head coach Demario Warren is a bit more familiar with Cedar City. When former coach Ed Lamb left to take the assistant head coaching job at his alma mater, BYU, the eighth-year coach who oversaw SUU's defense for two seasons was quickly named Lamb's successor.
Warren's defensive fingerprints were all over the Thunderbirds' win, too. Southern Utah forced four interceptions, four fumbles, two sacks, four tackles for loss and held the Vikings to 10 first-half points before Kuresa led a spirited comeback that included 239 yards in the second half.
"That's a Top 25 team, and they are well coached," Warren said of Portland State. "I know a lot of people here don't like coach Barney, but he knows how to coach a football team."
Warren found Barnum on the sideline after the win and whispered into his ear during the traditional postgame handshake. He declined to reveal what he told the PSU coach — but heaped praise on the 2015 FCS national coach of the year.
"I love that guy. He's a great coach," Warren said of Barnum. "He says some things that are sometimes disrespectful. But that guy knows how to coach a football team.
"He's a really good guy. We've talked a lot, and he's a good man on the inside."
After an emotional win, the Thunderbirds face historic Big Sky power Montana at 2:30 p.m. MT Saturday in Missoula, Montana.
A win — even one as vindicating as last Saturday — means little unless SUU finishes the job as it tries to defend its conference crown.
"It gives us a lot of momentum going into next week," Sharp said. "It gets us more excited.
"The target on our back keeps getting bigger and bigger. But we'll take it."
×
Photos
Related stories
Most recent Sports stories