Estimated read time: 4-5 minutes
This archived news story is available only for your personal, non-commercial use. Information in the story may be outdated or superseded by additional information. Reading or replaying the story in its archived form does not constitute a republication of the story.
PROVO — Randy Newman's tongue in cheek song, "Short People," pokes fun at the prejudice in this world over people's outward appearance. But it could possibly double as Steve Clark's anti-anthem.
"I've had people say I'm not going to hire you because of the way you look," BYU's tight end coach said in an interview during the Cougars media day. Thus is the life of a vertically challenged man in a big man's game.
Clark, who oversees some of the tallest guys on the field, is just over 5' 3"; at least, that's what his doctor told him at a recent check-up. But Clark doesn't feel sorry for himself or even want other to people to feel sorry for him. He only needed to be given a chance. He needed someone to look past his size and notice he could be a leader of on the football field. Clark also needed a woman to support him in a profession that he says picked him.
"I don't see myself doing anything else," Clark stated. "I tried to get out of it a couple times and I couldn't do it." His wife, Suzanne, wouldn't let him. "It seemed impossible to me … just because I saw the road blocks and the difficulties, but she believed."
After graduating from BYU, Clark was an assistant coach at Provo High School while also working some other jobs. Then one day, Suzanne gave him a reality check. "She said to me, 'You don't jump from high school to college anymore, if you want be in college, you need to get into college."
Clark's college football career would be defined by hard work and big breaks. His old neighbor from Provo, Utah Coach Kyle Whittingham, was the first guy to give him a chance by letting him volunteer with the Utes. For several years, he didn't get paid or was compensated with very little money, but he and his wife kept the faith. "(I was) just paying my dues, getting to know people," Clark said. "That's how I overcame the height issue."
And when some coaches said they wouldn't give him a chance because of his height, Clark's wife was the rock in the relationship again. "She said, 'We're not doing that. We're getting right back up and we're going to keep going and we're going to keep fighting and we're going to get through it.'"
They eventually did get through it. BYU assistant head coach Ed Lamb hired him as offensive coordinator at Southern Utah University after Lamb's first choice fell through. Clark had never called plays at the collegiate level, and Lamb had never been a head coach before.
"We won four games in Cedar City, and you would have thought we won the championship," Clark recalled. "I learned a lot, just having to do it on my own."
Creating an offense for the Thunderbirds and working with Coach Lamb helped him score his new job. Lamb was supposed to oversee the tight ends after he was hired at BYU. But it all changed when he found out what offensive coordinator Ty Detmer really sought in a tight ends coach.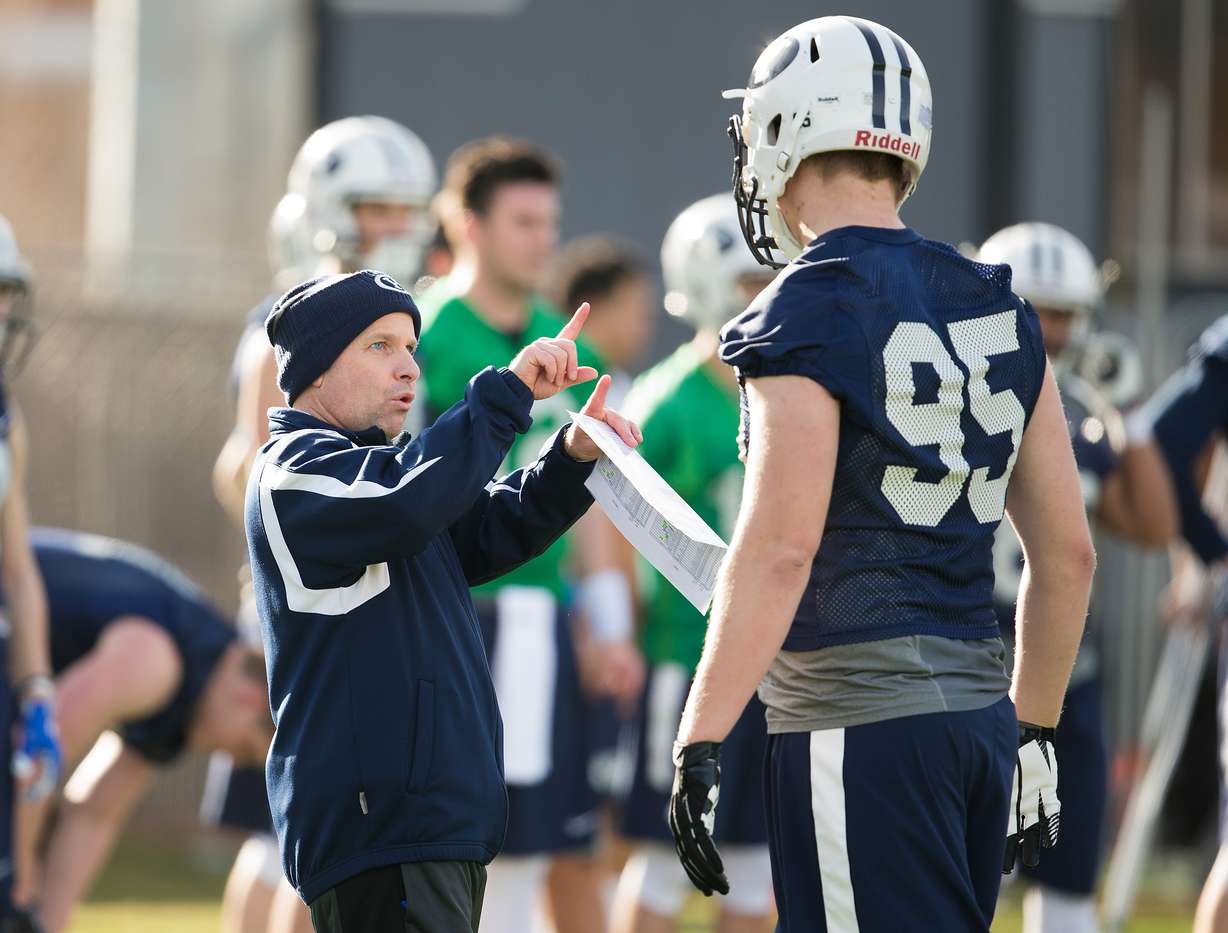 "Ty wanted someone who had been around the installation of an offense at the college level," Lamb said. "And as we talked a little more about putting the staff together, I said 'Steve Clark can do this for Ty. Steve knows what it's like to coordinate an offense in college.'"
Now that Clark is coaching at the FBS level, he has no desire to rub his hard work and success in the faces of those who refused to hire him because of his stature, even though his wife wishes he would take a little victory lap. "It's not about me," Clark stated. "It's about us and it's about the players. The best thing I can teach my players is that you don't quit and there are no excuses."
Clark doesn't have what some may term as "little man syndrome." He even jokes about his height, but he has to jest about it first. "As long as he is taller than me, we will take him," Clark said when asked about Alema Pilimai switching over to work with the tight ends.
The bald headed coach just has one request for those who are allowed to crack on his height: come up with new nicknames. "You know, Mini-Me (from the Austin Powers movies) I'm tired of that one."
---
Clean is a reporter and producer for KSL Newsradio and a co-host on Cougar Sports Saturday. He has worked for KSL since August 2001.
×
Most recent Sports stories