This archived news story is available only for your personal, non-commercial use. Information in the story may be outdated or superseded by additional information. Reading or replaying the story in its archived form does not constitute a republication of the story.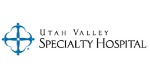 This story is sponsored by Utah Valley Specialty Hospital.
In today's world of added sugars, craze diets and increasing obesity, you might hear a lot about people getting diabetes. The important thing to remember is that one type of diabetes is preventable. Utah Valley Specialty Hospital wants to promote understanding about diabetes and how prevention is possible, too.
Types of diabetes: What's the difference?

First, there are two types of diabetes: Type 1 (sometimes referred to as juvenile diabetes) and Type 2, or adult-onset diabetes. Although having either type of this disease once meant a shortened lifespan, science and medical treatments have advanced to offer affected people a long and healthy life. Only 5 percent of people affected with diabetes have Type 1, which cannot be prevented.

Those diagnosed with Type 1 diabetes tend to be children and young adults, as this condition usually occurs from birth or at least early in life. People with Type 1 diabetes do not produce insulin, an important hormone that allows the body to gain energy from food. As a result, insulin therapy and other treatments are typically needed to create a healthy lifestyle.

Type 2 diabetes occurs in people who produce insulin but are unable to use it properly, resulting in abnormally high glucose levels in their blood. Sometimes referred to as hyperglycemia, this condition often results in serious health problems. Fortunately, treatments for Type 2 diabetes include better nutrition, exercise, oral medications and insulin treatment.

Now that you know more about the different causes and treatments for diabetes, you can grasp why prevention for Type 2 diabetes is key for so many people. Here are four helpful ways to stay healthy and avoid developing Type 2 diabetes:

1. Eliminate excess weight

According to research, the most important factor in getting Type 2 diabetes is weight. Obesity or excess weight puts stress on your body and often makes it more difficult to keep up with the amount of glucose levels in your blood. But, one Johns Hopkins University study shows that those who are pre-diabetic or showing early symptoms of Type 2 diabetes benefitted from losing excess weight.

2. Diet

You might associate the word "diet" with the latest fad foods and ways to lose weight, but in reality, the word diet just describes what type of foods you eat. The key here is to find a healthy eating strategy that works for you.

Foods high in sugar and unhealthy fats seem like obvious things to cut out of your daily consumption, but what about grains? Just because something says it has "high fiber" doesn't necessarily make it the best choice. Take some time to learn the difference between simple sugars, starches and plant fibers. If you already have early symptoms of diabetes or insulin resistance, consult with your doctor and a nutritionist to create a diet that you can follow.

The consumption of lean proteins, unprocessed foods and plenty of fresh vegetables is always a good place to start.

Shutterstock

3. Exercise

If you already groaned just by looking at this tip, you're not alone. Still, once you find a form of exercise that you enjoy, you're on the road to serious diabetes prevention. Keeping your body healthy and active is one great way to lose excess weight and promote healthy habits for life.

Try several types of exercise to choose the one that appeals to you most. Exercising with friends and family can also hold you more accountable and makes the activity all the more enjoyable.

Even if you don't love to exercise or have trouble finding the time, stick with it. You'll be glad that you did.

4. Consult your doctor

According to a report published in 2014 by the National Institute of Diabetes and Digestive and Kidney Diseases, approximately 29.1 million people in the U.S. have diabetes, and nearly 30 percent are undiagnosed.

If you have a family history of diabetes or are experiencing early symptoms of this disease, consult a doctor. Symptoms include:

Frequent urination
Excessive thirst
Unexplained weight loss
Extreme hunger
Sudden vision changes
Tingling or numbness in hands or feet
Feeling very tired most of the time
Very dry skin
Sores that are slow to heal
More infections than usual

Even if you think you might have diabetes or if you exhibit some (or even none) of the symptoms above, a doctor can help you create a plan of action, whether for treatment or prevention.

×